January / February 2005
Subscribe
Page 16 from: January / February 2005
Ports for import As from January 1 2005, China's State Environmental Protection Agency (SEPA) planned to begin en- forcing two new regulations that will have a significant and immediate impact on Chinese importers of scrap metal. The eff...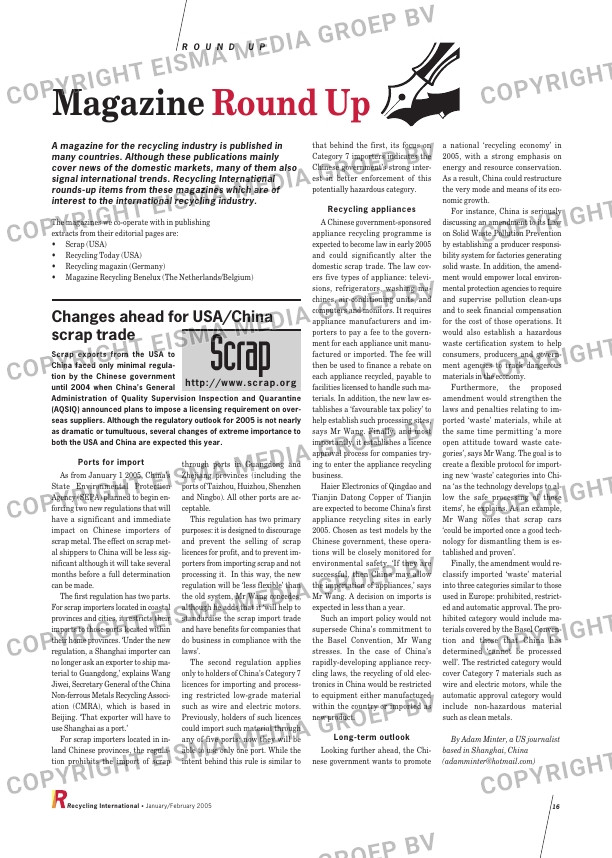 Ports for import

As from January 1 2005, China's
State Environmental Protection
Agency (SEPA) planned to begin en-
forcing two new regulations that will
have a significant and immediate
impact on Chinese importers of
scrap metal. The effect on scrap met-
al shippers to China will be less sig-
nificant although it will take several
months before a full determination
can be made.
The first regulation has two parts.
For scrap importers located in coastal
provinces and cities, it restricts their
imports to those ports located within
their home provinces. 'Under the new
regulation, a Shanghai importer can
no longer ask an exporter to ship ma-
terial to Guangdong,' explains Wang
Jiwei, Secretary General of the China
Non-ferrous Metals Recycling Associ-
ation (CMRA), which is based in
Beijing. 'That exporter will have to
use Shanghai as a port.'
For scrap importers located in in-
land Chinese provinces, the regula-
tion prohibits the import of scrap
through ports in Guangdong and
Zhejiang provinces (including the
ports of Taizhou, Huizhou, Shenzhen
and Ningbo). All other ports are ac-
ceptable.
This regulation has two primary
purposes: it is designed to discourage
and prevent the selling of scrap
licences for profit, and to prevent im-
porters from importing scrap and not
processing it. In this way, the new
regulation will be 'less flexible' than
the old system, Mr Wang concedes,
although he adds that it 'will help to
standardise the scrap import trade
and have benefits for companies that
do business in compliance with the
laws'.
The second regulation applies
only to holders of China's Category 7
licences for importing and process-
ing restricted low-grade material
such as wire and electric motors.
Previously, holders of such licences
could import such material through
any of five ports; now they will be
able to use only one port. While the
intent behind this rule is similar to
that behind the first, its focus on
Category 7 importers indicates the
Chinese government's strong inter-
est in better enforcement of this
potentially hazardous category.
Recycling appliances

A Chinese government-sponsored
appliance recycling programme is
expected to become law in early 2005
and could significantly alter the
domestic scrap trade. The law cov-
ers five types of appliance: televi-
sions, refrigerators, washing ma-
chines, air-conditioning units, and
computers and monitors. It requires
appliance manufacturers and im-
porters to pay a fee to the govern-
ment for each appliance unit manu-
factured or imported. The fee will
then be used to finance a rebate on
each appliance recycled, payable to
facilities licensed to handle such ma-
terials. In addition, the new law es-
tablishes a 'favourable tax policy' to
help establish such processing sites,
says Mr Wang. Finally, and most
importantly, it establishes a licence
approval process for companies try-
ing to enter the appliance recycling
business.
Haier Electronics of Qingdao and
Tianjin Datong Copper of Tianjin
are expected to become China's first
appliance recycling sites in early
2005. Chosen as test models by the
Chinese government, these opera-
tions will be closely monitored for
environmental safety. 'If they are
successful, then China may allow
the importation of appliances,' says
Mr Wang. A decision on imports is
expected in less than a year.
Such an import policy would not
supersede China's commitment to
the Basel Convention, Mr Wang
stresses. In the case of China's
rapidly-developing appliance recy-
cling laws, the recycling of old elec-
tronics in China would be restricted
to equipment either manufactured
within the country or imported as
new product.
Long-term outlook

Looking further ahead, the Chi-
nese government wants to promote
a national 'recycling economy' in
2005, with a strong emphasis on
energy and resource conservation.
As a result, China could restructure
the very mode and means of its eco-
nomic growth.
For instance, China is seriously
discussing an amendment to its Law
on Solid Waste Pollution Prevention
by establishing a producer responsi-
bility system for factories generating
solid waste. In addition, the amend-
ment would empower local environ-
mental protection agencies to require
and supervise pollution clean-ups
and to seek financial compensation
for the cost of those operations. It
would also establish a hazardous
waste certification system to help
consumers, producers and govern-
ment agencies to track dangerous
materials in the economy.
Furthermore, the proposed
amendment would strengthen the
laws and penalties relating to im-
ported 'waste' materials, while at
the same time permitting 'a more
open attitude toward waste cate-
gories', says Mr Wang. The goal is to
create a flexible protocol for import-
ing new 'waste' categories into Chi-
na 'as the technology develops to al-
low the safe processing of those
items', he explains. As an example,
Mr Wang notes that scrap cars
'could be imported once a good tech-
nology for dismantling them is es-
tablished and proven'.
Finally, the amendment would re-
classify imported 'waste' material
into three categories similar to those
used in Europe: prohibited, restrict-
ed and automatic approval. The pro-
hibited category would include ma-
terials covered by the Basel Conven-
tion and those that China has
determined 'cannot be processed
well'. The restricted category would
cover Category 7 materials such as
wire and electric motors, while the
automatic approval category would
include non-hazardous material
such as clean metals.
By Adam Minter, a US journalist
based in Shanghai, China
([email protected])

A magazine for the recycling industry is published in
many countries. Although these publications mainly
cover news of the domestic markets, many of them also
signal international trends. Recycling International
rounds-up items from these magazines which are of
interest to the international recycling industry.

The magazines we co-operate with in publishing
extracts from their editorial pages are:
• Scrap (USA)
• Recycling Today (USA)
• Recycling magazin (Germany)
• Magazine Recycling Benelux (The Netherlands/Belgium)
R O U N D U P

Magazine Round Up

Recycling International • January/February 2005 16

Changes ahead for USA/China
scrap trade
Scrap exports from the USA to
China faced only minimal regula-
tion by the Chinese government
until 2004 when China's General
Administration of Quality Supervision Inspection and Quarantine
(AQSIQ) announced plans to impose a licensing requirement on over-
seas suppliers. Although the regulatory outlook for 2005 is not nearly
as dramatic or tumultuous, several changes of extreme importance to
both the USA and China are expected this year.

http://www.scrap.org