January / February 2005
Subscribe
Page 13 from: January / February 2005
N E W S Recycling International • January/February 2005 13 * Spectro The German TÜV Industrial Service GmbH (Technical Monitoring Association Industrial Service Ltd) has approved Spectro - the world- wide leader in optical emission an...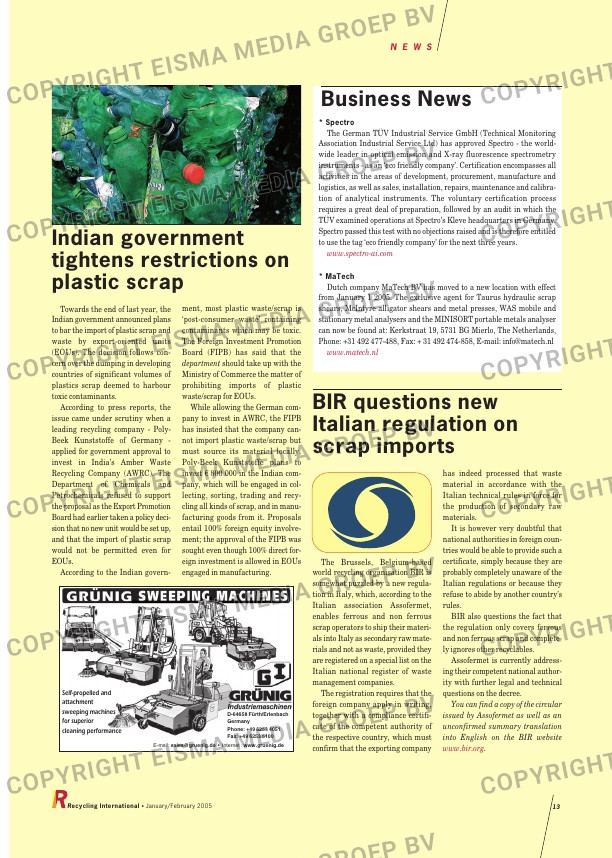 N E W S

Recycling International • January/February 2005 13

* Spectro
The German TÜV Industrial Service GmbH (Technical Monitoring
Association Industrial Service Ltd) has approved Spectro – the world-
wide leader in optical emission and X-ray fluorescence spectrometry
instruments – as an 'eco friendly company'. Certification encompasses all
activities in the areas of development, procurement, manufacture and
logistics, as well as sales, installation, repairs, maintenance and calibra-
tion of analytical instruments. The voluntary certification process
requires a great deal of preparation, followed by an audit in which the
TÜV examined operations at Spectro's Kleve headquarters in Germany.
Spectro passed this test with no objections raised and is therefore entitled
to use the tag 'eco friendly company' for the next three years.
www.spectro-ai.com

* MaTech
Dutch company MaTech BV has moved to a new location with effect
from January 1 2005. The exclusive agent for Taurus hydraulic scrap
shears, McIntyre alligator shears and metal presses, WAS mobile and
stationary metal analysers and the MINISORT portable metals analyser
can now be found at: Kerkstraat 19, 5731 BG Mierlo, The Netherlands,
Phone: +31 492 477-488, Fax: + 31 492 474-858, E-mail: [email protected]
www.matech.nl

Business News

Self-propelled and
attachment
sweeping machines
for superior
cleaning performance

D-64658 Fürth/Erlenbach
Germany
Phone: +49 6253 4051
Fax: +49 6253 5100

E-mail: [email protected] • Internet : www.gruenig.de

Towards the end of last year, the
Indian government announced plans
to bar the import of plastic scrap and
waste by export-oriented units
(EOUs). The decision follows con-
cern over the dumping in developing
countries of significant volumes of
plastics scrap deemed to harbour
toxic contaminants.
According to press reports, the
issue came under scrutiny when a
leading recycling company – Poly-
Beek Kunststoffe of Germany –
applied for government approval to
invest in India's Amber Waste
Recycling Company (AWRC). The
Department of Chemicals and
Petrochemicals refused to support
the proposal as the Export Promotion
Board had earlier taken a policy deci-
sion that no new unit would be set up,
and that the import of plastic scrap
would not be permitted even for
EOUs.
According to the Indian govern-
ment, most plastic waste/scrap is
'post-consumer waste' containing
contaminants which may be toxic.
The Foreign Investment Promotion
Board (FIPB) has said that the
department should take up with the
Ministry of Commerce the matter of
prohibiting imports of plastic
waste/scrap for EOUs.
While allowing the German com-
pany to invest in AWRC, the FIPB
has insisted that the company can-
not import plastic waste/scrap but
must source its material locally.
Poly-Beek Kunststoffe plans to
invest € 800 000 in the Indian com-
pany, which will be engaged in col-
lecting, sorting, trading and recy-
cling all kinds of scrap, and in manu-
facturing goods from it. Proposals
entail 100% foreign equity involve-
ment; the approval of the FIPB was
sought even though 100% direct for-
eign investment is allowed in EOUs
engaged in manufacturing.
Indian government
tightens restrictions on
plastic scrap

The Brussels, Belgium-based
world recycling organisation BIR is
somewhat puzzled by a new regula-
tion in Italy, which, according to the
Italian association Assofermet,
enables ferrous and non ferrous
scrap operators to ship their materi-
als into Italy as secondary raw mate-
rials and not as waste, provided they
are registered on a special list on the
Italian national register of waste
management companies.
The registration requires that the
foreign company apply in writing,
together with a compliance certifi-
cate of the competent authority of
the respective country, which must
confirm that the exporting company
has indeed processed that waste
material in accordance with the
Italian technical rules in force for
the production of secondary raw
materials.
It is however very doubtful that
national authorities in foreign coun-
tries would be able to provide such a
certificate, simply because they are
probably completely unaware of the
Italian regulations or because they
refuse to abide by another country's
rules.
BIR also questions the fact that
the regulation only covers ferrous
and non ferrous scrap and complete-
ly ignores other recyclables.
Assofermet is currently address-
ing their competent national author-
ity with further legal and technical
questions on the decree.
You can find a copy of the circular
issued by Assofermet as well as an
unconfirmed summary translation
into English on the BIR website
www.bir.org.

BIR questions new
Italian regulation on
scrap imports