First issue of 2022!
Subscribe
Page 63 from: First issue of 2022!
BECK'S 63recyclinginternational.com | January/February | 2022 Fotobijschrift KADERKOP ?? What if..? That is THE question Have you ever asked yourself a 'what if' question? Such as: 'What if I'd stayed with my high ...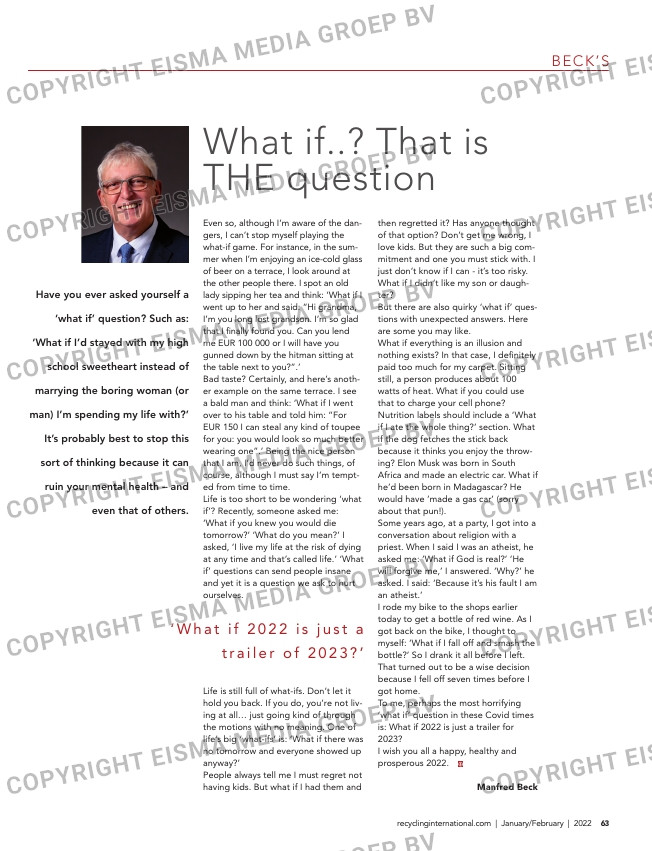 BECK'S
63recyclinginternational.com | January/February | 2022
Fotobijschrift
KADERKOP
??
What if..? That is
THE question
Have you ever asked yourself a
'what if' question? Such as:
'What if I'd stayed with my high
school sweetheart instead of
marrying the boring woman (or
man) I'm spending my life with?'
It's probably best to stop this
sort of thinking because it can
ruin your mental health – and
even that of others.
Even so, although I'm aware of the dan-
gers, I can't stop myself playing the
what-if game. For instance, in the sum-
mer when I'm enjoying an ice-cold glass
of beer on a terrace, I look around at
the other people there. I spot an old
lady sipping her tea and think: 'What if I
went up to her and said: "Hi grandma,
I'm you long lost grandson. I'm so glad
that I finally found you. Can you lend
me EUR 100 000 or I will have you
gunned down by the hitman sitting at
the table next to you?".'
Bad taste? Certainly, and here's anoth-
er example on the same terrace. I see
a bald man and think: 'What if I went
over to his table and told him: "For
EUR 150 I can steal any kind of toupee
for you: you would look so much better
wearing one".' Being the nice person
that I am, I'd never do such things, of
course, although I must say I'm tempt-
ed from time to time.
Life is too short to be wondering 'what
if'? Recently, someone asked me:
'What if you knew you would die
tomorrow?' 'What do you mean?' I
asked, 'I live my life at the risk of dying
at any time and that's called life.' 'What
if' questions can send people insane
and yet it is a question we ask to hurt
ourselves.
Life is still full of what-ifs. Don't let it
hold you back. If you do, you're not liv-
ing at all… just going kind of through
the motions with no meaning. One of
life's big 'what-ifs' is: 'What if there was
no tomorrow and everyone showed up
anyway?'
People always tell me I must regret not
having kids. But what if I had them and
then regretted it? Has anyone thought
of that option? Don't get me wrong, I
love kids. But they are such a big com-
mitment and one you must stick with. I
just don't know if I can – it's too risky.
What if I didn't like my son or daugh-
ter?
But there are also quirky 'what if' ques-
tions with unexpected answers. Here
are some you may like.
What if everything is an illusion and
nothing exists? In that case, I definitely
paid too much for my carpet. Sitting
still, a person produces about 100
watts of heat. What if you could use
that to charge your cell phone?
Nutrition labels should include a 'What
if I ate the whole thing?' section. What
if the dog fetches the stick back
because it thinks you enjoy the throw-
ing? Elon Musk was born in South
Africa and made an electric car. What if
he'd been born in Madagascar? He
would have 'made a gas car' (sorry
about that pun!).
Some years ago, at a party, I got into a
conversation about religion with a
priest. When I said I was an atheist, he
asked me: 'What if God is real?' 'He
will forgive me,' I answered. 'Why?' he
asked. I said: 'Because it's his fault I am
an atheist.'
I rode my bike to the shops earlier
today to get a bottle of red wine. As I
got back on the bike, I thought to
myself: 'What if I fall off and smash the
bottle?' So I drank it all before I left.
That turned out to be a wise decision
because I fell off seven times before I
got home.
To me, perhaps the most horrifying
'what if' question in these Covid times
is: What if 2022 is just a trailer for
2023?
I wish you all a happy, healthy and
prosperous 2022.
Manfred Beck
' W h a t i f 2 0 2 2 i s j u s t a
t r a i l e r o f 2 0 2 3 ? '
63_becks.indd 63 01-02-2022 10:33