First issue of 2022!
Subscribe
Page 57 from: First issue of 2022!
PAPER 57recyclinginternational.com | January/February | 2022 CONTRIBUTING TO THE RECOVERED PAPER MARKET ANALYSIS: * Simon Ellin, chief executive, Recycling Association (UK) * Francisco Donoso, managing director, Alba Servicios...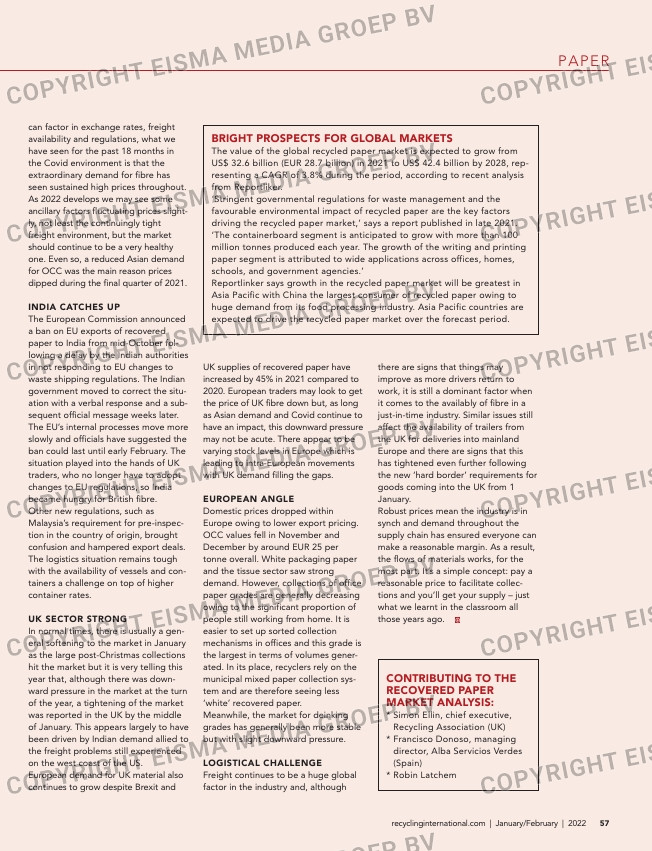 PAPER
57recyclinginternational.com | January/February | 2022
CONTRIBUTING TO THE
RECOVERED PAPER
MARKET ANALYSIS:
* Simon Ellin, chief executive,
Recycling Association (UK)
* Francisco Donoso, managing
director, Alba Servicios Verdes
(Spain)
* Robin Latchem
there are signs that things may
improve as more drivers return to
work, it is still a dominant factor when
it comes to the availably of fibre in a
just-in-time industry. Similar issues still
affect the availability of trailers from
the UK for deliveries into mainland
Europe and there are signs that this
has tightened even further following
the new 'hard border' requirements for
goods coming into the UK from 1
January.
Robust prices mean the industry is in
synch and demand throughout the
supply chain has ensured everyone can
make a reasonable margin. As a result,
the flows of materials works, for the
most part. It's a simple concept: pay a
reasonable price to facilitate collec-
tions and you'll get your supply – just
what we learnt in the classroom all
those years ago.
BRIGHT PROSPECTS FOR GLOBAL MARKETS
The value of the global recycled paper market is expected to grow from
US$ 32.6 billion (EUR 28.7 billion) in 2021 to US$ 42.4 billion by 2028, rep-
resenting a CAGR of 3.8% during the period, according to recent analysis
from Reportliker.
'Stringent governmental regulations for waste management and the
favourable environmental impact of recycled paper are the key factors
driving the recycled paper market,' says a report published in late 2021.
'The containerboard segment is anticipated to grow with more than 100
million tonnes produced each year. The growth of the writing and printing
paper segment is attributed to wide applications across offices, homes,
schools, and government agencies.'
Reportlinker says growth in the recycled paper market will be greatest in
Asia Pacific with China the largest consumer of recycled paper owing to
huge demand from its food processing industry. Asia Pacific countries are
expected to drive the recycled paper market over the forecast period.
UK supplies of recovered paper have
increased by 45% in 2021 compared to
2020. European traders may look to get
the price of UK fibre down but, as long
as Asian demand and Covid continue to
have an impact, this downward pressure
may not be acute. There appear to be
varying stock levels in Europe which is
leading to intra-European movements
with UK demand filling the gaps.
EUROPEAN ANGLE
Domestic prices dropped within
Europe owing to lower export pricing.
OCC values fell in November and
December by around EUR 25 per
tonne overall. White packaging paper
and the tissue sector saw strong
demand. However, collections of office
paper grades are generally decreasing
owing to the significant proportion of
people still working from home. It is
easier to set up sorted collection
mechanisms in offices and this grade is
the largest in terms of volumes gener-
ated. In its place, recyclers rely on the
municipal mixed paper collection sys-
tem and are therefore seeing less
'white' recovered paper.
Meanwhile, the market for deinking
grades has generally been more stable
but with slight downward pressure.
LOGISTICAL CHALLENGE
Freight continues to be a huge global
factor in the industry and, although
can factor in exchange rates, freight
availability and regulations, what we
have seen for the past 18 months in
the Covid environment is that the
extraordinary demand for fibre has
seen sustained high prices throughout.
As 2022 develops we may see some
ancillary factors fluctuating prices slight-
ly, not least the continuingly tight
freight environment, but the market
should continue to be a very healthy
one. Even so, a reduced Asian demand
for OCC was the main reason prices
dipped during the final quarter of 2021.
INDIA CATCHES UP
The European Commission announced
a ban on EU exports of recovered
paper to India from mid-October fol-
lowing a delay by the Indian authorities
in not responding to EU changes to
waste shipping regulations. The Indian
government moved to correct the situ-
ation with a verbal response and a sub-
sequent official message weeks later.
The EU's internal processes move more
slowly and officials have suggested the
ban could last until early February. The
situation played into the hands of UK
traders, who no longer have to adopt
changes to EU regulations, so India
became hungry for British fibre.
Other new regulations, such as
Malaysia's requirement for pre-inspec-
tion in the country of origin, brought
confusion and hampered export deals.
The logistics situation remains tough
with the availability of vessels and con-
tainers a challenge on top of higher
container rates.
UK SECTOR STRONG
In normal times, there is usually a gen-
eral softening to the market in January
as the large post-Christmas collections
hit the market but it is very telling this
year that, although there was down-
ward pressure in the market at the turn
of the year, a tightening of the market
was reported in the UK by the middle
of January. This appears largely to have
been driven by Indian demand allied to
the freight problems still experienced
on the west coast of the US.
European demand for UK material also
continues to grow despite Brexit and
56-57_mapaper.indd 57 01-02-2022 10:31