First issue of 2022!
Subscribe
Page 53 from: First issue of 2022!
NON-FERROUS Positive markets tempered by uncertain trade Even so, the India-based ratings agen- cy ICRA predicts the price buoyancy of base metals is likely to continue in 2022 with low visible inventories and a demand-supply gap insu...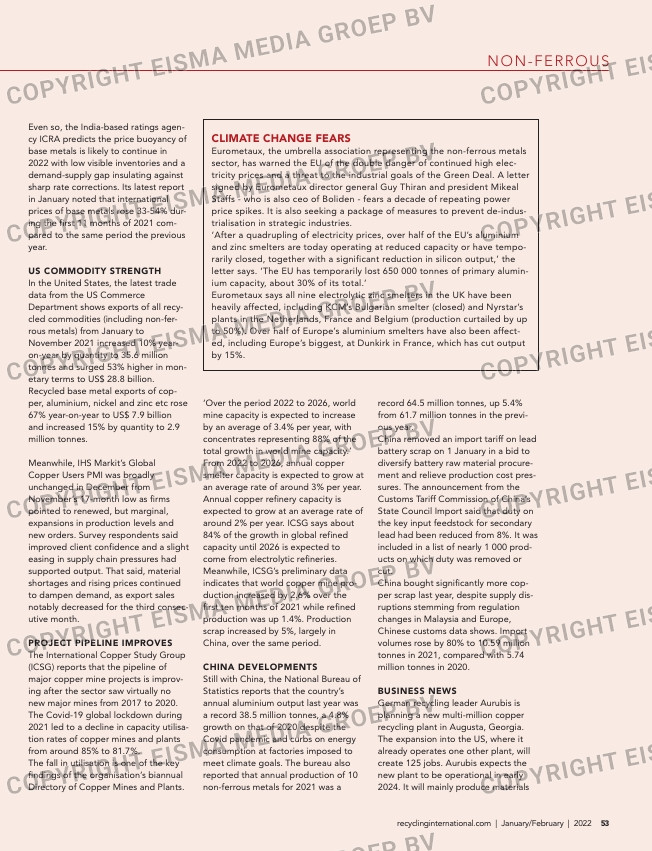 NON-FERROUS
Positive markets tempered
by uncertain trade
Even so, the India-based ratings agen-
cy ICRA predicts the price buoyancy of
base metals is likely to continue in
2022 with low visible inventories and a
demand-supply gap insulating against
sharp rate corrections. Its latest report
in January noted that international
prices of base metals rose 33-54% dur-
ing the first 11 months of 2021 com-
pared to the same period the previous
year.
US COMMODITY STRENGTH
In the United States, the latest trade
data from the US Commerce
Department shows exports of all recy-
cled commodities (including non-fer-
rous metals) from January to
November 2021 increased 10% year-
on-year by quantity to 35.6 million
tonnes and surged 53% higher in mon-
etary terms to US$ 28.8 billion.
Recycled base metal exports of cop-
per, aluminium, nickel and zinc etc rose
67% year-on-year to US$ 7.9 billion
and increased 15% by quantity to 2.9
million tonnes.
Meanwhile, IHS Markit's Global
Copper Users PMI was broadly
unchanged in December from
November's 17-month low as firms
pointed to renewed, but marginal,
expansions in production levels and
new orders. Survey respondents said
improved client confidence and a slight
easing in supply chain pressures had
supported output. That said, material
shortages and rising prices continued
to dampen demand, as export sales
notably decreased for the third consec-
utive month.
PROJECT PIPELINE IMPROVES
The International Copper Study Group
(ICSG) reports that the pipeline of
major copper mine projects is improv-
ing after the sector saw virtually no
new major mines from 2017 to 2020.
The Covid-19 global lockdown during
2021 led to a decline in capacity utilisa-
tion rates of copper mines and plants
from around 85% to 81.7%.
The fall in utilisation is one of the key
findings of the organisation's biannual
Directory of Copper Mines and Plants.
53recyclinginternational.com | January/February | 2022
CLIMATE CHANGE FEARS
Eurometaux, the umbrella association representing the non-ferrous metals
sector, has warned the EU of the double danger of continued high elec-
tricity prices and a threat to the industrial goals of the Green Deal. A letter
signed by Eurometaux director general Guy Thiran and president Mikeal
Staffs – who is also ceo of Boliden – fears a decade of repeating power
price spikes. It is also seeking a package of measures to prevent de-indus-
trialisation in strategic industries.
'After a quadrupling of electricity prices, over half of the EU's aluminium
and zinc smelters are today operating at reduced capacity or have tempo-
rarily closed, together with a significant reduction in silicon output,' the
letter says. 'The EU has temporarily lost 650 000 tonnes of primary alumin-
ium capacity, about 30% of its total.'
Eurometaux says all nine electrolytic zinc smelters in the UK have been
heavily affected, including KCM's Bulgarian smelter (closed) and Nyrstar's
plants in the Netherlands, France and Belgium (production curtailed by up
to 50%). Over half of Europe's aluminium smelters have also been affect-
ed, including Europe's biggest, at Dunkirk in France, which has cut output
by 15%.
'Over the period 2022 to 2026, world
mine capacity is expected to increase
by an average of 3.4% per year, with
concentrates representing 88% of the
total growth in world mine capacity.'
From 2022 to 2026, annual copper
smelter capacity is expected to grow at
an average rate of around 3% per year.
Annual copper refinery capacity is
expected to grow at an average rate of
around 2% per year. ICSG says about
84% of the growth in global refined
capacity until 2026 is expected to
come from electrolytic refineries.
Meanwhile, ICSG's preliminary data
indicates that world copper mine pro-
duction increased by 2.6% over the
first ten months of 2021 while refined
production was up 1.4%. Production
scrap increased by 5%, largely in
China, over the same period.
CHINA DEVELOPMENTS
Still with China, the National Bureau of
Statistics reports that the country's
annual aluminium output last year was
a record 38.5 million tonnes, a 4.8%
growth on that of 2020 despite the
Covid pandemic and curbs on energy
consumption at factories imposed to
meet climate goals. The bureau also
reported that annual production of 10
non-ferrous metals for 2021 was a
record 64.5 million tonnes, up 5.4%
from 61.7 million tonnes in the previ-
ous year.
China removed an import tariff on lead
battery scrap on 1 January in a bid to
diversify battery raw material procure-
ment and relieve production cost pres-
sures. The announcement from the
Customs Tariff Commission of China's
State Council Import said that duty on
the key input feedstock for secondary
lead had been reduced from 8%. It was
included in a list of nearly 1 000 prod-
ucts on which duty was removed or
cut.
China bought significantly more cop-
per scrap last year, despite supply dis-
ruptions stemming from regulation
changes in Malaysia and Europe,
Chinese customs data shows. Import
volumes rose by 80% to 10.59 million
tonnes in 2021, compared with 5.74
million tonnes in 2020.
BUSINESS NEWS
German recycling leader Aurubis is
planning a new multi-million copper
recycling plant in Augusta, Georgia.
The expansion into the US, where it
already operates one other plant, will
create 125 jobs. Aurubis expects the
new plant to be operational in early
2024. It will mainly produce materials
52-53-54-55_manon-ferrous.indd 53 01-02-2022 10:31