First issue of 2022!
Subscribe
Page 46 from: First issue of 2022!
MARKET ANALYSIS Signs still strong for steel scrap Steel production returns to pre-pandemic levels as demand picks up but higher energy costs worry industry watchers. 46 A U T H O R Robin Latchem period of 2020, according to Russ...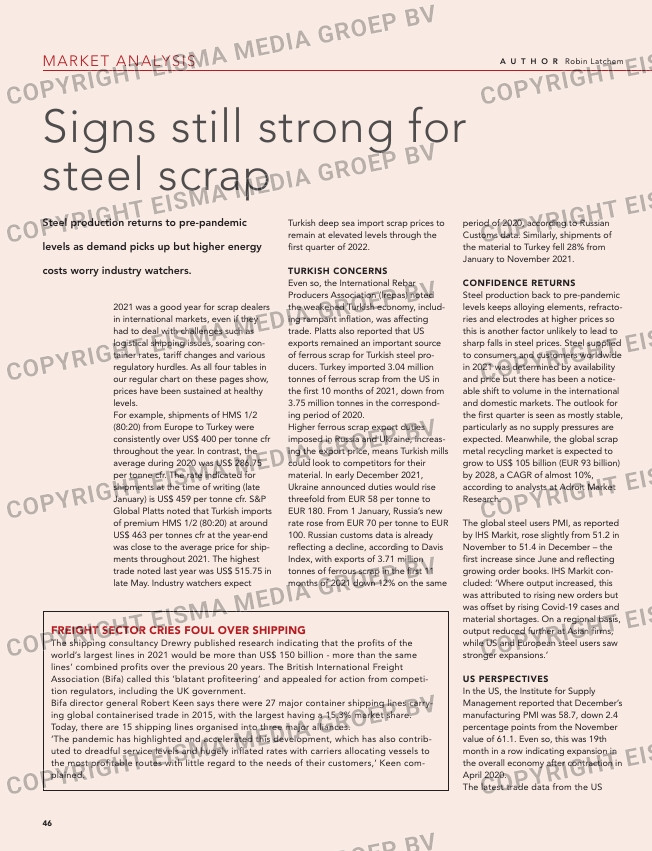 MARKET ANALYSIS
Signs still strong for
steel scrap
Steel production returns to pre-pandemic
levels as demand picks up but higher energy
costs worry industry watchers.
46
A U T H O R Robin Latchem
period of 2020, according to Russian
Customs data. Similarly, shipments of
the material to Turkey fell 28% from
January to November 2021.
CONFIDENCE RETURNS
Steel production back to pre-pandemic
levels keeps alloying elements, refracto-
ries and electrodes at higher prices so
this is another factor unlikely to lead to
sharp falls in steel prices. Steel supplied
to consumers and customers worldwide
in 2021 was determined by availability
and price but there has been a notice-
able shift to volume in the international
and domestic markets. The outlook for
the first quarter is seen as mostly stable,
particularly as no supply pressures are
expected. Meanwhile, the global scrap
metal recycling market is expected to
grow to US$ 105 billion (EUR 93 billion)
by 2028, a CAGR of almost 10%,
according to analysts at Adroit Market
Research.
The global steel users PMI, as reported
by IHS Markit, rose slightly from 51.2 in
November to 51.4 in December – the
first increase since June and reflecting
growing order books. IHS Markit con-
cluded: 'Where output increased, this
was attributed to rising new orders but
was offset by rising Covid-19 cases and
material shortages. On a regional basis,
output reduced further at Asian firms,
while US and European steel users saw
stronger expansions.'
US PERSPECTIVES
In the US, the Institute for Supply
Management reported that December's
manufacturing PMI was 58.7, down 2.4
percentage points from the November
value of 61.1. Even so, this was 19th
month in a row indicating expansion in
the overall economy after contraction in
April 2020.
The latest trade data from the US
2021 was a good year for scrap dealers
in international markets, even if they
had to deal with challenges such as
logistical shipping issues, soaring con-
tainer rates, tariff changes and various
regulatory hurdles. As all four tables in
our regular chart on these pages show,
prices have been sustained at healthy
levels.
For example, shipments of HMS 1/2
(80:20) from Europe to Turkey were
consistently over US$ 400 per tonne cfr
throughout the year. In contrast, the
average during 2020 was US$ 286.75
per tonne cfr. The rate indicated for
shipments at the time of writing (late
January) is US$ 459 per tonne cfr. S&P
Global Platts noted that Turkish imports
of premium HMS 1/2 (80:20) at around
US$ 463 per tonnes cfr at the year-end
was close to the average price for ship-
ments throughout 2021. The highest
trade noted last year was US$ 515.75 in
late May. Industry watchers expect
Turkish deep sea import scrap prices to
remain at elevated levels through the
first quarter of 2022.
TURKISH CONCERNS
Even so, the International Rebar
Producers Association (Irepas) noted
the weakened Turkish economy, includ-
ing rampant inflation, was affecting
trade. Platts also reported that US
exports remained an important source
of ferrous scrap for Turkish steel pro-
ducers. Turkey imported 3.04 million
tonnes of ferrous scrap from the US in
the first 10 months of 2021, down from
3.75 million tonnes in the correspond-
ing period of 2020.
Higher ferrous scrap export duties
imposed in Russia and Ukraine, increas-
ing the export price, means Turkish mills
could look to competitors for their
material. In early December 2021,
Ukraine announced duties would rise
threefold from EUR 58 per tonne to
EUR 180. From 1 January, Russia's new
rate rose from EUR 70 per tonne to EUR
100. Russian customs data is already
reflecting a decline, according to Davis
Index, with exports of 3.71 million
tonnes of ferrous scrap in the first 11
months of 2021 down 12% on the same
FREIGHT SECTOR CRIES FOUL OVER SHIPPING
The shipping consultancy Drewry published research indicating that the profits of the
world's largest lines in 2021 would be more than US$ 150 billion – more than the same
lines' combined profits over the previous 20 years. The British International Freight
Association (Bifa) called this 'blatant profiteering' and appealed for action from competi-
tion regulators, including the UK government.
Bifa director general Robert Keen says there were 27 major container shipping lines carry-
ing global containerised trade in 2015, with the largest having a 15.3% market share.
Today, there are 15 shipping lines organised into three major alliances.
'The pandemic has highlighted and accelerated this development, which has also contrib-
uted to dreadful service levels and hugely inflated rates with carriers allocating vessels to
the most profitable routes with little regard to the needs of their customers,' Keen com-
plained.
46-47-48-49_maferrous.indd 46 01-02-2022 10:30