First issue of 2022!
Subscribe
Page 42 from: First issue of 2022!
42 CAPACITY BOOST AT UK E-SCRAP PLASTICS RECYCLER Recycling firm 3R Technology is eager to grow its e-scrap plas- tics business in 2022, starting with investments in new facilities to bolster its UK operations. On a yearly basis, some 2 ...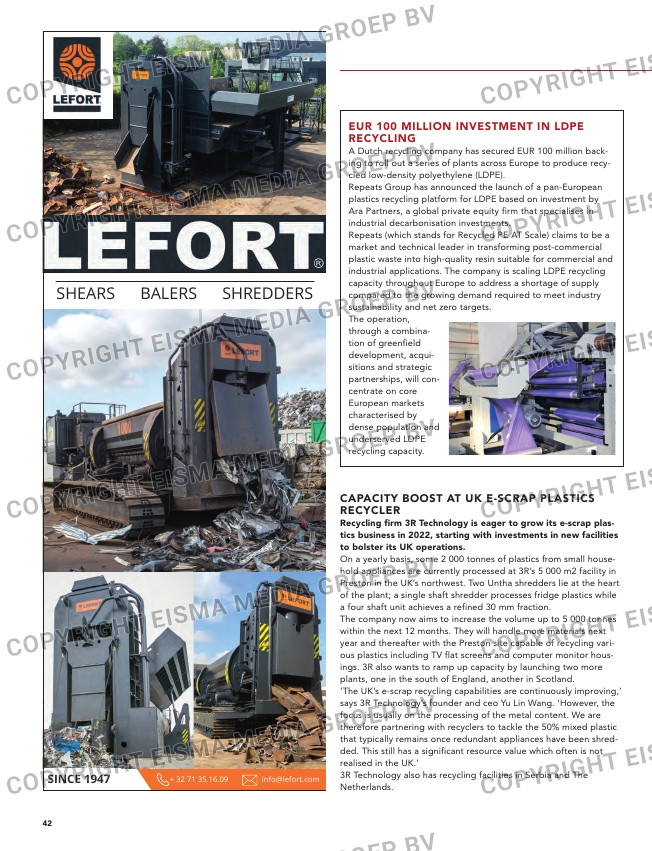 42
CAPACITY BOOST AT UK E-SCRAP PLASTICS
RECYCLER
Recycling firm 3R Technology is eager to grow its e-scrap plas-
tics business in 2022, starting with investments in new facilities
to bolster its UK operations.
On a yearly basis, some 2 000 tonnes of plastics from small house-
hold appliances are currently processed at 3R's 5 000 m2 facility in
Preston in the UK's northwest. Two Untha shredders lie at the heart
of the plant; a single shaft shredder processes fridge plastics while
a four shaft unit achieves a refined 30 mm fraction.
The company now aims to increase the volume up to 5 000 tonnes
within the next 12 months. They will handle more materials next
year and thereafter with the Preston site capable of recycling vari-
ous plastics including TV flat screens and computer monitor hous-
ings. 3R also wants to ramp up capacity by launching two more
plants, one in the south of England, another in Scotland.
'The UK's e-scrap recycling capabilities are continuously improving,'
says 3R Technology's founder and ceo Yu Lin Wang. 'However, the
focus is usually on the processing of the metal content. We are
therefore partnering with recyclers to tackle the 50% mixed plastic
that typically remains once redundant appliances have been shred-
ded. This still has a significant resource value which often is not
realised in the UK.'
3R Technology also has recycling facilities in Serbia and The
Netherlands.
SHEARS BALERS SHREDDERS
[email protected]SINCE 1947 + 32 71 35.16.09
EUR 100 MILLION INVESTMENT IN LDPE
RECYCLING
A Dutch recycling company has secured EUR 100 million back-
ing to roll out a series of plants across Europe to produce recy-
cled low-density polyethylene (LDPE).
Repeats Group has announced the launch of a pan-European
plastics recycling platform for LDPE based on investment by
Ara Partners, a global private equity firm that specialises in
industrial decarbonisation investments.
Repeats (which stands for Recycled PE AT Scale) claims to be a
market and technical leader in transforming post-commercial
plastic waste into high-quality resin suitable for commercial and
industrial applications. The company is scaling LDPE recycling
capacity throughout Europe to address a shortage of supply
compared to the growing demand required to meet industry
sustainability and net zero targets.
The operation,
through a combina-
tion of greenfield
development, acqui-
sitions and strategic
partnerships, will con-
centrate on core
European markets
characterised by
dense population and
underserved LDPE
recycling capacity.
GLENCORE SETS NEW RECORD FOR COPPER EXTRACTED FROM E-SCRAP
Mining and refining company Glencore extracted around 45.5
tonnes of precious metals and 27 000 tonnes of copper from
used electronics in 2020.
The Swiss company intends to expand its electronics recycling activ-
ities in North America, according to its 2021 sustainability report.
Glencore has processed more than one million tonnes of e-scrap
since the 1990s, making it one of the biggest metals recycling play-
ers in the US. The company believes its plant in San Jose, California,
is positioned to become the largest e-scrap pre-processing plant on
the continent.
Glencore's 2020 total for copper recycled from e-scrap is 2 000
tonnes more than 2019. Other recovery figures are relatively stable:
3.8 tonnes of gold in 2020 (compared to 3.6 tonnes); 453kg of pal-
ladium (567kg in 2019) and 142kg of platinum (170kg in 2019).
Silver recovery for both years was 36.8 tonnes.
NEW TECH WILL HELP REALISE CHINA'S
DUAL CARBON TARGETS
China has embarked on a road towards a dual carbon target
where it commits to reach its carbon peak by 2030 and move
forward to achieve carbon neutrality by 2060.
China has introduced policies encouraging technological innova-
tions that are aimed at encouraging smart production, utilising
renewable energy, increasing recycling and usage of bio-based
and recycled materials. More investments have also been direct-
ed towards "green manufacturing" projects as green manufac-
turing is one of the strategic objectives under the 'Made in China
2025' plan.
The government has also been supporting some industries that
have shifted to products that contribute to reduction in carbon
emission, such as the production of new energy vehicles (NEV)
like electric vehicles.
China's plastics manufacturing operations are largely dependent
on fossil fuels, hence carbon emissions from these plants remain
high. A report from the WWF Global states that in 2021,
researchers estimate that the production and incineration of plas-
tics will amount to over 850 million tons of greenhouse gases
into the atmosphere.
As plastics factories resume their production following the pan-
demic, emissions from these factories have surged. But the com-
mitment of the plastics industry has not waned and will continue
to inspire innovations and development of state-of-the-art tech-
nologies to reduce their carbon footprints.
Solutions will be on display at the CHINAPLAS 2022 trade show,
which will take place from 25-28 April in Shanghai. The event will
showcase highly efficient recycling technologies, cutting-edge
equipment and inno-
vative solutions that
will help industry
stakeholders reduce
their carbon emis-
sions and embrace
sustainability.
40-41-42-43_trendsupdatesii.indd 42 01-02-2022 10:29