First issue of 2022!
Subscribe
Page 41 from: First issue of 2022!
TRENDS & UPDATES 41recyclinginternational.com | January/February | 2022 Fotobijschrift SLOVAKIA SAYS 'YES' TO ALUMINI- UM CAN DEPOSIT SYSTEM Slovakia has kicked off the year with a new depos- it return scheme for aluminium ca...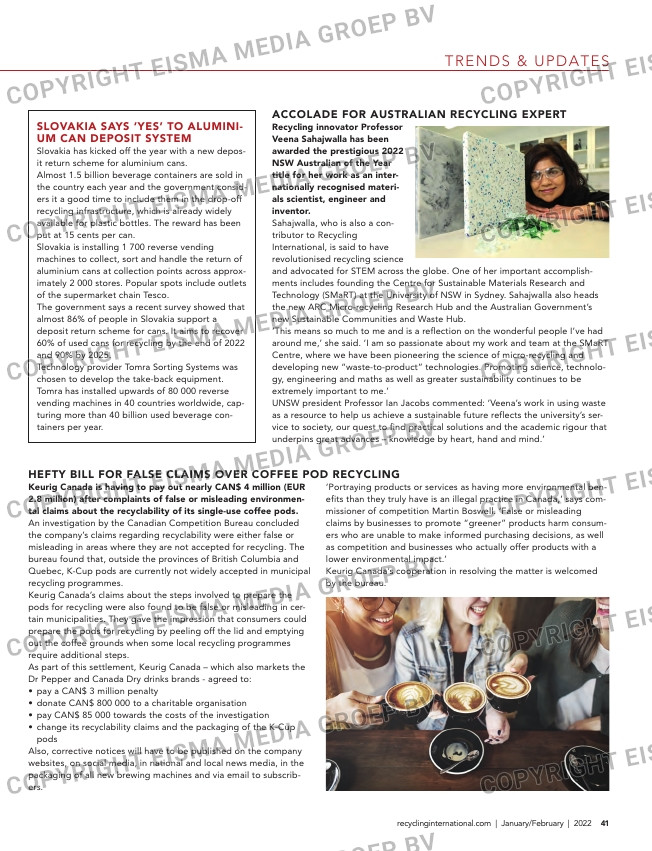 TRENDS & UPDATES
41recyclinginternational.com | January/February | 2022
Fotobijschrift
SLOVAKIA SAYS 'YES' TO ALUMINI-
UM CAN DEPOSIT SYSTEM
Slovakia has kicked off the year with a new depos-
it return scheme for aluminium cans.
Almost 1.5 billion beverage containers are sold in
the country each year and the government consid-
ers it a good time to include them in the drop-off
recycling infrastructure, which is already widely
available for plastic bottles. The reward has been
put at 15 cents per can.
Slovakia is installing 1 700 reverse vending
machines to collect, sort and handle the return of
aluminium cans at collection points across approx-
imately 2 000 stores. Popular spots include outlets
of the supermarket chain Tesco.
The government says a recent survey showed that
almost 86% of people in Slovakia support a
deposit return scheme for cans. It aims to recover
60% of used cans for recycling by the end of 2022
and 90% by 2025.
Technology provider Tomra Sorting Systems was
chosen to develop the take-back equipment.
Tomra has installed upwards of 80 000 reverse
vending machines in 40 countries worldwide, cap-
turing more than 40 billion used beverage con-
tainers per year.
HEFTY BILL FOR FALSE CLAIMS OVER COFFEE POD RECYCLING
Keurig Canada is having to pay out nearly CAN$ 4 million (EUR
2.8 million) after complaints of false or misleading environmen-
tal claims about the recyclability of its single-use coffee pods.
An investigation by the Canadian Competition Bureau concluded
the company's claims regarding recyclability were either false or
misleading in areas where they are not accepted for recycling. The
bureau found that, outside the provinces of British Columbia and
Quebec, K-Cup pods are currently not widely accepted in municipal
recycling programmes.
Keurig Canada's claims about the steps involved to prepare the
pods for recycling were also found to be false or misleading in cer-
tain municipalities. They gave the impression that consumers could
prepare the pods for recycling by peeling off the lid and emptying
out the coffee grounds when some local recycling programmes
require additional steps.
As part of this settlement, Keurig Canada – which also markets the
Dr Pepper and Canada Dry drinks brands – agreed to:
• pay a CAN$ 3 million penalty
• donate CAN$ 800 000 to a charitable organisation
• pay CAN$ 85 000 towards the costs of the investigation
• change its recyclability claims and the packaging of the K-Cup
pods
Also, corrective notices will have to be published on the company
websites, on social media, in national and local news media, in the
packaging of all new brewing machines and via email to subscrib-
ers.
'Portraying products or services as having more environmental ben-
efits than they truly have is an illegal practice in Canada,' says com-
missioner of competition Martin Boswell. 'False or misleading
claims by businesses to promote "greener" products harm consum-
ers who are unable to make informed purchasing decisions, as well
as competition and businesses who actually offer products with a
lower environmental impact.'
Keurig Canada's cooperation in resolving the matter is welcomed
by the bureau.
ACCOLADE FOR AUSTRALIAN RECYCLING EXPERT
Recycling innovator Professor
Veena Sahajwalla has been
awarded the prestigious 2022
NSW Australian of the Year
title for her work as an inter-
nationally recognised materi-
als scientist, engineer and
inventor.
Sahajwalla, who is also a con-
tributor to Recycling
International, is said to have
revolutionised recycling science
and advocated for STEM across the globe. One of her important accomplish-
ments includes founding the Centre for Sustainable Materials Research and
Technology (SMaRT) at the University of NSW in Sydney. Sahajwalla also heads
the new ARC Micro-recycling Research Hub and the Australian Government's
new Sustainable Communities and Waste Hub.
'This means so much to me and is a reflection on the wonderful people I've had
around me,' she said. 'I am so passionate about my work and team at the SMaRT
Centre, where we have been pioneering the science of micro-recycling and
developing new "waste-to-product" technologies. Promoting science, technolo-
gy, engineering and maths as well as greater sustainability continues to be
extremely important to me.'
UNSW president Professor Ian Jacobs commented: 'Veena's work in using waste
as a resource to help us achieve a sustainable future reflects the university's ser-
vice to society, our quest to find practical solutions and the academic rigour that
underpins great advances – knowledge by heart, hand and mind.'
40-41-42-43_trendsupdatesii.indd 41 01-02-2022 10:29