First issue of 2022!
Subscribe
Page 40 from: First issue of 2022!
40 COLUMN SLOVAKIA SAYS 'YES' TO ALUMINI- UM CAN DEPOSIT SYSTEM Slovakia has kicked off the year with a new depos- it return scheme for aluminium cans. Almost 1.5 billion beverage containers are sold in the country each year and th...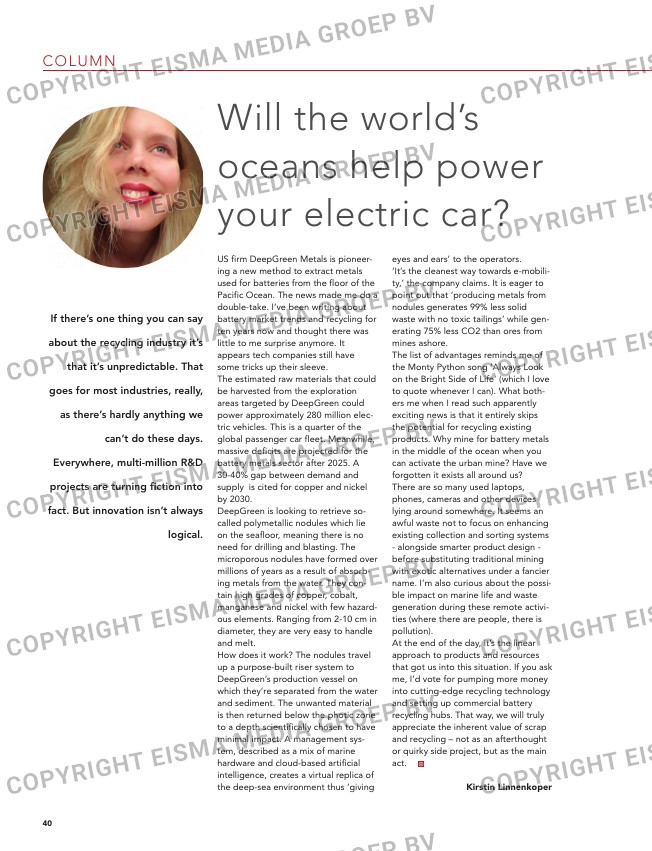 40
COLUMN
SLOVAKIA SAYS 'YES' TO ALUMINI-
UM CAN DEPOSIT SYSTEM
Slovakia has kicked off the year with a new depos-
it return scheme for aluminium cans.
Almost 1.5 billion beverage containers are sold in
the country each year and the government consid-
ers it a good time to include them in the drop-off
recycling infrastructure, which is already widely
available for plastic bottles. The reward has been
put at 15 cents per can.
Slovakia is installing 1 700 reverse vending
machines to collect, sort and handle the return of
aluminium cans at collection points across approx-
imately 2 000 stores. Popular spots include outlets
of the supermarket chain Tesco.
The government says a recent survey showed that
almost 86% of people in Slovakia support a
deposit return scheme for cans. It aims to recover
60% of used cans for recycling by the end of 2022
and 90% by 2025.
Technology provider Tomra Sorting Systems was
chosen to develop the take-back equipment.
Tomra has installed upwards of 80 000 reverse
vending machines in 40 countries worldwide, cap-
turing more than 40 billion used beverage con-
tainers per year.
HEFTY BILL FOR FALSE CLAIMS OVER COFFEE POD RECYCLING
Keurig Canada is having to pay out nearly CAN$ 4 million (EUR
2.8 million) after complaints of false or misleading environmen-
tal claims about the recyclability of its single-use coffee pods.
An investigation by the Canadian Competition Bureau concluded
the company's claims regarding recyclability were either false or
misleading in areas where they are not accepted for recycling. The
bureau found that, outside the provinces of British Columbia and
Quebec, K-Cup pods are currently not widely accepted in municipal
recycling programmes.
Keurig Canada's claims about the steps involved to prepare the
pods for recycling were also found to be false or misleading in cer-
tain municipalities. They gave the impression that consumers could
prepare the pods for recycling by peeling off the lid and emptying
out the coffee grounds when some local recycling programmes
require additional steps.
As part of this settlement, Keurig Canada – which also markets the
Dr Pepper and Canada Dry drinks brands – agreed to:
• pay a CAN$ 3 million penalty
• donate CAN$ 800 000 to a charitable organisation
• pay CAN$ 85 000 towards the costs of the investigation
• change its recyclability claims and the packaging of the K-Cup
pods
Also, corrective notices will have to be published on the company
websites, on social media, in national and local news media, in the
packaging of all new brewing machines and via email to subscrib-
ers.
Will the world's
oceans help power
your electric car?
If there's one thing you can say
about the recycling industry it's
that it's unpredictable. That
goes for most industries, really,
as there's hardly anything we
can't do these days.
Everywhere, multi-million R&D
projects are turning fiction into
fact. But innovation isn't always
logical.
US firm DeepGreen Metals is pioneer-
ing a new method to extract metals
used for batteries from the floor of the
Pacific Ocean. The news made me do a
double-take. I've been writing about
battery market trends and recycling for
ten years now and thought there was
little to me surprise anymore. It
appears tech companies still have
some tricks up their sleeve.
The estimated raw materials that could
be harvested from the exploration
areas targeted by DeepGreen could
power approximately 280 million elec-
tric vehicles. This is a quarter of the
global passenger car fleet. Meanwhile,
massive deficits are projected for the
battery metals sector after 2025. A
30-40% gap between demand and
supply is cited for copper and nickel
by 2030.
DeepGreen is looking to retrieve so-
called polymetallic nodules which lie
on the seafloor, meaning there is no
need for drilling and blasting. The
microporous nodules have formed over
millions of years as a result of absorb-
ing metals from the water. They con-
tain high grades of copper, cobalt,
manganese and nickel with few hazard-
ous elements. Ranging from 2-10 cm in
diameter, they are very easy to handle
and melt.
How does it work? The nodules travel
up a purpose-built riser system to
DeepGreen's production vessel on
which they're separated from the water
and sediment. The unwanted material
is then returned below the photic zone
to a depth scientifically chosen to have
minimal impact. A management sys-
tem, described as a mix of marine
hardware and cloud-based artificial
intelligence, creates a virtual replica of
the deep-sea environment thus 'giving
eyes and ears' to the operators.
'It's the cleanest way towards e-mobili-
ty,' the company claims. It is eager to
point out that 'producing metals from
nodules generates 99% less solid
waste with no toxic tailings' while gen-
erating 75% less CO2 than ores from
mines ashore.
The list of advantages reminds me of
the Monty Python song 'Always Look
on the Bright Side of Life' (which I love
to quote whenever I can). What both-
ers me when I read such apparently
exciting news is that it entirely skips
the potential for recycling existing
products. Why mine for battery metals
in the middle of the ocean when you
can activate the urban mine? Have we
forgotten it exists all around us?
There are so many used laptops,
phones, cameras and other devices
lying around somewhere. It seems an
awful waste not to focus on enhancing
existing collection and sorting systems
– alongside smarter product design –
before substituting traditional mining
with exotic alternatives under a fancier
name. I'm also curious about the possi-
ble impact on marine life and waste
generation during these remote activi-
ties (where there are people, there is
pollution).
At the end of the day, it's the linear
approach to products and resources
that got us into this situation. If you ask
me, I'd vote for pumping more money
into cutting-edge recycling technology
and setting up commercial battery
recycling hubs. That way, we will truly
appreciate the inherent value of scrap
and recycling – not as an afterthought
or quirky side project, but as the main
act.
Kirstin Linnenkoper
40-41-42-43_trendsupdatesii.indd 40 01-02-2022 10:29