First issue of 2022!
Subscribe
Page 34 from: First issue of 2022!
34 The Lotzkar family founded Pacific Metals Recycling in Vancouver over 100 years ago. Jacqueline remembers 'growing up in scrap' and learning the ropes from her father, Mark. After study- ing abroad in Austria and Taiwan, she b...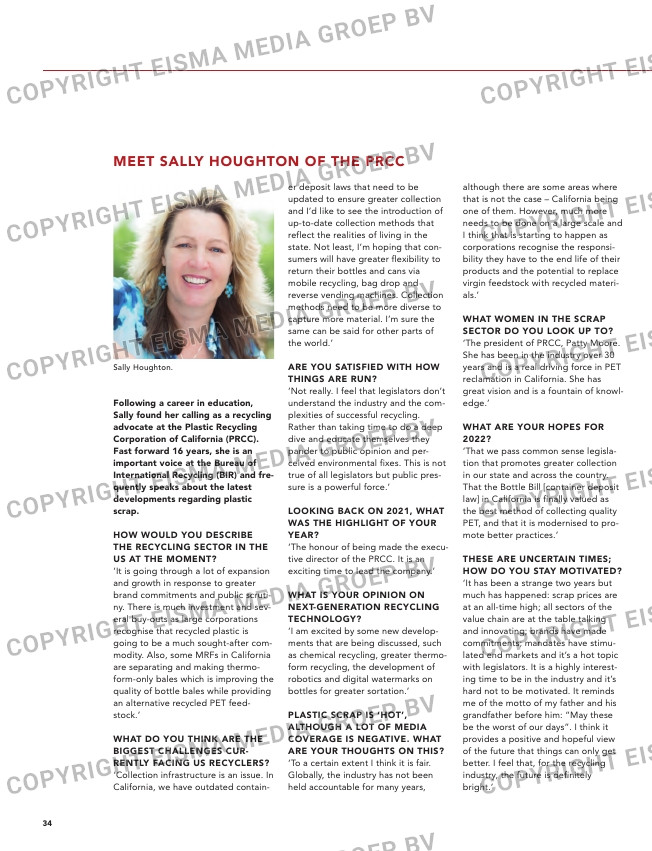 34
The Lotzkar family founded
Pacific Metals Recycling in
Vancouver over 100 years ago.
Jacqueline remembers 'growing up
in scrap' and learning the ropes
from her father, Mark. After study-
ing abroad in Austria and Taiwan,
she became a trader and advocate
for young entrepreneurs in the
industry, closely involved with the
Institute of Scrap Recycling
Industries (ISRI).
WHAT'S YOUR CONNECTION TO
RECYCLING?
'You could say I was born into the
industry as I am a fourth generation
recycler in my family. After finishing
my master's degree in international
business, I was in Europe with plans to
move back to Canada. My dad offered
me an opportunity in our trading team
which allowed me to join the family
business while continuing my passion
for international business and travel,
so it was the perfect fit.'
YOU MADE RECYCLING
INTERNATIONAL'S 2021 TOP 100
LIST. HOW DID THAT FEEL?
'I am honoured and grateful to have
been included on this new list of glob-
al recycling leaders. There were some
great names to be recognised along-
side. For example, Robin Wiener of
ISRI is definitely someone I look up to
in the industry. I'm very proud to be a
part of the recycling industry and con-
tinuing our family tradition of environ-
mental stewardship.'
LOOKING BACK ON 2021, WHAT
THE HIGHLIGHT OF YOUR YEAR?
'The highlight was moving our compa-
ny from our existing site, where we
had been for 60 years, to a brand new
location. It was a very big project. The
new facility presents a real growth
opportunity for us and we have heavi-
ly invested in creating a space in
which we hope everyone will be proud
Following a career in education,
Sally found her calling as a recycling
advocate at the Plastic Recycling
Corporation of California (PRCC).
Fast forward 16 years, she is an
important voice at the Bureau of
International Recycling (BIR) and fre-
quently speaks about the latest
developments regarding plastic
scrap.
HOW WOULD YOU DESCRIBE
THE RECYCLING SECTOR IN THE
US AT THE MOMENT?
'It is going through a lot of expansion
and growth in response to greater
brand commitments and public scruti-
ny. There is much investment and sev-
eral buy-outs as large corporations
recognise that recycled plastic is
going to be a much sought-after com-
modity. Also, some MRFs in California
are separating and making thermo-
form-only bales which is improving the
quality of bottle bales while providing
an alternative recycled PET feed-
stock.'
WHAT DO YOU THINK ARE THE
BIGGEST CHALLENGES CUR-
RENTLY FACING US RECYCLERS?
'Collection infrastructure is an issue. In
California, we have outdated contain-
MEET SALLY HOUGHTON OF THE PRCC
er deposit laws that need to be
updated to ensure greater collection
and I'd like to see the introduction of
up-to-date collection methods that
reflect the realities of living in the
state. Not least, I'm hoping that con-
sumers will have greater flexibility to
return their bottles and cans via
mobile recycling, bag drop and
reverse vending machines. Collection
methods need to be more diverse to
capture more material. I'm sure the
same can be said for other parts of
the world.'
ARE YOU SATISFIED WITH HOW
THINGS ARE RUN?
'Not really. I feel that legislators don't
understand the industry and the com-
plexities of successful recycling.
Rather than taking time to do a deep
dive and educate themselves they
pander to public opinion and per-
ceived environmental fixes. This is not
true of all legislators but public pres-
sure is a powerful force.'
LOOKING BACK ON 2021, WHAT
WAS THE HIGHLIGHT OF YOUR
YEAR?
'The honour of being made the execu-
tive director of the PRCC. It is an
exciting time to lead the company.'
WHAT IS YOUR OPINION ON
NEXT-GENERATION RECYCLING
TECHNOLOGY?
'I am excited by some new develop-
ments that are being discussed, such
as chemical recycling, greater thermo-
form recycling, the development of
robotics and digital watermarks on
bottles for greater sortation.'
PLASTIC SCRAP IS 'HOT',
ALTHOUGH A LOT OF MEDIA
COVERAGE IS NEGATIVE. WHAT
ARE YOUR THOUGHTS ON THIS?
'To a certain extent I think it is fair.
Globally, the industry has not been
held accountable for many years,
although there are some areas where
that is not the case – California being
one of them. However, much more
needs to be done on a large scale and
I think that is starting to happen as
corporations recognise the responsi-
bility they have to the end life of their
products and the potential to replace
virgin feedstock with recycled materi-
als.'
WHAT WOMEN IN THE SCRAP
SECTOR DO YOU LOOK UP TO?
'The president of PRCC, Patty Moore.
She has been in the industry over 30
years and is a real driving force in PET
reclamation in California. She has
great vision and is a fountain of knowl-
edge.'
WHAT ARE YOUR HOPES FOR
2022?
'That we pass common sense legisla-
tion that promotes greater collection
in our state and across the country.
That the Bottle Bill [container deposit
law] in California is finally valued as
the best method of collecting quality
PET, and that it is modernised to pro-
mote better practices.'
THESE ARE UNCERTAIN TIMES;
HOW DO YOU STAY MOTIVATED?
'It has been a strange two years but
much has happened: scrap prices are
at an all-time high; all sectors of the
value chain are at the table talking
and innovating; brands have made
commitments; mandates have stimu-
lated end markets and it's a hot topic
with legislators. It is a highly interest-
ing time to be in the industry and it's
hard not to be motivated. It reminds
me of the motto of my father and his
grandfather before him: "May these
be the worst of our days". I think it
provides a positive and hopeful view
of the future that things can only get
better. I feel that, for the recycling
industry, the future is definitely
bright.'
Sally Houghton.
MEET JACQUELINE LOTZKAR OF PACIFIC METALS RECYCLING
32-33-34-35-36-37_womeninrecycling.indd 34 01-02-2022 10:27