First issue of 2022!
Subscribe
Page 30 from: First issue of 2022!
30 A new wave of ship recycling opportunities The global ship recycling sector started 2022 witnessing a decline in deals, although prices remain reasonably firm. This comes after a year that saw scrap prices double because of the pan...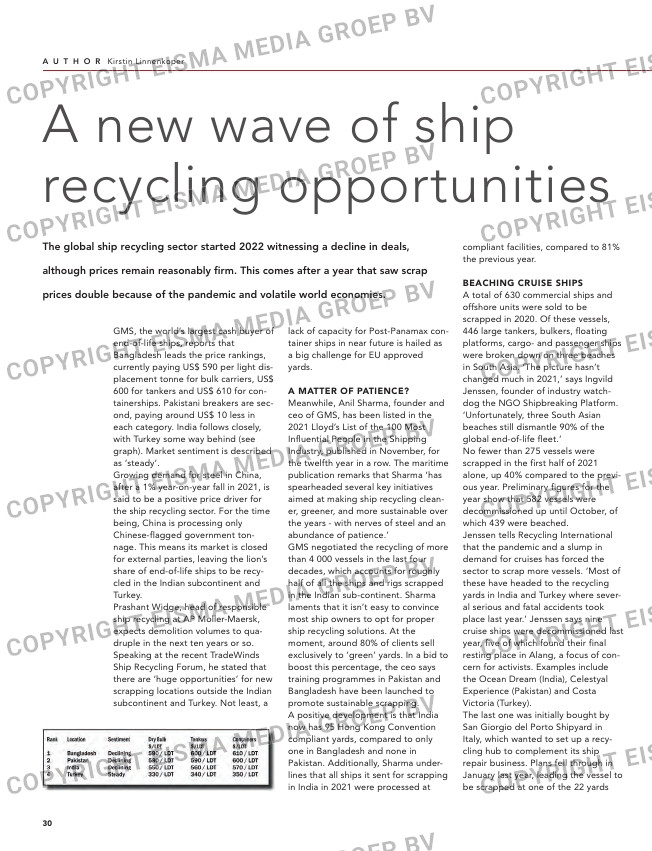 30
A new wave of ship
recycling opportunities
The global ship recycling sector started 2022 witnessing a decline in deals,
although prices remain reasonably firm. This comes after a year that saw scrap
prices double because of the pandemic and volatile world economies.
along the coast of Aliaga. This mas-
sive undertaking takes
roughly 2 500 workers three to four
months to complete.
'DISILLUSIONED'
While industry members are eager to
voice concerns about ship recycling
outside the European continent, that
doesn't automatically mean EU-based
players are always right, insists
Henning Gramann, ceo of GRS
Services in Germany. In his view,
organisations such as the NGO
Shipbreaking Platform fail to credit
improvements made the last few
years. 'Their core strength is to bring
bad sellers to the surface. The prob-
lem is their approach inadvertently
targets everyone as a means of show-
casing their power, rather than serving
the greater good.'
When asked how to describe the ship
recycling sector at the moment,
Gramman answers it's a 'strange
industry' that pays little attention to
honesty and quality. 'I realise it sounds
a bit disillusioned but that's the big
picture.'
The German ship legislation specialist
stresses that an industrial nation such
as his own does not recycle any ships
domestically. 'The number is exactly
zero. No judgement must be made
about an entire area, country or
region.'
Gramann insists that there are 'some
extremely good yards' in Alang which
work to the highest standards. Even
the EU would have included them in
its list of approved ship recycling facil-
ities, he says, but the Basel
Amendment coming into force creat-
ed a legal obstacle. 'The EU is cur-
rently working on clarifying and cir-
cumventing this issue but in official
letters they have informed the recy-
clers that this will take a long time,' he
explains.
GOOD VERSUS BAD GUYS
'I don't consider it likely we will see
any of the "good guys" on the EU
approved list in the short or even
medium term, even though their sites
are run to satisfaction,' Gramann says.
'That is simply not fair.'
GMS, the world's largest cash buyer of
end-of-life ships, reports that
Bangladesh leads the price rankings,
currently paying US$ 590 per light dis-
placement tonne for bulk carriers, US$
600 for tankers and US$ 610 for con-
tainerships. Pakistani breakers are sec-
ond, paying around US$ 10 less in
each category. India follows closely,
with Turkey some way behind (see
graph). Market sentiment is described
as 'steady'.
Growing demand for steel in China,
after a 1% year-on-year fall in 2021, is
said to be a positive price driver for
the ship recycling sector. For the time
being, China is processing only
Chinese-flagged government ton-
nage. This means its market is closed
for external parties, leaving the lion's
share of end-of-life ships to be recy-
cled in the Indian subcontinent and
Turkey.
Prashant Widge, head of responsible
ship recycling at AP Moller-Maersk,
expects demolition volumes to qua-
druple in the next ten years or so.
Speaking at the recent TradeWinds
Ship Recycling Forum, he stated that
there are 'huge opportunities' for new
scrapping locations outside the Indian
subcontinent and Turkey. Not least, a
lack of capacity for Post-Panamax con-
tainer ships in near future is hailed as
a big challenge for EU approved
yards.
A MATTER OF PATIENCE?
Meanwhile, Anil Sharma, founder and
ceo of GMS, has been listed in the
2021 Lloyd's List of the 100 Most
Influential People in the Shipping
Industry, published in November, for
the twelfth year in a row. The maritime
publication remarks that Sharma 'has
spearheaded several key initiatives
aimed at making ship recycling clean-
er, greener, and more sustainable over
the years – with nerves of steel and an
abundance of patience.'
GMS negotiated the recycling of more
than 4 000 vessels in the last four
decades, which accounts for roughly
half of all the ships and rigs scrapped
in the Indian sub-continent. Sharma
laments that it isn't easy to convince
most ship owners to opt for proper
ship recycling solutions. At the
moment, around 80% of clients sell
exclusively to 'green' yards. In a bid to
boost this percentage, the ceo says
training programmes in Pakistan and
Bangladesh have been launched to
promote sustainable scrapping.
A positive development is that India
now has 95 Hong Kong Convention
compliant yards, compared to only
one in Bangladesh and none in
Pakistan. Additionally, Sharma under-
lines that all ships it sent for scrapping
in India in 2021 were processed at
compliant facilities, compared to 81%
the previous year.
BEACHING CRUISE SHIPS
A total of 630 commercial ships and
offshore units were sold to be
scrapped in 2020. Of these vessels,
446 large tankers, bulkers, floating
platforms, cargo- and passenger ships
were broken down on three beaches
in South Asia. 'The picture hasn't
changed much in 2021,' says Ingvild
Jenssen, founder of industry watch-
dog the NGO Shipbreaking Platform.
'Unfortunately, three South Asian
beaches still dismantle 90% of the
global end-of-life fleet.'
No fewer than 275 vessels were
scrapped in the first half of 2021
alone, up 40% compared to the previ-
ous year. Preliminary figures for the
year show that 582 vessels were
decommissioned up until October, of
which 439 were beached.
Jenssen tells Recycling International
that the pandemic and a slump in
demand for cruises has forced the
sector to scrap more vessels. 'Most of
these have headed to the recycling
yards in India and Turkey where sever-
al serious and fatal accidents took
place last year.' Jenssen says nine
cruise ships were decommissioned last
year, five of which found their final
resting place in Alang, a focus of con-
cern for activists. Examples include
the Ocean Dream (India), Celestyal
Experience (Pakistan) and Costa
Victoria (Turkey).
The last one was initially bought by
San Giorgio del Porto Shipyard in
Italy, which wanted to set up a recy-
cling hub to complement its ship
repair business. Plans fell through in
January last year, leading the vessel to
be scrapped at one of the 22 yards
A U T H O R Kirstin Linnenkoper
30-31_shiprecycling-genova.indd 30 01-02-2022 10:27