First issue of 2022!
Subscribe
Page 26 from: First issue of 2022!
26 Respecting the nine lives of discarded electronics A new wave of electronic products will be presented by market leaders such as Samsung, Bosch and Panasonic in the coming months. With that in mind, it's important to consider t...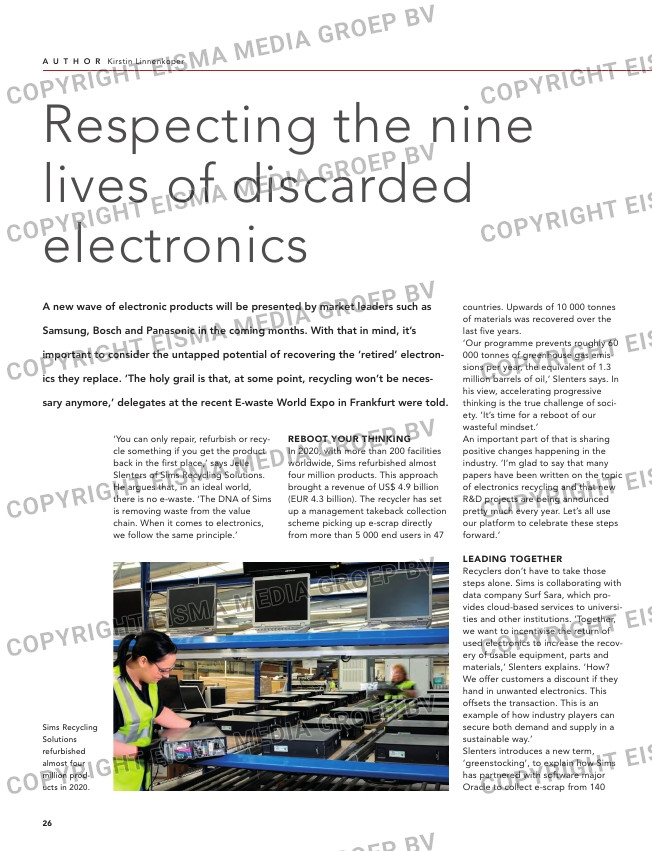 26
Respecting the nine
lives of discarded
electronics
A new wave of electronic products will be presented by market leaders such as
Samsung, Bosch and Panasonic in the coming months. With that in mind, it's
important to consider the untapped potential of recovering the 'retired' electron-
ics they replace. 'The holy grail is that, at some point, recycling won't be neces-
sary anymore,' delegates at the recent E-waste World Expo in Frankfurt were told.
countries across the world. The idea is
to reuse, refurbish or remanufacture
as much as possible. This is proven by
the partners' motto: 'reuse first, recy-
cle last'.
A total of 273 465 parts and compo-
nents were harvested in the past two
years. Annually, this translates to
roughly 2 300 tonnes. In order to
accomplish this, Sims has invested in
smart systems to identify individual
parts, model numbers, and brands
and track them through the waste
stream. These are then matched to
demand for IT equipment within
Oracle divisions.
Original equipment manufacturers
have started to take responsibility to
arrange take-back options for their
products, Slenters points out. 'We see
more ambition at the top. Take-back is
crucial in our sector, and so is leader-
ship.'
IS REPAIR ATTRACTIVE ENOUGH?
An absence of spare parts and con-
sumers' unwillingness to have faulty
electrical and electronic products
repaired is typical while, at the same
time, luxury household electronics are
gaining in popularity, delegates in
Frankfurt were told. A strong call for
the 'right to repair' was voiced by
Steffen Vangerow, founder of a
German company of the same
name which extends the useful lives
of various electronic products.
'My grandfather repaired practically
everything – how times have changed,'
he told delegates during a roundtable
session on repair. 'Did you know every
'You can only repair, refurbish or recy-
cle something if you get the product
back in the first place,' says Jelle
Slenters of Sims Recycling Solutions.
He argues that, in an ideal world,
there is no e-waste. 'The DNA of Sims
is removing waste from the value
chain. When it comes to electronics,
we follow the same principle.'
REBOOT YOUR THINKING
In 2020, with more than 200 facilities
worldwide, Sims refurbished almost
four million products. This approach
brought a revenue of US$ 4.9 billion
(EUR 4.3 billion). The recycler has set
up a management takeback collection
scheme picking up e-scrap directly
from more than 5 000 end users in 47
countries. Upwards of 10 000 tonnes
of materials was recovered over the
last five years.
'Our programme prevents roughly 60
000 tonnes of greenhouse gas emis-
sions per year, the equivalent of 1.3
million barrels of oil,' Slenters says. In
his view, accelerating progressive
thinking is the true challenge of soci-
ety. 'It's time for a reboot of our
wasteful mindset.'
An important part of that is sharing
positive changes happening in the
industry. 'I'm glad to say that many
papers have been written on the topic
of electronics recycling and that new
R&D projects are being announced
pretty much every year. Let's all use
our platform to celebrate these steps
forward.'
LEADING TOGETHER
Recyclers don't have to take those
steps alone. Sims is collaborating with
data company Surf Sara, which pro-
vides cloud-based services to universi-
ties and other institutions. 'Together,
we want to incentivise the return of
used electronics to increase the recov-
ery of usable equipment, parts and
materials,' Slenters explains. 'How?
We offer customers a discount if they
hand in unwanted electronics. This
offsets the transaction. This is an
example of how industry players can
secure both demand and supply in a
sustainable way.'
Slenters introduces a new term,
'greenstocking', to explain how Sims
has partnered with software major
Oracle to collect e-scrap from 140
A U T H O R Kirstin Linnenkoper
Sims Recycling
Solutions
refurbished
almost four
million prod-
ucts in 2020.
26-27-28-29_ewastefrankfurt.indd 26 01-02-2022 10:26