First issue of 2022!
Subscribe
Page 24 from: First issue of 2022!
24 competitors? There will be some over- lap with others, expects Igneo's ceo. 'But we go after a segment of the mar- ket that others don't. Most electronic recyclers in the US today are basically collectors of materials which the...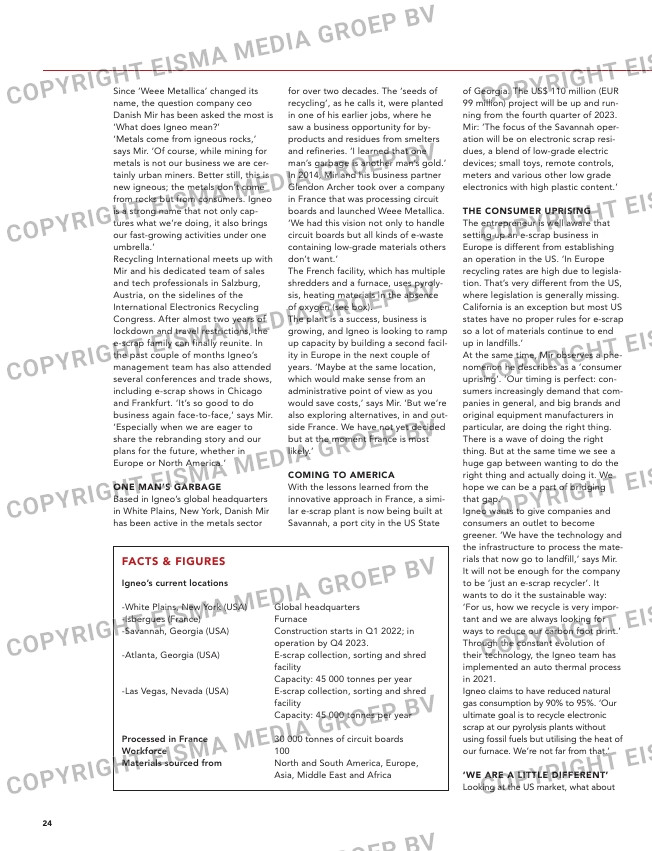 24
competitors? There will be some over-
lap with others, expects Igneo's ceo.
'But we go after a segment of the mar-
ket that others don't. Most electronic
recyclers in the US today are basically
collectors of materials which they scrap,
sort and send to smelters. Instead, we
go after the material the smelter cannot
take, either for technical or, mostly, eco-
nomic reasons. We remove the deleteri-
ous elements and upgrade them using
our technology, delivering a sustainable
copper concentrate that the smelter
prefers to take.'
NEXT STOP: WEST COAST
In the perfect world, says Mir, multiple
facilities would be upgrading copper
and precious metals otherwise lost to
landfill and sending them to smelters
around the globe.
Asked how many new Igneo plants
will actually pop up by 2030, he
replies: 'Probably six. That's an expan-
sion in France/Europe and multiple
plants in the US, including Savannah
and a second site probably on the
West Coast,' adding that Igneo is busy
searching for locations.
Igneo has managed to successfully run
a facility in 'highly regulated' France.
'True, France is perhaps one of the
most stringent jurisdictions when it
comes to environmental legislation. I
always tell people "if you can operate
a facility in France, you can run a facili-
ty anywhere in the world and it's a
true testament to our environmentally
clean technology ".'
ATLANTA AND VEGAS HUBS
Building modern facilities in the US to
process materials is one thing, getting
hold of the volumes is another.
'Logistics is the biggest challenge,'
says Mir. 'You move stuff around that
has low value and there is no collec-
tion infrastructure for these materials
in the US,' he points out.
Igneo is developing its own collection
system 'from the ground up'. 'We are
building eight hubs to reach every
household in the US.' The first has
recently opened in Atlanta while a
second in Las Vegas is expected to be
operational by March. Both include
sorting and shredding services.
Additional collection hubs are to be
established soon after the initial two
Since 'Weee Metallica' changed its
name, the question company ceo
Danish Mir has been asked the most is
'What does Igneo mean?'
'Metals come from igneous rocks,'
says Mir. 'Of course, while mining for
metals is not our business we are cer-
tainly urban miners. Better still, this is
new igneous; the metals don't come
from rocks but from consumers. Igneo
is a strong name that not only cap-
tures what we're doing, it also brings
our fast-growing activities under one
umbrella.'
Recycling International meets up with
Mir and his dedicated team of sales
and tech professionals in Salzburg,
Austria, on the sidelines of the
International Electronics Recycling
Congress. After almost two years of
lockdown and travel restrictions, the
e-scrap family can finally reunite. In
the past couple of months Igneo's
management team has also attended
several conferences and trade shows,
including e-scrap shows in Chicago
and Frankfurt. 'It's so good to do
business again face-to-face,' says Mir.
'Especially when we are eager to
share the rebranding story and our
plans for the future, whether in
Europe or North America.'
ONE MAN'S GARBAGE
Based in Igneo's global headquarters
in White Plains, New York, Danish Mir
has been active in the metals sector
for over two decades. The 'seeds of
recycling', as he calls it, were planted
in one of his earlier jobs, where he
saw a business opportunity for by-
products and residues from smelters
and refineries. 'I learned that one
man's garbage is another man's gold.'
In 2014, Mir and his business partner
Glendon Archer took over a company
in France that was processing circuit
boards and launched Weee Metallica.
'We had this vision not only to handle
circuit boards but all kinds of e-waste
containing low-grade materials others
don't want.'
The French facility, which has multiple
shredders and a furnace, uses pyroly-
sis, heating materials in the absence
of oxygen (see box).
The plant is a success, business is
growing, and Igneo is looking to ramp
up capacity by building a second facil-
ity in Europe in the next couple of
years. 'Maybe at the same location,
which would make sense from an
administrative point of view as you
would save costs,' says Mir. 'But we're
also exploring alternatives, in and out-
side France. We have not yet decided
but at the moment France is most
likely.'
COMING TO AMERICA
With the lessons learned from the
innovative approach in France, a simi-
lar e-scrap plant is now being built at
Savannah, a port city in the US State
of Georgia. The US$ 110 million (EUR
99 million) project will be up and run-
ning from the fourth quarter of 2023.
Mir: 'The focus of the Savannah oper-
ation will be on electronic scrap resi-
dues, a blend of low-grade electric
devices; small toys, remote controls,
meters and various other low grade
electronics with high plastic content.'
THE CONSUMER UPRISING
The entrepreneur is well aware that
setting up an e-scrap business in
Europe is different from establishing
an operation in the US. 'In Europe
recycling rates are high due to legisla-
tion. That's very different from the US,
where legislation is generally missing.
California is an exception but most US
states have no proper rules for e-scrap
so a lot of materials continue to end
up in landfills.'
At the same time, Mir observes a phe-
nomenon he describes as a 'consumer
uprising'. 'Our timing is perfect: con-
sumers increasingly demand that com-
panies in general, and big brands and
original equipment manufacturers in
particular, are doing the right thing.
There is a wave of doing the right
thing. But at the same time we see a
huge gap between wanting to do the
right thing and actually doing it. We
hope we can be a part of bridging
that gap.'
Igneo wants to give companies and
consumers an outlet to become
greener. 'We have the technology and
the infrastructure to process the mate-
rials that now go to landfill,' says Mir.
It will not be enough for the company
to be 'just an e-scrap recycler'. It
wants to do it the sustainable way:
'For us, how we recycle is very impor-
tant and we are always looking for
ways to reduce our carbon foot print.'
Through the constant evolution of
their technology, the Igneo team has
implemented an auto thermal process
in 2021.
Igneo claims to have reduced natural
gas consumption by 90% to 95%. 'Our
ultimate goal is to recycle electronic
scrap at our pyrolysis plants without
using fossil fuels but utilising the heat of
our furnace. We're not far from that.'
'WE ARE A LITTLE DIFFERENT'
Looking at the US market, what about
FACTS & FIGURES
Igneo's current locations
-White Plains, New York (USA) Global headquarters
-Isbergues (France) Furnace
-Savannah, Georgia (USA) Construction starts in Q1 2022; in
operation by Q4 2023.
-Atlanta, Georgia (USA) E-scrap collection, sorting and shred
facility
Capacity: 45 000 tonnes per year
-Las Vegas, Nevada (USA) E-scrap collection, sorting and shred
facility
Capacity: 45 000 tonnes per year
Processed in France 30 000 tonnes of circuit boards
Workforce 100
Materials sourced from North and South America, Europe,
Asia, Middle East and Africa
22-23-24-25_igneo.indd 24 01-02-2022 10:26