First issue of 2022!
Subscribe
Page 20 from: First issue of 2022!
20 Proper solution for Israel's fridge and aircons mountains Serbia's e-scrap front- runner looks to grow at home and abroad IERC2022 hosted some 40 solution providers, among them URT Recycling Technology. At the show in Salz...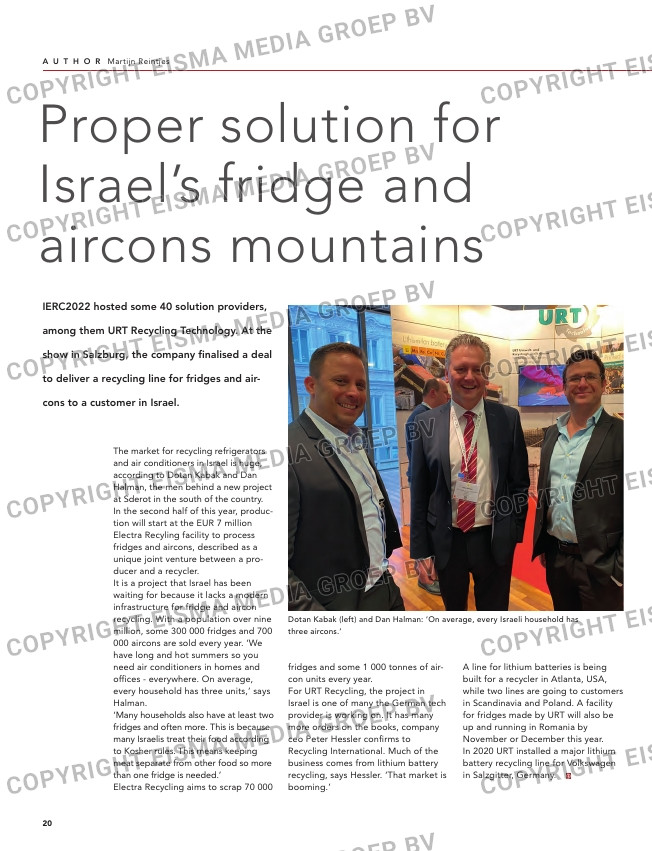 20
Proper solution for
Israel's fridge and
aircons mountains
Serbia's e-scrap front-
runner looks to grow at
home and abroad
IERC2022 hosted some 40 solution providers,
among them URT Recycling Technology. At the
show in Salzburg, the company finalised a deal
to deliver a recycling line for fridges and air-
cons to a customer in Israel.
Every year, some 125 000 discarded fridges go through the shredder at E-Reciklaza, one of the largest
electronics recyclers in the Balkans. Based at Nis in southern Serbia, the company is looking for part-
ners to expand its business and operations, managing director Ninoslav Milenkovic told the IERC
crowds in Salzburg.
The market for recycling refrigerators
and air conditioners in Israel is huge,
according to Dotan Kabak and Dan
Halman, the men behind a new project
at Sderot in the south of the country.
In the second half of this year, produc-
tion will start at the EUR 7 million
Electra Recyling facility to process
fridges and aircons, described as a
unique joint venture between a pro-
ducer and a recycler.
It is a project that Israel has been
waiting for because it lacks a modern
infrastructure for fridge and aircon
recycling. With a population over nine
million, some 300 000 fridges and 700
000 aircons are sold every year. 'We
have long and hot summers so you
need air conditioners in homes and
offices – everywhere. On average,
every household has three units,' says
Halman.
'Many households also have at least two
fridges and often more. This is because
many Israelis treat their food according
to Kosher rules. This means keeping
meat separate from other food so more
than one fridge is needed.'
Electra Recycling aims to scrap 70 000
The business started from scratch in
2012 when the country lacked proper
regulations for processing electronic
scrap. 'We learned from EU standards
such as Cenelec and, step-by-step,
introduced them into our company,'
says Milenkovic. 'By doing so, we auto-
matically inspired others, including the
government. Ten years on, we've raised
the bar for e-scrap recycling in Serbia.'
E-Reciklaza has two shredder lines, a
large one for fridges and another for
smaller devices. The company pro-
cessed 17 000 tonnes of e-scrap in
2021 and expects to increase volumes
towards 20 000 tonnes by the end of
this year. The recycler sees great
opportunities to ramp up capacity.
'With volumes continuing to grow year-
on-year, there is room for a second
facility in the north of Serbia, either in
the capital Belgrade or Novi Sad
towards the Serbia-Hungary border,'
says Milenkovic.
E-Reciklaza has a network of collection
points across Serbia and three ware-
houses for storage. The company also
collects growing volumes of electronic
and electrical devices from neighbour-
ing countries including Bosnia and
Montenegro.
Milenkovic is looking for partners to
fridges and some 1 000 tonnes of air-
con units every year.
For URT Recycling, the project in
Israel is one of many the German tech
provider is working on. It has many
more orders on the books, company
ceo Peter Hessler confirms to
Recycling International. Much of the
business comes from lithium battery
recycling, says Hessler. 'That market is
booming.'
A line for lithium batteries is being
built for a recycler in Atlanta, USA,
while two lines are going to customers
in Scandinavia and Poland. A facility
for fridges made by URT will also be
up and running in Romania by
November or December this year.
In 2020 URT installed a major lithium
battery recycling line for Volkswagen
in Salzgitter, Germany.
Dotan Kabak (left) and Dan Halman: 'On average, every Israeli household has
three aircons.'
A U T H O R Martijn Reintjes
18-19-20-21_ierchighlights.indd 20 01-02-2022 10:23