First issue of 2022!
Subscribe
Page 18 from: First issue of 2022!
18 'Keep it simple, policy makers' A s b u s i n e s s b o o m s i n E u ro p e , c o m p l e x re g u l a t i o n s c o n t i n u e t o f r u s t r a t e e - s c r a p re c y c l e r s Recyclers at the recent Inter...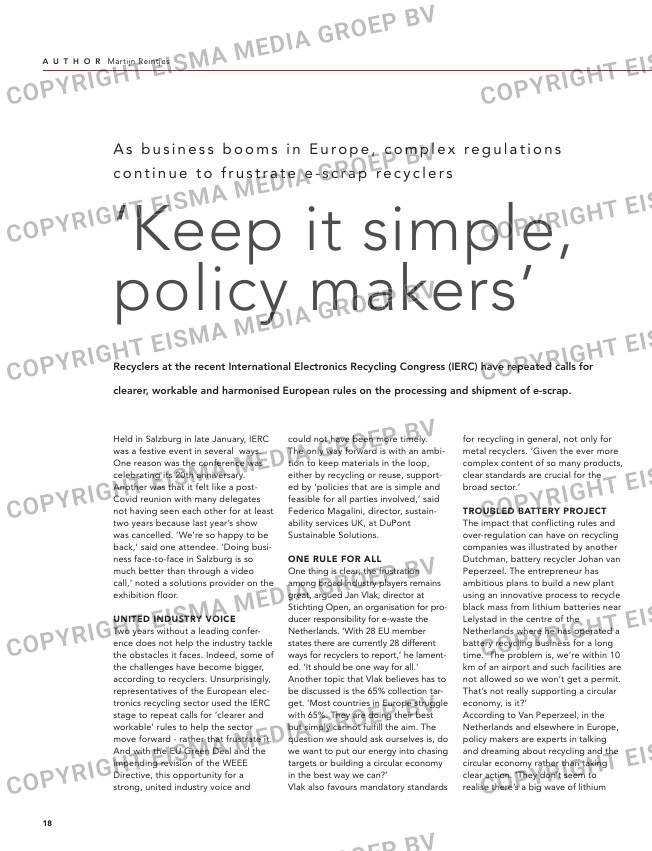 18
'Keep it simple,
policy makers'
A s b u s i n e s s b o o m s i n E u ro p e , c o m p l e x re g u l a t i o n s
c o n t i n u e t o f r u s t r a t e e – s c r a p re c y c l e r s
Recyclers at the recent International Electronics Recycling Congress (IERC) have repeated calls for
clearer, workable and harmonised European rules on the processing and shipment of e-scrap.
batteries coming at us. The volumes
are growing bigger and bigger but
recycling capacity is not. What worries
me, if decison makers keep on dream-
ing, is that we won't have enough
capacity to process all these batteries.'
Van Peperzeel is looking for investors
to join the EUR 6 million plant project.
A MINDSET SHIFT
As well as European issues, the
Salzburg conference also addressed
several global e-scrap challenges,
including the growth in reuse/repair
business models. Bloomberg colum-
Held in Salzburg in late January, IERC
was a festive event in several ways.
One reason was the conference was
celebrating its 20th anniversary.
Another was that it felt like a post-
Covid reunion with many delegates
not having seen each other for at least
two years because last year's show
was cancelled. 'We're so happy to be
back,' said one attendee. 'Doing busi-
ness face-to-face in Salzburg is so
much better than through a video
call,' noted a solutions provider on the
exhibition floor.
UNITED INDUSTRY VOICE
Two years without a leading confer-
ence does not help the industry tackle
the obstacles it faces. Indeed, some of
the challenges have become bigger,
according to recyclers. Unsurprisingly,
representatives of the European elec-
tronics recycling sector used the IERC
stage to repeat calls for 'clearer and
workable' rules to help the sector
move forward – rather that frustrate it.
And with the EU Green Deal and the
impending revision of the WEEE
Directive, this opportunity for a
strong, united industry voice and
could not have been more timely.
The only way forward is with an ambi-
tion to keep materials in the loop,
either by recycling or reuse, support-
ed by 'policies that are is simple and
feasible for all parties involved,' said
Federico Magalini, director, sustain-
ability services UK, at DuPont
Sustainable Solutions.
ONE RULE FOR ALL
One thing is clear; the frustration
among broad industry players remains
great, argued Jan Vlak, director at
Stichting Open, an organisation for pro-
ducer responsibility for e-waste the
Netherlands. 'With 28 EU member
states there are currently 28 different
ways for recyclers to report,' he lament-
ed. 'It should be one way for all.'
Another topic that Vlak believes has to
be discussed is the 65% collection tar-
get. 'Most countries in Europe struggle
with 65%. They are doing their best
but simply cannot fulfill the aim. The
question we should ask ourselves is, do
we want to put our energy into chasing
targets or building a circular economy
in the best way we can?'
Vlak also favours mandatory standards
for recycling in general, not only for
metal recyclers. 'Given the ever more
complex content of so many products,
clear standards are crucial for the
broad sector.'
TROUBLED BATTERY PROJECT
The impact that conflicting rules and
over-regulation can have on recycling
companies was illustrated by another
Dutchman, battery recycler Johan van
Peperzeel. The entrepreneur has
ambitious plans to build a new plant
using an innovative process to recycle
black mass from lithium batteries near
Lelystad in the centre of the
Netherlands where he has operated a
battery recycling business for a long
time. 'The problem is, we're within 10
km of an airport and such facilities are
not allowed so we won't get a permit.
That's not really supporting a circular
economy, is it?'
According to Van Peperzeel, in the
Netherlands and elsewhere in Europe,
policy makers are experts in talking
and dreaming about recycling and the
circular economy rather than taking
clear action. 'They don't seem to
realise there's a big wave of lithium
A U T H O R Martijn Reintjes
Adam Minter signing a copy of his book 'Secondhand' for congress organiser Jeanette Duttlinger of ICM.
Recycling International's Judith Wanjala
and Marius Costache of Romania based
Green WEEE.
18-19-20-21_ierchighlights.indd 18 01-02-2022 10:23