First issue of 2022!
Subscribe
Page 16 from: First issue of 2022!
16 INDONESIA CERTIFIES FIRST 'GREEN' SHIP RECYCLING YARD Singapore-based Marco Polo Marine is venturing into 'green' ship recycling with the approval of Indonesian authorities. Batam Shipyard, operated by local subsidiary Marco Po...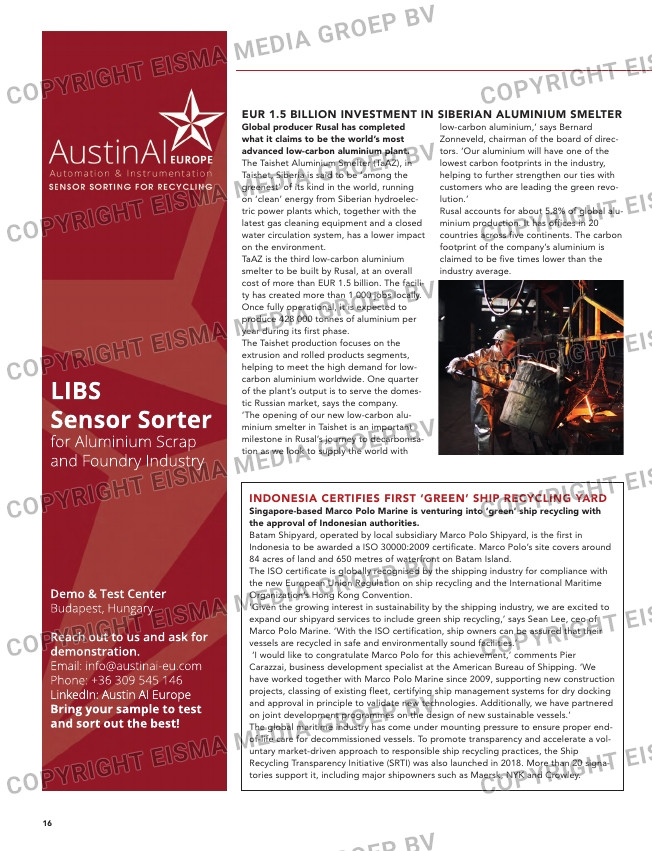 16
INDONESIA CERTIFIES FIRST 'GREEN' SHIP RECYCLING YARD
Singapore-based Marco Polo Marine is venturing into 'green' ship recycling with
the approval of Indonesian authorities.
Batam Shipyard, operated by local subsidiary Marco Polo Shipyard, is the first in
Indonesia to be awarded a ISO 30000:2009 certificate. Marco Polo's site covers around
84 acres of land and 650 metres of waterfront on Batam Island.
The ISO certificate is globally recognised by the shipping industry for compliance with
the new European Union Regulation on ship recycling and the International Maritime
Organization's Hong Kong Convention.
'Given the growing interest in sustainability by the shipping industry, we are excited to
expand our shipyard services to include green ship recycling,' says Sean Lee, ceo of
Marco Polo Marine. 'With the ISO certification, ship owners can be assured that their
vessels are recycled in safe and environmentally sound facilities.'
'I would like to congratulate Marco Polo for this achievement,' comments Pier
Carazzai, business development specialist at the American Bureau of Shipping. 'We
have worked together with Marco Polo Marine since 2009, supporting new construction
projects, classing of existing fleet, certifying ship management systems for dry docking
and approval in principle to validate new technologies. Additionally, we have partnered
on joint development programmes on the design of new sustainable vessels.'
The global maritime industry has come under mounting pressure to ensure proper end-
of-life care for decommissioned vessels. To promote transparency and accelerate a vol-
untary market-driven approach to responsible ship recycling practices, the Ship
Recycling Transparency Initiative (SRTI) was also launched in 2018. More than 20 signa-
tories support it, including major shipowners such as Maersk, NYK and Crowley.
EUR 1.5 BILLION INVESTMENT IN SIBERIAN ALUMINIUM SMELTER
Global producer Rusal has completed
what it claims to be the world's most
advanced low-carbon aluminium plant.
The Taishet Aluminium Smelter (TaAZ), in
Taishet, Siberia is said to be 'among the
greenest' of its kind in the world, running
on 'clean' energy from Siberian hydroelec-
tric power plants which, together with the
latest gas cleaning equipment and a closed
water circulation system, has a lower impact
on the environment.
TaAZ is the third low-carbon aluminium
smelter to be built by Rusal, at an overall
cost of more than EUR 1.5 billion. The facili-
ty has created more than 1 000 jobs locally.
Once fully operational, it is expected to
produce 428 000 tonnes of aluminium per
year during its first phase.
The Taishet production focuses on the
extrusion and rolled products segments,
helping to meet the high demand for low-
carbon aluminium worldwide. One quarter
of the plant's output is to serve the domes-
tic Russian market, says the company.
'The opening of our new low-carbon alu-
minium smelter in Taishet is an important
milestone in Rusal's journey to decarbonisa-
tion as we look to supply the world with
low-carbon aluminium,' says Bernard
Zonneveld, chairman of the board of direc-
tors. 'Our aluminium will have one of the
lowest carbon footprints in the industry,
helping to further strengthen our ties with
customers who are leading the green revo-
lution.'
Rusal accounts for about 5.8% of global alu-
minium production. It has offices in 20
countries across five continents. The carbon
footprint of the company's aluminium is
claimed to be five times lower than the
industry average.
ANNUAL GLOBAL STEEL PRODUCTION
NEARS 2 000 MILLION TONNES
Total world crude steel production as reported by
the World Steel Association (worldsteel) during
2021 was 1 950.5 million tonnes in 2021, a 3.7%
increase on 2020.
As ever, the numbers are dominated by China whose
total production of 1 032.8 million tonnes was 3%
down on 2020. The next three largest producers all
reported significant annual increases: India (17.8%);
Japan (15.8%) and the US (18.3%).
The individual total for December 2021 was 158.7 mil-
lion tonnes, a 3.0% decrease compared to December a
year earlier.
Breaking down the numbers to individual countries,
China produced 86.2 million tonnes in December 2021,
down 6.8% on December 2020. India produced 10.4
million tonnes (+ 0.9%); Japan 7.9 million tonnes (+
5.4%); the United States 7.2 million tonnes (+ 11.9%).
Turkey's total of 3.3 million tonnes was down 2.3%.
Worldsteel's previous two reports show crude steel
production in November was 143.3 million tonnes, a
9.9% decrease compared to November 2020, while
the October total was 145.7 million tonnes, down
10.6% compared to October 2020.
Meanwhile the latest customs data from China shows a
big jump in imports of ferrous scrap in 2021. The coun-
try imported more than 550 000 tonnes compared to
little more than nil the year before. Of this, 70% came
from Japan and nearly 20% from South Korea. It was
only at the end of 2020 that China relaxed restrictions
on ferrous scrap which had been in place for two
years.
Demo & Test Center
Budapest, Hungary
Reach out to us and ask for
demonstration.
Email: [email protected]
Phone: +36 309 545 146
LinkedIn: Austin AI Europe
Bring your sample to test
and sort out the best!

LIBS
Sensor Sorter
for Aluminium Scrap
and Foundry Industry
Big scrap, big business
Convert your heavy steel scrap into profits

Recycle your heavy steel scrap in a flexible and profitable way
with the Fractum impact breakers
Erritsø Møllebanke 11
7000 Fredericia Denmark
Email: [email protected]
Phone: +45 7262 7300
12-13-14-15-16-17_trendsupdates.indd 16 01-02-2022 11:00