First issue of 2022!
Subscribe
Page 15 from: First issue of 2022!
TRENDS & UPDATES 15recyclinginternational.com | January/February | 2022 SCOTLAND EYES MAJOR SHIP RECYCLING HUB UK company Atlas Decommissioning, which specialises in the end-of-life dis- posal of marine infrastructure, has won con...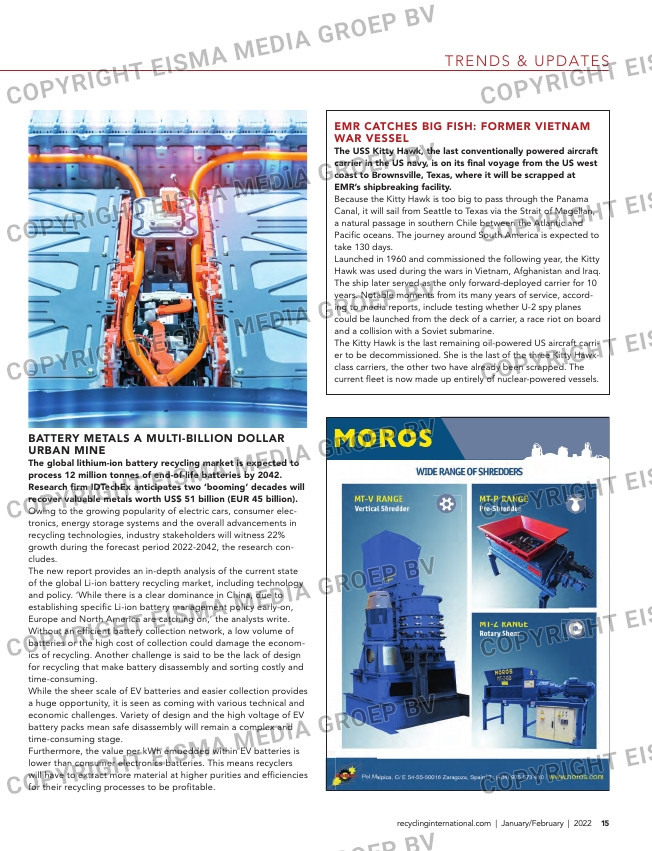 TRENDS & UPDATES
15recyclinginternational.com | January/February | 2022
SCOTLAND EYES MAJOR SHIP RECYCLING HUB
UK company Atlas Decommissioning, which specialises in the end-of-life dis-
posal of marine infrastructure, has won contracts with various container
lines to dismantle vessels from their trading fleet.
One hundred jobs could be created at Inchgreen dry dock in Greenock,
Scotland which has been disused for decades. Atlas will develop the facility into
a major export hub for recyclable metals recovered from ships dismantled
responsibly according to global best practice. The Scottish Environmental
Protection Agency has granted the parties involved a waste management
licence.
'Inchgreen, as well as its size, also has direct access to very deep water, says
Mike Wood, project director of Atlas Decommissioning. 'As a facility for the con-
tracts we have in place, I'd go as far as to say it is unique in the UK. There is also
the attraction of a skilled workforce in Inverclyde due to its shipbuilding legacy.
What we are doing here is essentially shipbuilding in reverse and that requires
much of the same engineering excellence and expertise.'
Peel Ports director Jim McSporran adds: 'We are fully committed to having
Inchgreen, which was a jewel in the crown of Scotland, back in full industrial use.
That usage will pay full regard to such important issues as circularity and sustain-
ability, as with this deal.'
EMR CATCHES BIG FISH: FORMER VIETNAM
WAR VESSEL
The USS Kitty Hawk, the last conventionally powered aircraft
carrier in the US navy, is on its final voyage from the US west
coast to Brownsville, Texas, where it will be scrapped at
EMR's shipbreaking facility.
Because the Kitty Hawk is too big to pass through the Panama
Canal, it will sail from Seattle to Texas via the Strait of Magellan,
a natural passage in southern Chile between the Atlantic and
Pacific oceans. The journey around South America is expected to
take 130 days.
Launched in 1960 and commissioned the following year, the Kitty
Hawk was used during the wars in Vietnam, Afghanistan and Iraq.
The ship later served as the only forward-deployed carrier for 10
years. Notable moments from its many years of service, accord-
ing to media reports, include testing whether U-2 spy planes
could be launched from the deck of a carrier, a race riot on board
and a collision with a Soviet submarine.
The Kitty Hawk is the last remaining oil-powered US aircraft carri-
er to be decommissioned. She is the last of the three Kitty Hawk-
class carriers, the other two have already been scrapped. The
current fleet is now made up entirely of nuclear-powered vessels.
BATTERY METALS A MULTI-BILLION DOLLAR
URBAN MINE
The global lithium-ion battery recycling market is expected to
process 12 million tonnes of end-of-life batteries by 2042.
Research firm IDTechEx anticipates two 'booming' decades will
recover valuable metals worth US$ 51 billion (EUR 45 billion).
Owing to the growing popularity of electric cars, consumer elec-
tronics, energy storage systems and the overall advancements in
recycling technologies, industry stakeholders will witness 22%
growth during the forecast period 2022-2042, the research con-
cludes.
The new report provides an in-depth analysis of the current state
of the global Li-ion battery recycling market, including technology
and policy. 'While there is a clear dominance in China, due to
establishing specific Li-ion battery management policy early-on,
Europe and North America are catching on,' the analysts write.
Without an efficient battery collection network, a low volume of
batteries or the high cost of collection could damage the econom-
ics of recycling. Another challenge is said to be the lack of design
for recycling that make battery disassembly and sorting costly and
time-consuming.
While the sheer scale of EV batteries and easier collection provides
a huge opportunity, it is seen as coming with various technical and
economic challenges. Variety of design and the high voltage of EV
battery packs mean safe disassembly will remain a complex and
time-consuming stage.
Furthermore, the value per kWh embedded within EV batteries is
lower than consumer electronics batteries. This means recyclers
will have to extract more material at higher purities and efficiencies
for their recycling processes to be profitable.
EU EXTENDS ANTI-DUMPING PROTECTION FOR GOES
The European Commission has extended by five years its anti-dumping
duties on imports of grain-oriented flat rolled products of silicon-electri-
cal steel (GOES) from China, Russia, USA, Japan and South Korea.
Officials in Brussels say that if the current anti-dumping measures were
eased it would result in a significant increase of imports that would be harm-
ful to the EU production of GOES.
GOES are vital high-end steel products for premium quality transformers,
generators and motors needed for the maintenance and expansion of the
EU's electrical grid, including in the production of wind energy. The value of
the EU market is around EUR 410 million per year.
The commission has explained that the measures will continue to impose a
minimum import price, above which trade can take place without duties.
Only if the import prices fall below this level will the commission impose
anti-dumping duties, set at the difference between the import price and the
minimum import price, up to a maximum ranging between 21.5% and 39%
of the import price.
'The measures will thus continue to ensure a level playing field for EU GOES
producers while providing stable supply on the import side of high quality
GOES, needed in particular for the production of premium quality trans-
formers, generators and motors,' says the commission press release.
12-13-14-15-16-17_trendsupdates.indd 15 01-02-2022 11:00