Recycling International February issue | 2021
Subscribe
Page 59 from: Recycling International February issue | 2021
beck's 59recyclinginternational.com | January/February | 2021 Fotobijschrift KaderKop ?? Digital overlords and brand warriors What's in a name? Not so long ago, a receptionist was some- one behind a desk who wel- comed vis...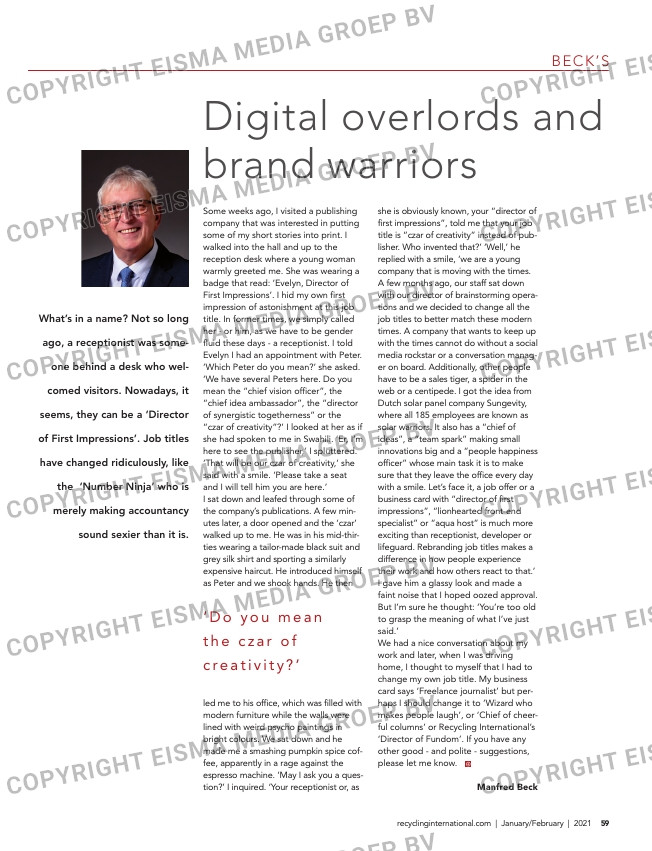 beck's
59recyclinginternational.com | January/February | 2021
Fotobijschrift
KaderKop
??
Digital overlords and
brand warriors
What's in a name? Not so long
ago, a receptionist was some-
one behind a desk who wel-
comed visitors. Nowadays, it
seems, they can be a 'Director
of First Impressions'. Job titles
have changed ridiculously, like
the 'Number Ninja' who is
merely making accountancy
sound sexier than it is.
Some weeks ago, I visited a publishing
company that was interested in putting
some of my short stories into print. I
walked into the hall and up to the
reception desk where a young woman
warmly greeted me. She was wearing a
badge that read: 'Evelyn, Director of
First Impressions'. I hid my own first
impression of astonishment at this job
title. In former times, we simply called
her – or him, as we have to be gender
fluid these days – a receptionist. I told
Evelyn I had an appointment with Peter.
'Which Peter do you mean?' she asked.
'We have several Peters here. Do you
mean the "chief vision officer", the
"chief idea ambassador", the "director
of synergistic togetherness" or the
"czar of creativity"?' I looked at her as if
she had spoken to me in Swahili. 'Er, I'm
here to see the publisher,' I spluttered.
'That will be our czar of creativity,' she
said with a smile. 'Please take a seat
and I will tell him you are here.'
I sat down and leafed through some of
the company's publications. A few min-
utes later, a door opened and the 'czar'
walked up to me. He was in his mid-thir-
ties wearing a tailor-made black suit and
grey silk shirt and sporting a similarly
expensive haircut. He introduced himself
as Peter and we shook hands. He then
led me to his office, which was filled with
modern furniture while the walls were
lined with weird psycho paintings in
bright colours. We sat down and he
made me a smashing pumpkin spice cof-
fee, apparently in a rage against the
espresso machine. 'May I ask you a ques-
tion?' I inquired. 'Your receptionist or, as
she is obviously known, your "director of
first impressions", told me that your job
title is "czar of creativity" instead of pub-
lisher. Who invented that?' 'Well,' he
replied with a smile, 'we are a young
company that is moving with the times.
A few months ago, our staff sat down
with our director of brainstorming opera-
tions and we decided to change all the
job titles to better match these modern
times. A company that wants to keep up
with the times cannot do without a social
media rockstar or a conversation manag-
er on board. Additionally, other people
have to be a sales tiger, a spider in the
web or a centipede. I got the idea from
Dutch solar panel company Sungevity,
where all 185 employees are known as
solar warriors. It also has a "chief of
ideas", a "team spark" making small
innovations big and a "people happiness
officer" whose main task it is to make
sure that they leave the office every day
with a smile. Let's face it, a job offer or a
business card with "director of first
impressions", "lionhearted front-end
specialist" or "aqua host" is much more
exciting than receptionist, developer or
lifeguard. Rebranding job titles makes a
difference in how people experience
their work and how others react to that.'
I gave him a glassy look and made a
faint noise that I hoped oozed approval.
But I'm sure he thought: 'You're too old
to grasp the meaning of what I've just
said.'
We had a nice conversation about my
work and later, when I was driving
home, I thought to myself that I had to
change my own job title. My business
card says 'Freelance journalist' but per-
haps I should change it to 'Wizard who
makes people laugh', or 'Chief of cheer-
ful columns' or Recycling International's
'Director of Fundom'. If you have any
other good – and polite – suggestions,
please let me know.
Manfred Beck
' D o y o u m e a n
t h e c z a r o f
c re a t i v i t y ? '
59_becks.indd 59 01-02-21 13:55