First 2021 issue!
Subscribe
Page 58 from: First 2021 issue!
58 In the Laboratory reclaiming precious metal hidden in plain sight Incineration of solid waste produces millions of tonnes of waste fly ash in Europe each year. Most of it ends up in landfill, wasting the significant precious meta...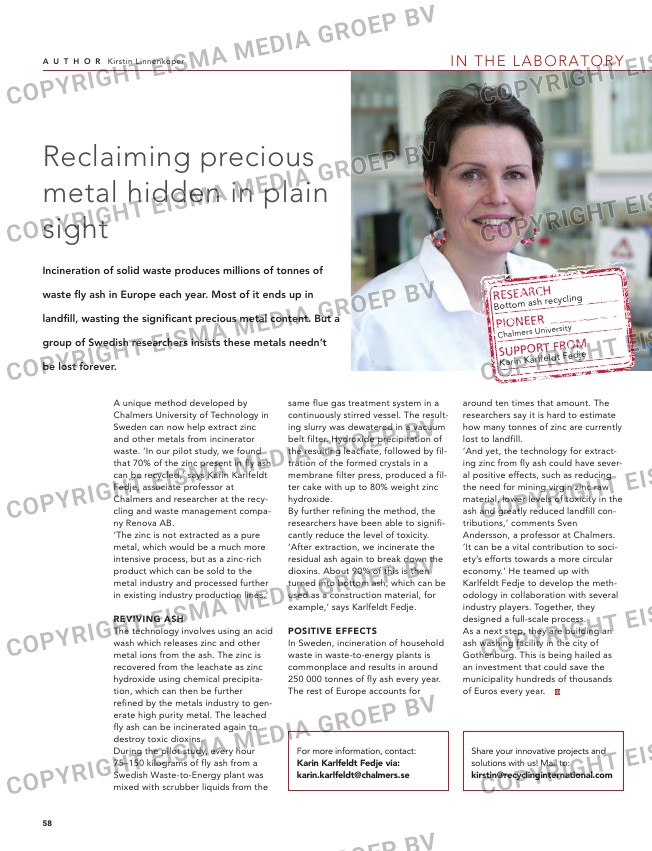 58
In the Laboratory
reclaiming precious
metal hidden in plain
sight
Incineration of solid waste produces millions of tonnes of
waste fly ash in Europe each year. Most of it ends up in
landfill, wasting the significant precious metal content. But a
group of Swedish researchers insists these metals needn't
be lost forever.
A unique method developed by
Chalmers University of Technology in
Sweden can now help extract zinc
and other metals from incinerator
waste. 'In our pilot study, we found
that 70% of the zinc present in fly ash
can be recycled,' says Karin Karlfeldt
Fedje, associate professor at
Chalmers and researcher at the recy-
cling and waste management compa-
ny Renova AB.
'The zinc is not extracted as a pure
metal, which would be a much more
intensive process, but as a zinc-rich
product which can be sold to the
metal industry and processed further
in existing industry production lines.'
Reviving ash
The technology involves using an acid
wash which releases zinc and other
metal ions from the ash. The zinc is
recovered from the leachate as zinc
hydroxide using chemical precipita-
tion, which can then be further
refined by the metals industry to gen-
erate high purity metal. The leached
fly ash can be incinerated again to
destroy toxic dioxins.
During the pilot study, every hour
75–150 kilograms of fly ash from a
Swedish Waste-to-Energy plant was
mixed with scrubber liquids from the
same flue gas treatment system in a
continuously stirred vessel. The result-
ing slurry was dewatered in a vacuum
belt filter. Hydroxide precipitation of
the resulting leachate, followed by fil-
tration of the formed crystals in a
membrane filter press, produced a fil-
ter cake with up to 80% weight zinc
hydroxide.
By further refining the method, the
researchers have been able to signifi-
cantly reduce the level of toxicity.
'After extraction, we incinerate the
residual ash again to break down the
dioxins. About 90% of this is then
turned into bottom ash, which can be
used as a construction material, for
example,' says Karlfeldt Fedje.
Positive effects
In Sweden, incineration of household
waste in waste-to-energy plants is
commonplace and results in around
250 000 tonnes of fly ash every year.
The rest of Europe accounts for
around ten times that amount. The
researchers say it is hard to estimate
how many tonnes of zinc are currently
lost to landfill.
'And yet, the technology for extract-
ing zinc from fly ash could have sever-
al positive effects, such as reducing
the need for mining virgin zinc raw
material, lower levels of toxicity in the
ash and greatly reduced landfill con-
tributions,' comments Sven
Andersson, a professor at Chalmers.
'It can be a vital contribution to soci-
ety's efforts towards a more circular
economy.' He teamed up with
Karlfeldt Fedje to develop the meth-
odology in collaboration with several
industry players. Together, they
designed a full-scale process.
As a next step, they are building an
ash washing facility in the city of
Gothenburg. This is being hailed as
an investment that could save the
municipality hundreds of thousands
of Euros every year.
For more information, contact:
Karin Karlfeldt fedje via:
[email protected]
Share your innovative projects and
solutions with us! Mail to:
[email protected]
a u t h o r Kirstin Linnenkoper
RESEARCH
PIONEER __
_________
SUPPORT FR
OM
Bottom ash
recycling
Chalmers U
niversity
Karin Karlfe
ldt Fedje
58_inthelab.indd 58 01-02-21 13:54