Recycling International February issue | 2021
Subscribe
Page 57 from: Recycling International February issue | 2021
57recyclinginternational.com | January/February | 2021 PLASTICSMARKET ANALYSIS Double challenge of Covid and Basel changes New regulations on scrap exports add to the problems facing a troubled sector. 2020 was a year full of c...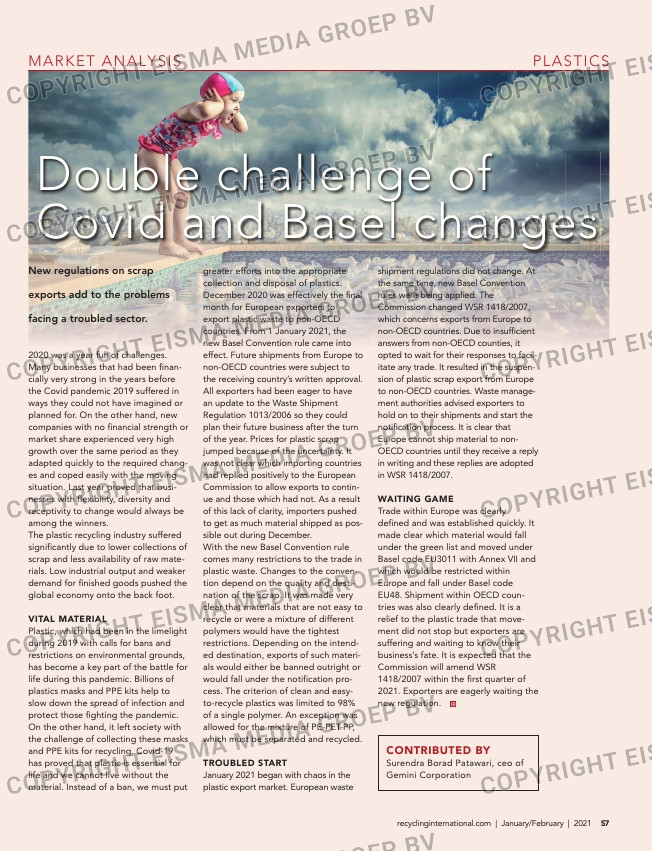 57recyclinginternational.com | January/February | 2021
PLASTICSMARKET ANALYSIS
Double challenge of
Covid and Basel changes
New regulations on scrap
exports add to the problems
facing a troubled sector.
2020 was a year full of challenges.
Many businesses that had been finan-
cially very strong in the years before
the Covid pandemic 2019 suffered in
ways they could not have imagined or
planned for. On the other hand, new
companies with no financial strength or
market share experienced very high
growth over the same period as they
adapted quickly to the required chang-
es and coped easily with the moving
situation. Last year proved that busi-
nesses with flexibility, diversity and
receptivity to change would always be
among the winners.
The plastic recycling industry suffered
significantly due to lower collections of
scrap and less availability of raw mate-
rials. Low industrial output and weaker
demand for finished goods pushed the
global economy onto the back foot.
VITAL MATERIAL
Plastic, which had been in the limelight
during 2019 with calls for bans and
restrictions on environmental grounds,
has become a key part of the battle for
life during this pandemic. Billions of
plastics masks and PPE kits help to
slow down the spread of infection and
protect those fighting the pandemic.
On the other hand, it left society with
the challenge of collecting these masks
and PPE kits for recycling. Covid-19
has proved that plastic is essential for
life and we cannot live without the
material. Instead of a ban, we must put
CONTRIBUTED BY
Surendra Borad Patawari, ceo of
Gemini Corporation
greater efforts into the appropriate
collection and disposal of plastics.
December 2020 was effectively the final
month for European exporters to
export plastic waste to non-OECD
countries. From 1 January 2021, the
new Basel Convention rule came into
effect. Future shipments from Europe to
non-OECD countries were subject to
the receiving country's written approval.
All exporters had been eager to have
an update to the Waste Shipment
Regulation 1013/2006 so they could
plan their future business after the turn
of the year. Prices for plastic scrap
jumped because of the uncertainty. It
was not clear which importing countries
had replied positively to the European
Commission to allow exports to contin-
ue and those which had not. As a result
of this lack of clarity, importers pushed
to get as much material shipped as pos-
sible out during December.
With the new Basel Convention rule
comes many restrictions to the trade in
plastic waste. Changes to the conven-
tion depend on the quality and desti-
nation of the scrap. It was made very
clear that materials that are not easy to
recycle or were a mixture of different
polymers would have the tightest
restrictions. Depending on the intend-
ed destination, exports of such materi-
als would either be banned outright or
would fall under the notification pro-
cess. The criterion of clean and easy-
to-recycle plastics was limited to 98%
of a single polymer. An exception was
allowed for the mixture of PE-PET-PP,
which must be separated and recycled.
TROUBLED START
January 2021 began with chaos in the
plastic export market. European waste
shipment regulations did not change. At
the same time, new Basel Convention
rules were being applied. The
Commission changed WSR 1418/2007,
which concerns exports from Europe to
non-OECD countries. Due to insufficient
answers from non-OECD counties, it
opted to wait for their responses to facil-
itate any trade. It resulted in the suspen-
sion of plastic scrap export from Europe
to non-OECD countries. Waste manage-
ment authorities advised exporters to
hold on to their shipments and start the
notification process. It is clear that
Europe cannot ship material to non-
OECD countries until they receive a reply
in writing and these replies are adopted
in WSR 1418/2007.
WAITING GAME
Trade within Europe was clearly
defined and was established quickly. It
made clear which material would fall
under the green list and moved under
Basel code EU3011 with Annex VII and
which would be restricted within
Europe and fall under Basel code
EU48. Shipment within OECD coun-
tries was also clearly defined. It is a
relief to the plastic trade that move-
ment did not stop but exporters are
suffering and waiting to know their
business's fate. It is expected that the
Commission will amend WSR
1418/2007 within the first quarter of
2021. Exporters are eagerly waiting the
new regulation.
57_maplastics.indd 57 01-02-21 13:53