Recycling International February issue | 2021
Subscribe
Page 51 from: Recycling International February issue | 2021
nOn-ferrOus Optimistic mood across all metals standards, plastic pellets and pulped paper. USTR concludes that this state of affairs has effectively halted the export of all scrap materials to China. 'The shipping industry is unwil...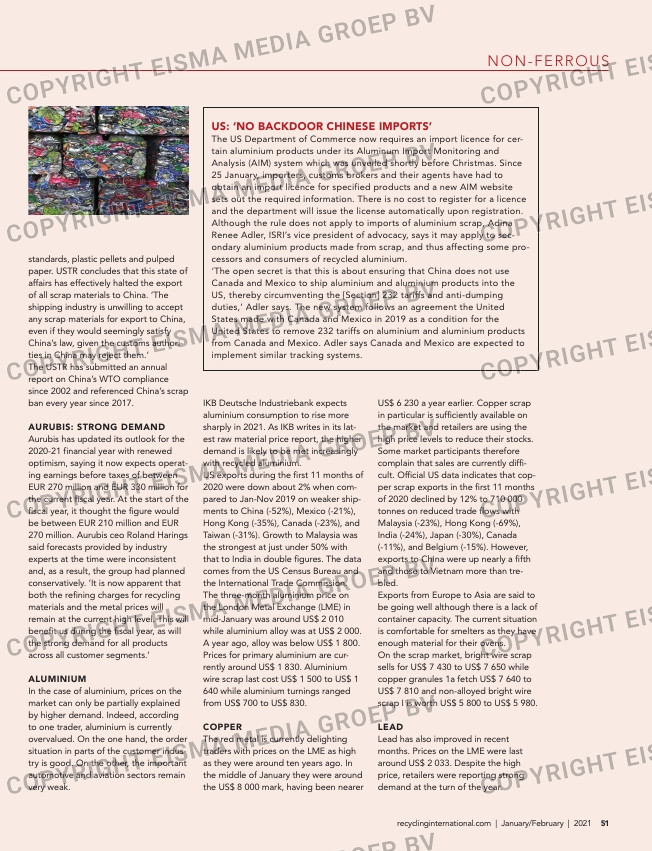 nOn-ferrOus
Optimistic mood
across all metals
standards, plastic pellets and pulped
paper. USTR concludes that this state of
affairs has effectively halted the export
of all scrap materials to China. 'The
shipping industry is unwilling to accept
any scrap materials for export to China,
even if they would seemingly satisfy
China's law, given the customs authori-
ties in China may reject them.'
The USTR has submitted an annual
report on China's WTO compliance
since 2002 and referenced China's scrap
ban every year since 2017.
AURUBIS: STRONG DEMAND
Aurubis has updated its outlook for the
2020-21 financial year with renewed
optimism, saying it now expects operat-
ing earnings before taxes of between
EUR 270 million and EUR 330 million for
the current fiscal year. At the start of the
fiscal year, it thought the figure would
be between EUR 210 million and EUR
270 million. Aurubis ceo Roland Harings
said forecasts provided by industry
experts at the time were inconsistent
and, as a result, the group had planned
conservatively. 'It is now apparent that
both the refining charges for recycling
materials and the metal prices will
remain at the current high level. This will
benefit us during the fiscal year, as will
the strong demand for all products
across all customer segments.'
ALUMINIUM
In the case of aluminium, prices on the
market can only be partially explained
by higher demand. Indeed, according
to one trader, aluminium is currently
overvalued. On the one hand, the order
situation in parts of the customer indus-
try is good. On the other, the important
automotive and aviation sectors remain
very weak.
51recyclinginternational.com | January/February | 2021
US: 'NO BACKDOOR CHINESE IMPORTS'
The US Department of Commerce now requires an import licence for cer-
tain aluminium products under its Aluminum Import Monitoring and
Analysis (AIM) system which was unveiled shortly before Christmas. Since
25 January, importers, customs brokers and their agents have had to
obtain an import licence for specified products and a new AIM website
sets out the required information. There is no cost to register for a licence
and the department will issue the license automatically upon registration.
Although the rule does not apply to imports of aluminium scrap, Adina
Renee Adler, ISRI's vice president of advocacy, says it may apply to sec-
ondary aluminium products made from scrap, and thus affecting some pro-
cessors and consumers of recycled aluminium.
'The open secret is that this is about ensuring that China does not use
Canada and Mexico to ship aluminium and aluminium products into the
US, thereby circumventing the [Section] 232 tariffs and anti-dumping
duties,' Adler says. The new system follows an agreement the United
States made with Canada and Mexico in 2019 as a condition for the
United States to remove 232 tariffs on aluminium and aluminium products
from Canada and Mexico. Adler says Canada and Mexico are expected to
implement similar tracking systems.
IKB Deutsche Industriebank expects
aluminium consumption to rise more
sharply in 2021. As IKB writes in its lat-
est raw material price report, the higher
demand is likely to be met increasingly
with recycled aluminium.
US exports during the first 11 months of
2020 were down about 2% when com-
pared to Jan-Nov 2019 on weaker ship-
ments to China (-52%), Mexico (-21%),
Hong Kong (-35%), Canada (-23%), and
Taiwan (-31%). Growth to Malaysia was
the strongest at just under 50% with
that to India in double figures. The data
comes from the US Census Bureau and
the International Trade Commission.
The three-month aluminium price on
the London Metal Exchange (LME) in
mid-January was around US$ 2 010
while aluminium alloy was at US$ 2 000.
A year ago, alloy was below US$ 1 800.
Prices for primary aluminium are cur-
rently around US$ 1 830. Aluminium
wire scrap last cost US$ 1 500 to US$ 1
640 while aluminium turnings ranged
from US$ 700 to US$ 830.
COPPER
The red metal is currently delighting
traders with prices on the LME as high
as they were around ten years ago. In
the middle of January they were around
the US$ 8 000 mark, having been nearer
US$ 6 230 a year earlier. Copper scrap
in particular is sufficiently available on
the market and retailers are using the
high price levels to reduce their stocks.
Some market participants therefore
complain that sales are currently diffi-
cult. Official US data indicates that cop-
per scrap exports in the first 11 months
of 2020 declined by 12% to 710 000
tonnes on reduced trade flows with
Malaysia (-23%), Hong Kong (-69%),
India (-24%), Japan (-30%), Canada
(-11%), and Belgium (-15%). However,
exports to China were up nearly a fifth
and those to Vietnam more than tre-
bled.
Exports from Europe to Asia are said to
be going well although there is a lack of
container capacity. The current situation
is comfortable for smelters as they have
enough material for their ovens.
On the scrap market, bright wire scrap
sells for US$ 7 430 to US$ 7 650 while
copper granules 1a fetch US$ 7 640 to
US$ 7 810 and non-alloyed bright wire
scrap I is worth US$ 5 800 to US$ 5 980.
LEAD
Lead has also improved in recent
months. Prices on the LME were last
around US$ 2 033. Despite the high
price, retailers were reporting strong
demand at the turn of the year.
50-51-53_manonferrous.indd 51 01-02-21 13:52