Recycling International February issue | 2021
Subscribe
Page 50 from: Recycling International February issue | 2021
market analysis Optimistic mood across all metals Healthy prices reflect emphasis on infrastructure as world economy recovers from pandemic. standards, plastic pellets and pulped paper. USTR concludes that this state of affairs has ...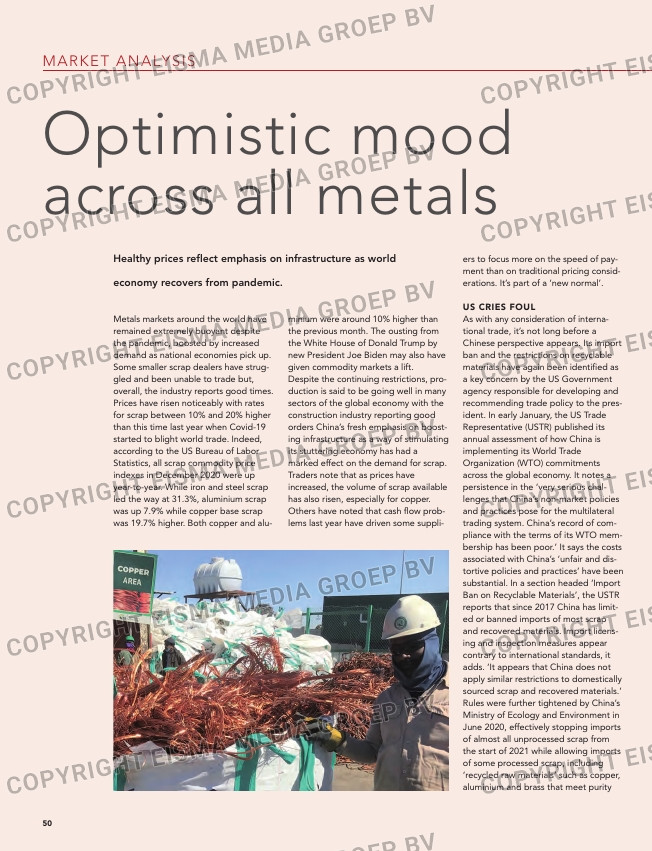 market analysis
Optimistic mood
across all metals
Healthy prices reflect emphasis on infrastructure as world
economy recovers from pandemic.
standards, plastic pellets and pulped
paper. USTR concludes that this state of
affairs has effectively halted the export
of all scrap materials to China. 'The
shipping industry is unwilling to accept
any scrap materials for export to China,
even if they would seemingly satisfy
China's law, given the customs authori-
ties in China may reject them.'
The USTR has submitted an annual
report on China's WTO compliance
since 2002 and referenced China's scrap
ban every year since 2017.
AURUBIS: STRONG DEMAND
Aurubis has updated its outlook for the
2020-21 financial year with renewed
optimism, saying it now expects operat-
ing earnings before taxes of between
EUR 270 million and EUR 330 million for
the current fiscal year. At the start of the
fiscal year, it thought the figure would
be between EUR 210 million and EUR
270 million. Aurubis ceo Roland Harings
said forecasts provided by industry
experts at the time were inconsistent
and, as a result, the group had planned
conservatively. 'It is now apparent that
both the refining charges for recycling
materials and the metal prices will
remain at the current high level. This will
benefit us during the fiscal year, as will
the strong demand for all products
across all customer segments.'
ALUMINIUM
In the case of aluminium, prices on the
market can only be partially explained
by higher demand. Indeed, according
to one trader, aluminium is currently
overvalued. On the one hand, the order
situation in parts of the customer indus-
try is good. On the other, the important
automotive and aviation sectors remain
very weak.
50
Metals markets around the world have
remained extremely buoyant despite
the pandemic, boosted by increased
demand as national economies pick up.
Some smaller scrap dealers have strug-
gled and been unable to trade but,
overall, the industry reports good times.
Prices have risen noticeably with rates
for scrap between 10% and 20% higher
than this time last year when Covid-19
started to blight world trade. Indeed,
according to the US Bureau of Labor
Statistics, all scrap commodity price
indexes in December 2020 were up
year-to-year. While iron and steel scrap
led the way at 31.3%, aluminium scrap
was up 7.9% while copper base scrap
was 19.7% higher. Both copper and alu-
minium were around 10% higher than
the previous month. The ousting from
the White House of Donald Trump by
new President Joe Biden may also have
given commodity markets a lift.
Despite the continuing restrictions, pro-
duction is said to be going well in many
sectors of the global economy with the
construction industry reporting good
orders China's fresh emphasis on boost-
ing infrastructure as a way of stimulating
its stuttering economy has had a
marked effect on the demand for scrap.
Traders note that as prices have
increased, the volume of scrap available
has also risen, especially for copper.
Others have noted that cash flow prob-
lems last year have driven some suppli-
ers to focus more on the speed of pay-
ment than on traditional pricing consid-
erations. It's part of a 'new normal'.
US CRIES FOUL
As with any consideration of interna-
tional trade, it's not long before a
Chinese perspective appears. Its import
ban and the restrictions on recyclable
materials have again been identified as
a key concern by the US Government
agency responsible for developing and
recommending trade policy to the pres-
ident. In early January, the US Trade
Representative (USTR) published its
annual assessment of how China is
implementing its World Trade
Organization (WTO) commitments
across the global economy. It notes a
persistence in the 'very serious chal-
lenges that China's non-market policies
and practices pose for the multilateral
trading system. China's record of com-
pliance with the terms of its WTO mem-
bership has been poor.' It says the costs
associated with China's 'unfair and dis-
tortive policies and practices' have been
substantial. In a section headed 'Import
Ban on Recyclable Materials', the USTR
reports that since 2017 China has limit-
ed or banned imports of most scrap
and recovered materials. Import licens-
ing and inspection measures appear
contrary to international standards, it
adds. 'It appears that China does not
apply similar restrictions to domestically
sourced scrap and recovered materials.'
Rules were further tightened by China's
Ministry of Ecology and Environment in
June 2020, effectively stopping imports
of almost all unprocessed scrap from
the start of 2021 while allowing imports
of some processed scrap, including
'recycled raw materials' such as copper,
aluminium and brass that meet purity
50-51-53_manonferrous.indd 50 01-02-21 13:52