Recycling International February issue | 2021
Subscribe
Page 49 from: Recycling International February issue | 2021
niCkel & stainless Despite strong start, 2021 outlook hard to predict (+5.4%), and Asia excluding China and South Korea (+50.6%). Even so, ISSF estimates global stainless melt shop production declined 7.8% during the first nine m...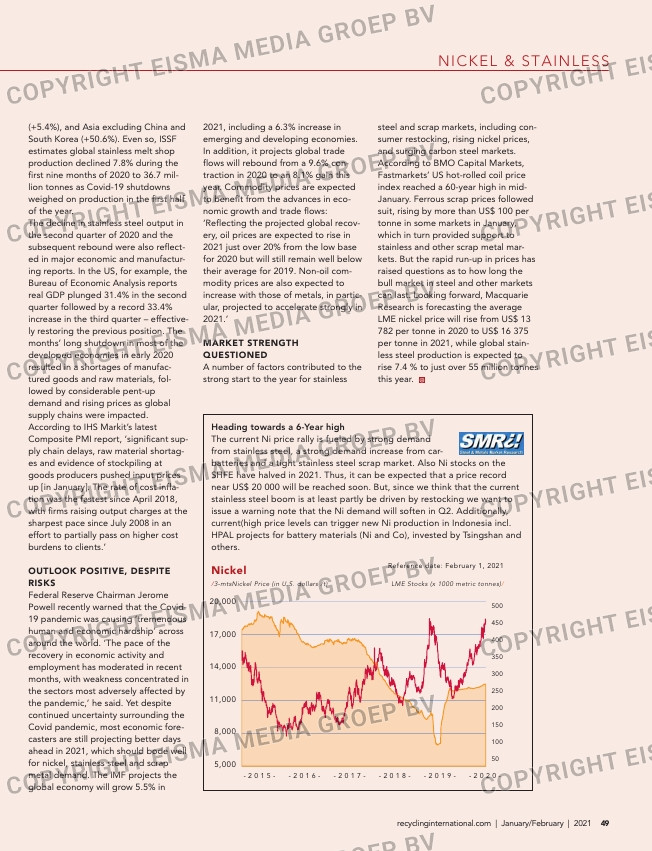 niCkel & stainless
Despite strong start, 2021
outlook hard to predict
(+5.4%), and Asia excluding China and
South Korea (+50.6%). Even so, ISSF
estimates global stainless melt shop
production declined 7.8% during the
first nine months of 2020 to 36.7 mil-
lion tonnes as Covid-19 shutdowns
weighed on production in the first half
of the year.
The decline in stainless steel output in
the second quarter of 2020 and the
subsequent rebound were also reflect-
ed in major economic and manufactur-
ing reports. In the US, for example, the
Bureau of Economic Analysis reports
real GDP plunged 31.4% in the second
quarter followed by a record 33.4%
increase in the third quarter – effective-
ly restoring the previous position. The
months' long shutdown in most of the
developed economies in early 2020
resulted in a shortages of manufac-
tured goods and raw materials, fol-
lowed by considerable pent-up
demand and rising prices as global
supply chains were impacted.
According to IHS Markit's latest
Composite PMI report, 'significant sup-
ply chain delays, raw material shortag-
es and evidence of stockpiling at
goods producers pushed input prices
up [in January]. The rate of cost infla-
tion was the fastest since April 2018,
with firms raising output charges at the
sharpest pace since July 2008 in an
effort to partially pass on higher cost
burdens to clients.'
OUTLOOK POSITIVE, DESPITE
RISKS
Federal Reserve Chairman Jerome
Powell recently warned that the Covid-
19 pandemic was causing 'tremendous
human and economic hardship' across
around the world. 'The pace of the
recovery in economic activity and
employment has moderated in recent
months, with weakness concentrated in
the sectors most adversely affected by
the pandemic,' he said. Yet despite
continued uncertainty surrounding the
Covid pandemic, most economic fore-
casters are still projecting better days
ahead in 2021, which should bode well
for nickel, stainless steel and scrap
metal demand. The IMF projects the
global economy will grow 5.5% in
2021, including a 6.3% increase in
emerging and developing economies.
In addition, it projects global trade
flows will rebound from a 9.6% con-
traction in 2020 to an 8.1% gain this
year. Commodity prices are expected
to benefit from the advances in eco-
nomic growth and trade flows:
'Reflecting the projected global recov-
ery, oil prices are expected to rise in
2021 just over 20% from the low base
for 2020 but will still remain well below
their average for 2019. Non-oil com-
modity prices are also expected to
increase with those of metals, in partic-
ular, projected to accelerate strongly in
2021.'
MARKET STRENGTH
QUESTIONED
A number of factors contributed to the
strong start to the year for stainless
steel and scrap markets, including con-
sumer restocking, rising nickel prices,
and surging carbon steel markets.
According to BMO Capital Markets,
Fastmarkets' US hot-rolled coil price
index reached a 60-year high in mid-
January. Ferrous scrap prices followed
suit, rising by more than US$ 100 per
tonne in some markets in January,
which in turn provided support to
stainless and other scrap metal mar-
kets. But the rapid run-up in prices has
raised questions as to how long the
bull market in steel and other markets
can last. Looking forward, Macquarie
Research is forecasting the average
LME nickel price will rise from US$ 13
782 per tonne in 2020 to US$ 16 375
per tonne in 2021, while global stain-
less steel production is expected to
rise 7.4 % to just over 55 million tonnes
this year.
Heading towards a 6-Year high
The current Ni price rally is fueled by strong demand
from stainless steel, a strong demand increase from car-
batteries and a tight stainless steel scrap market. Also Ni stocks on the
SHFE have halved in 2021. Thus, it can be expected that a price record
near US$ 20 000 will be reached soon. But, since we think that the current
stainless steel boom is at least partly be driven by restocking we want to
issue a warning note that the Ni demand will soften in Q2. Additionally,
current(high price levels can trigger new Ni production in Indonesia incl.
HPAL projects for battery materials (Ni and Co), invested by Tsingshan and
others.
Nickel
/3-mtsNickel Price (in U.S. dollars /t) LME Stocks (x 1000 metric tonnes)/

– 2 0 1 5 – – 2 0 1 6 – – 2 0 1 7 – – 2 0 1 8 – – 2 0 1 9 – – 2 0 2 0 –
Reference date: February 1, 2021
500
450
400
350
300
250
200
150
100
50
20,000
17,000
14,000
11,000
8,000
5,000
49recyclinginternational.com | January/February | 2021
48-49_manickelstainless.indd 49 01-02-21 13:52