Recycling International February issue | 2021
Subscribe
Page 45 from: Recycling International February issue | 2021
ferrous 45recyclinginternational.com | January/February | 2021 generally full at the start of the year and that had the knock-on effect of boosting ferrous scrap prices for the third consecutive month. In the US, rates rose around...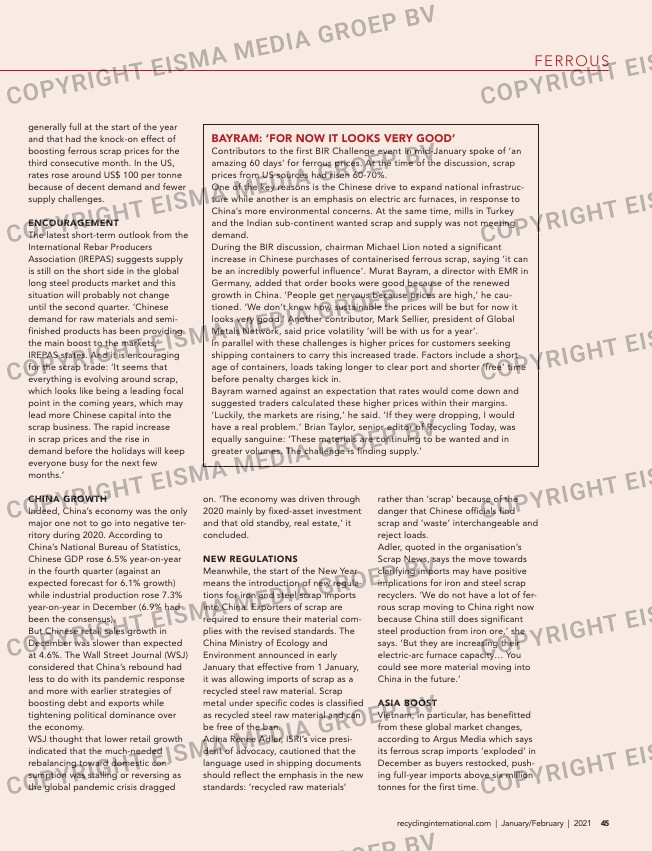 ferrous
45recyclinginternational.com | January/February | 2021
generally full at the start of the year
and that had the knock-on effect of
boosting ferrous scrap prices for the
third consecutive month. In the US,
rates rose around US$ 100 per tonne
because of decent demand and fewer
supply challenges.
ENCOURAGEMENT
The latest short-term outlook from the
International Rebar Producers
Association (IREPAS) suggests supply
is still on the short side in the global
long steel products market and this
situation will probably not change
until the second quarter. 'Chinese
demand for raw materials and semi-
finished products has been providing
the main boost to the markets,'
IREPAS states. And it is encouraging
for the scrap trade: 'It seems that
everything is evolving around scrap,
which looks like being a leading focal
point in the coming years, which may
lead more Chinese capital into the
scrap business. The rapid increase
in scrap prices and the rise in
demand before the holidays will keep
everyone busy for the next few
months.'
CHINA GROWTH
Indeed, China's economy was the only
major one not to go into negative ter-
ritory during 2020. According to
China's National Bureau of Statistics,
Chinese GDP rose 6.5% year-on-year
in the fourth quarter (against an
expected forecast for 6.1% growth)
while industrial production rose 7.3%
year-on-year in December (6.9% had
been the consensus).
But Chinese retail sales growth in
December was slower than expected
at 4.6%. The Wall Street Journal (WSJ)
considered that China's rebound had
less to do with its pandemic response
and more with earlier strategies of
boosting debt and exports while
tightening political dominance over
the economy.
WSJ thought that lower retail growth
indicated that the much-needed
rebalancing toward domestic con-
sumption was stalling or reversing as
the global pandemic crisis dragged
a u T h o r Robin Latchem
BAyRAM: 'FOR NOW IT lOOks vERy GOOd'
Contributors to the first BIR Challenge event in mid-January spoke of 'an
amazing 60 days' for ferrous prices. At the time of the discussion, scrap
prices from US sources had risen 60-70%.
One of the key reasons is the Chinese drive to expand national infrastruc-
ture while another is an emphasis on electric arc furnaces, in response to
China's more environmental concerns. At the same time, mills in Turkey
and the Indian sub-continent wanted scrap and supply was not meeting
demand.
During the BIR discussion, chairman Michael Lion noted a significant
increase in Chinese purchases of containerised ferrous scrap, saying 'it can
be an incredibly powerful influence'. Murat Bayram, a director with EMR in
Germany, added that order books were good because of the renewed
growth in China. 'People get nervous because prices are high,' he cau-
tioned. 'We don't know how sustainable the prices will be but for now it
looks very good.' Another contributor, Mark Sellier, president of Global
Metals Network, said price volatility 'will be with us for a year'.
In parallel with these challenges is higher prices for customers seeking
shipping containers to carry this increased trade. Factors include a short-
age of containers, loads taking longer to clear port and shorter 'free' time
before penalty charges kick in.
Bayram warned against an expectation that rates would come down and
suggested traders calculated these higher prices within their margins.
'Luckily, the markets are rising,' he said. 'If they were dropping, I would
have a real problem.' Brian Taylor, senior editor of Recycling Today, was
equally sanguine: 'These materials are continuing to be wanted and in
greater volumes. The challenge is finding supply.'
on. 'The economy was driven through
2020 mainly by fixed-asset investment
and that old standby, real estate,' it
concluded.
NEW REGUlATIONs
Meanwhile, the start of the New Year
means the introduction of new regula-
tions for iron and steel scrap imports
into China. Exporters of scrap are
required to ensure their material com-
plies with the revised standards. The
China Ministry of Ecology and
Environment announced in early
January that effective from 1 January,
it was allowing imports of scrap as a
recycled steel raw material. Scrap
metal under specific codes is classified
as recycled steel raw material and can
be free of the ban.
Adina Renee Adler, ISRI's vice presi-
dent of advocacy, cautioned that the
language used in shipping documents
should reflect the emphasis in the new
standards: 'recycled raw materials'
rather than 'scrap' because of the
danger that Chinese officials find
scrap and 'waste' interchangeable and
reject loads.
Adler, quoted in the organisation's
Scrap News, says the move towards
clarifying imports may have positive
implications for iron and steel scrap
recyclers. 'We do not have a lot of fer-
rous scrap moving to China right now
because China still does significant
steel production from iron ore,' she
says. 'But they are increasing their
electric-arc furnace capacity… You
could see more material moving into
China in the future.'
AsIA BOOsT
Vietnam, in particular, has benefitted
from these global market changes,
according to Argus Media which says
its ferrous scrap imports 'exploded' in
December as buyers restocked, push-
ing full-year imports above six million
tonnes for the first time.
44-45-46-47_maferrous.indd 45 01-02-21 13:51