Recycling International February issue | 2021
Subscribe
Page 42 from: Recycling International February issue | 2021
42 FortUm Unveils ev recycling technology Finnish energy company Fortum has announced new patented technolo- gy to recover lithium from rechargeable batteries. This development, ahead of the expected surge in demand for electric cars and ...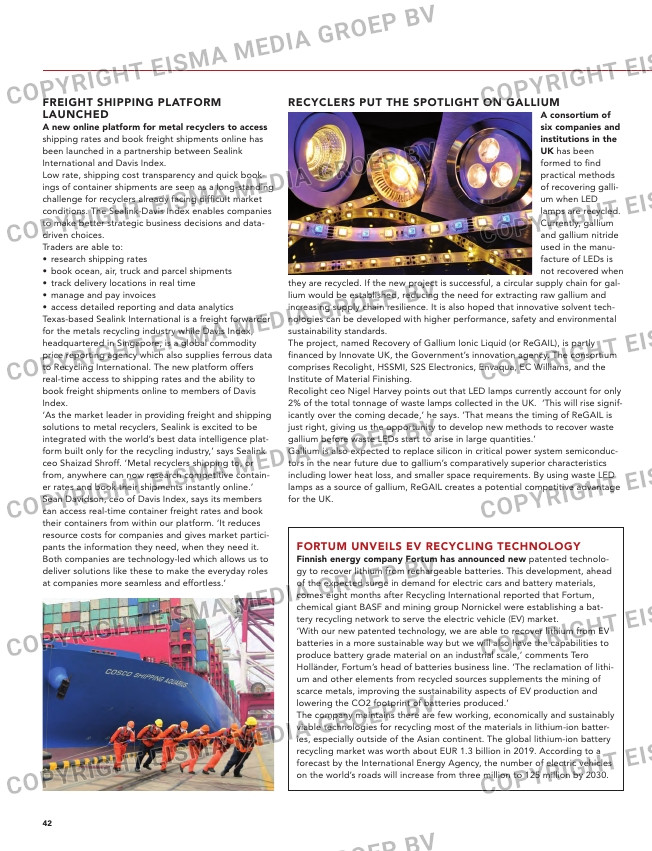 42
FortUm Unveils ev recycling technology
Finnish energy company Fortum has announced new patented technolo-
gy to recover lithium from rechargeable batteries. This development, ahead
of the expected surge in demand for electric cars and battery materials,
comes eight months after Recycling International reported that Fortum,
chemical giant BASF and mining group Nornickel were establishing a bat-
tery recycling network to serve the electric vehicle (EV) market.
'With our new patented technology, we are able to recover lithium from EV
batteries in a more sustainable way but we will also have the capabilities to
produce battery grade material on an industrial scale,' comments Tero
Holländer, Fortum's head of batteries business line. 'The reclamation of lithi-
um and other elements from recycled sources supplements the mining of
scarce metals, improving the sustainability aspects of EV production and
lowering the CO2 footprint of batteries produced.'
The company maintains there are few working, economically and sustainably
viable technologies for recycling most of the materials in lithium-ion batter-
ies, especially outside of the Asian continent. The global lithium-ion battery
recycling market was worth about EUR 1.3 billion in 2019. According to a
forecast by the International Energy Agency, the number of electric vehicles
on the world's roads will increase from three million to 125 million by 2030.
Freight shipping platForm
laUnched
a new online platform for metal recyclers to access
shipping rates and book freight shipments online has
been launched in a partnership between Sealink
International and Davis Index.
Low rate, shipping cost transparency and quick book-
ings of container shipments are seen as a long-standing
challenge for recyclers already facing difficult market
conditions. The Sealink-Davis Index enables companies
to make better strategic business decisions and data-
driven choices.
Traders are able to:
• research shipping rates
• book ocean, air, truck and parcel shipments
• track delivery locations in real time
• manage and pay invoices
• access detailed reporting and data analytics
Texas-based Sealink International is a freight forwarder
for the metals recycling industry while Davis Index,
headquartered in Singapore, is a global commodity
price reporting agency which also supplies ferrous data
to Recycling International. The new platform offers
real-time access to shipping rates and the ability to
book freight shipments online to members of Davis
Index.
'As the market leader in providing freight and shipping
solutions to metal recyclers, Sealink is excited to be
integrated with the world's best data intelligence plat-
form built only for the recycling industry,' says Sealink
ceo Shaizad Shroff. 'Metal recyclers shipping to, or
from, anywhere can now research competitive contain-
er rates and book their shipments instantly online.'
Sean Davidson, ceo of Davis Index, says its members
can access real-time container freight rates and book
their containers from within our platform. 'It reduces
resource costs for companies and gives market partici-
pants the information they need, when they need it.
Both companies are technology-led which allows us to
deliver solutions like these to make the everyday roles
at companies more seamless and effortless.'
recyclers pUt the spotlight on galliUm
a consortium of
six companies and
institutions in the
UK has been
formed to find
practical methods
of recovering galli-
um when LED
lamps are recycled.
Currently, gallium
and gallium nitride
used in the manu-
facture of LEDs is
not recovered when
they are recycled. If the new project is successful, a circular supply chain for gal-
lium would be established, reducing the need for extracting raw gallium and
increasing supply chain resilience. It is also hoped that innovative solvent tech-
nologies can be developed with higher performance, safety and environmental
sustainability standards.
The project, named Recovery of Gallium Ionic Liquid (or ReGAIL), is partly
financed by Innovate UK, the Government's innovation agency. The consortium
comprises Recolight, HSSMI, S2S Electronics, Envaqua, EC Williams, and the
Institute of Material Finishing.
Recolight ceo Nigel Harvey points out that LED lamps currently account for only
2% of the total tonnage of waste lamps collected in the UK. 'This will rise signif-
icantly over the coming decade,' he says. 'That means the timing of ReGAIL is
just right, giving us the opportunity to develop new methods to recover waste
gallium before waste LEDs start to arise in large quantities.'
Gallium is also expected to replace silicon in critical power system semiconduc-
tors in the near future due to gallium's comparatively superior characteristics
including lower heat loss, and smaller space requirements. By using waste LED
lamps as a source of gallium, ReGAIL creates a potential competitive advantage
for the UK.
mobile shredder helps argentinian
yard ramp Up inFeed
recycling equipment provider Untha has delivered a
XR3000C mobile shredder to the Geocycle recycling facility in
Córdoba, Argentina. Thanks to the unit Geocycle can now
transform 100 tonnes of waste per day into alternative fuel for
use by the company's mother firm, cement producer
LafargeHolcim.
The single shaft Untha XR is handling a wide range of input
materials, collected within a 100km radius, including municipal
solid waste, wood, plastic and tyres. With no pre-shredding
required, Geocycle can produce a 50mm output granulate in
one pass 'to significantly reduce the company's reliance on
ever-depleting fossil fuels, while diverting thousands of tonnes
of waste from landfill'.
The investment means Geocycle has now commissioned more
than 10 Untha shredders on three continents. 'Geocycle
Argentina is no stranger to waste shredding for alternative fuel
production,' says company director Mariano Bollo who praises
Untha's performance. 'Its low speed, high torque, drive means
this is a powerful machine with impressive uptime, ease of
maintenance and proven capabilities. This, combined with the
shredder's versatility, meant the business case to switch to an
XR was strong.'
slovenia home to the latest in label
removal technology
scrap sorting solutions provider stadler has opened a new test
centre at its production site in Krsko, Slovenia. The facility will be a
location for both customer demonstrations and training and an
innovation hub housing Stadler's research and development activi-
ties in plastics sorting.
At the site, the company offers live demonstrations of its sorting
technology including feeding, label removal, ballistic separation,
metal separation, non-ferrous metal separation, near-infrared sepa-
ration and conveyors. The centre will also provide training for cus-
tomers, as well as the company's own staff.
The new facility is also home to Stadler's testing activities for
plastic recycling applications with input material being sorted into
polymer products, such as PET, HDPE and PP bottles or LDPE films,
and then recycled. 'We are constantly striving to offer the most effi-
cient solutions in polymer recycling,' says sales manager Tom
Schmitt.
The new centre will become a major research and innovation
hub for Stadler. 'Here, in Slovenia, we will develop the plastic recy-
cling plant of the next generation,' says ceo Willi Stadler. 'We have
highly skilled people with specialised expertise. The majority of the
engineers who assemble our systems around the world are based
here.'
In this first phase, the test and innovation centre is housed in an
existing hall which has been extended with a temporary structure,
covering 1 200 m2, to accommodate the equipment. The facility
will be developed in a modular way to extend the testing and dem-
onstration capabilities.
40-41-42-43_trendsupdates.indd 42 01-02-21 16:11