Recycling International February issue | 2021
Subscribe
Page 40 from: Recycling International February issue | 2021
40 UK condemned over plastic waste exports Following the eU reminder that since 1 January it will no longer allow the export of mixed and contaminated plastic waste to developing countries, the UK is being accused of using its post-Bre...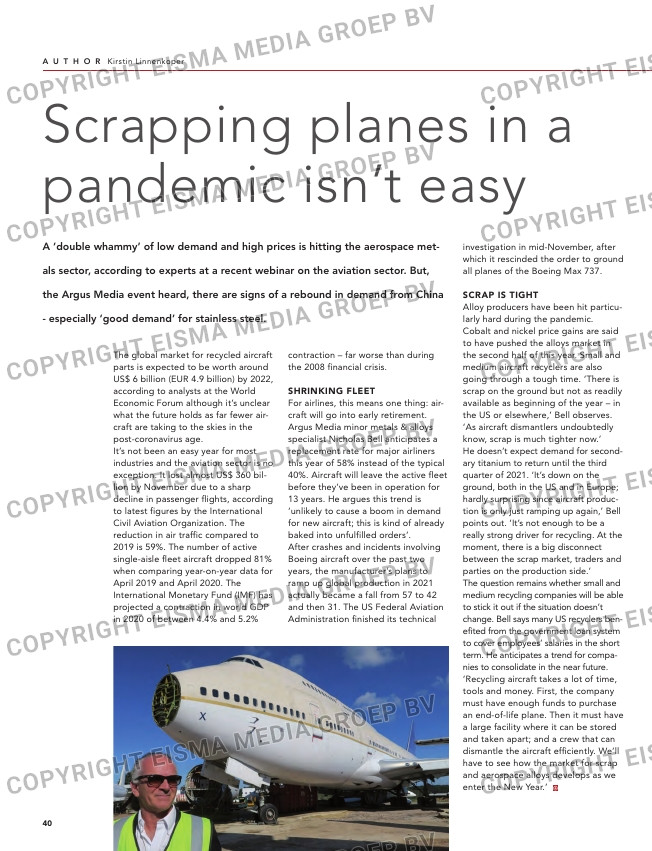 40
UK condemned over plastic waste
exports
Following the eU reminder that since 1 January it will
no longer allow the export of mixed and contaminated
plastic waste to developing countries, the UK is being
accused of using its post-Brexit independence to adopt 'a
far weaker stance with respect to human rights and envi-
ronmental protection'. The criticism comes from Basel
Action Network (BAN), the organisation that combats ille-
gal scrap trade and questionable recycling practices
across Asia and Africa.
BAN says the UK is allowing the export of some types of
plastic scrap, which the EU says is prohibited, using the
'prior informed consent' notification process. A UK consul-
tancy, 360 Environmental, says this specifically applies to
the Y48 category – non-hazardous grades including PVC.
'While the Boris Johnson administration's manifesto called
for a full ban on the export of plastic waste in the future, it
is far from certain that this aspiration will become UK law,'
says BAN.
'The UK has had almost two years to transpose the EU
plastic waste export ban into UK law,' stresses BAN's
director Jim Puckett. 'We had assumed the UK would at
least follow the EU and so it is a shock to find out now
that instead they chose to have a far weaker control pro-
cedure which can still permit exports of contaminated and
difficult to recycle plastics to developing countries all over
the world.'
According to BAN, in September the UK shipped almost 7
000 tonnes of plastic waste to Asian countries including
Malaysia, Pakistan, Vietnam, and Indonesia. 'Most of the
destinations are considered to have what Puckett
describes as 'substandard' waste management facilities.
'Such facilities can expose workers to volatile organic
compound emissions and while polluting surface and
ground waters and highly toxic air emissions from the
open or crude burning of unrecyclable material,' accord-
ing to BAN.
'It is disturbing to see that the UK wishes to continue its
waste management malpractice using developing coun-
tries as dumping grounds,' says Yuyun Ismawati of the
Nexus3 Foundation. The NGO claims to have document-
ed large amounts of UK plastic waste dumped and burned
in Indonesia by 'substandard' recyclers.
Nexus3 and BAN are calling on the UK government to
take immediate steps to ban all plastic wastes exports and
'thus become self-sufficient in plastic waste management
and to reduce plastic waste generally by banning the use
and sale of single-use plastics'.
The UK's Department for Environment, Food and Rural
Affairs said the government had pledged to ban the
export of all plastic waste to non-OECD countries but did
not give a timetable for action. The department added it
had commissioned research to better understand existing
UK plastic waste recycling capacity and would consult in
due course on how to deliver its manifesto commitments.
Scrapping planes in a
pandemic isn't easy
A 'double whammy' of low demand and high prices is hitting the aerospace met-
als sector, according to experts at a recent webinar on the aviation sector. But,
the Argus Media event heard, there are signs of a rebound in demand from China
– especially 'good demand' for stainless steel.
The global market for recycled aircraft
parts is expected to be worth around
US$ 6 billion (EUR 4.9 billion) by 2022,
according to analysts at the World
Economic Forum although it's unclear
what the future holds as far fewer air-
craft are taking to the skies in the
post-coronavirus age.
It's not been an easy year for most
industries and the aviation sector is no
exception. It lost almost US$ 360 bil-
lion by November due to a sharp
decline in passenger flights, according
to latest figures by the International
Civil Aviation Organization. The
reduction in air traffic compared to
2019 is 59%. The number of active
single-aisle fleet aircraft dropped 81%
when comparing year-on-year data for
April 2019 and April 2020. The
International Monetary Fund (IMF) has
projected a contraction in world GDP
in 2020 of between 4.4% and 5.2%
contraction – far worse than during
the 2008 financial crisis.
shrinKing Fleet
For airlines, this means one thing: air-
craft will go into early retirement.
Argus Media minor metals & alloys
specialist Nicholas Bell anticipates a
replacement rate for major airliners
this year of 58% instead of the typical
40%. Aircraft will leave the active fleet
before they've been in operation for
13 years. He argues this trend is
'unlikely to cause a boom in demand
for new aircraft; this is kind of already
baked into unfulfilled orders'.
After crashes and incidents involving
Boeing aircraft over the past two
years, the manufacturer's plans to
ramp up global production in 2021
actually became a fall from 57 to 42
and then 31. The US Federal Aviation
Administration finished its technical
investigation in mid-November, after
which it rescinded the order to ground
all planes of the Boeing Max 737.
scrap is tight
Alloy producers have been hit particu-
larly hard during the pandemic.
Cobalt and nickel price gains are said
to have pushed the alloys market in
the second half of this year. Small and
medium aircraft recyclers are also
going through a tough time. 'There is
scrap on the ground but not as readily
available as beginning of the year – in
the US or elsewhere,' Bell observes.
'As aircraft dismantlers undoubtedly
know, scrap is much tighter now.'
He doesn't expect demand for second-
ary titanium to return until the third
quarter of 2021. 'It's down on the
ground, both in the US and in Europe;
hardly surprising since aircraft produc-
tion is only just ramping up again,' Bell
points out. 'It's not enough to be a
really strong driver for recycling. At the
moment, there is a big disconnect
between the scrap market, traders and
parties on the production side.'
The question remains whether small and
medium recycling companies will be able
to stick it out if the situation doesn't
change. Bell says many US recyclers ben-
efited from the government loan system
to cover employees' salaries in the short
term. He anticipates a trend for compa-
nies to consolidate in the near future.
'Recycling aircraft takes a lot of time,
tools and money. First, the company
must have enough funds to purchase
an end-of-life plane. Then it must have
a large facility where it can be stored
and taken apart; and a crew that can
dismantle the aircraft efficiently. We'll
have to see how the market for scrap
and aerospace alloys develops as we
enter the New Year.'
A u t h o r Kirstin Linnenkoper
40-41-42-43_trendsupdates.indd 40 01-02-21 16:11