First 2021 issue!
Subscribe
Page 30 from: First 2021 issue!
30 80 sea containers and a 'black box' A d v a n c e d p l a s t i c s re c y c l i n g f a c i l i t y i s p ro o f o f J a p a n 's i n c re a s i n g c i r c u l a r i t y In Japan, most plastic waste is either incin...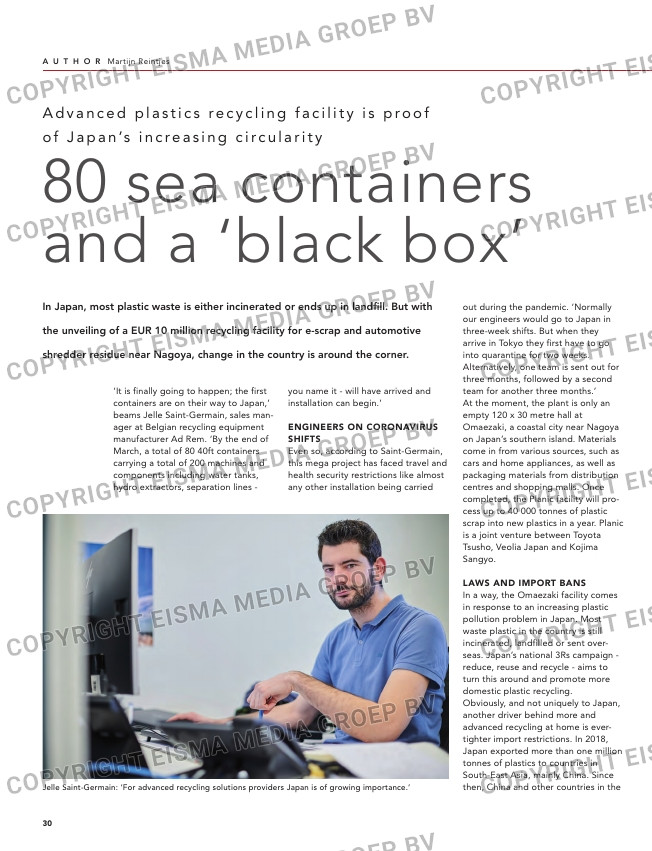 30
80 sea containers
and a 'black box'
A d v a n c e d p l a s t i c s re c y c l i n g f a c i l i t y i s p ro o f
o f J a p a n 's i n c re a s i n g c i r c u l a r i t y
In Japan, most plastic waste is either incinerated or ends up in landfill. But with
the unveiling of a Eur 10 million recycling facility for e-scrap and automotive
shredder residue near Nagoya, change in the country is around the corner.
region have imposed bans on plastic
waste imports.
'BLACK BOX' SOLUTION
At the Planic plant, shredded plastics
(an automotive shredder residue mix
plus WEEE) are separated into differ-
ent fractions based on their density
using an advanced floating system.
Thanks to electrostatic separation and
advanced plastics technology further
downstream, all recyclable plastics
including PE and PP are separated in
clean fractions and eventually com-
pounded and pelletised.
The downstream plastics technology
consists of a patented 'black box' pro-
cess used and proven by Galloo
'It is finally going to happen; the first
containers are on their way to Japan,'
beams Jelle Saint-Germain, sales man-
ager at Belgian recycling equipment
manufacturer Ad Rem. 'By the end of
March, a total of 80 40ft containers
carrying a total of 200 machines and
components including water tanks,
hydro extractors, separation lines –
you name it – will have arrived and
installation can begin.'
ENGINEERS ON CORONAVIRUS
SHIFTS
Even so, according to Saint-Germain,
this mega project has faced travel and
health security restrictions like almost
any other installation being carried
out during the pandemic. 'Normally
our engineers would go to Japan in
three-week shifts. But when they
arrive in Tokyo they first have to go
into quarantine for two weeks.
Alternatively, one team is sent out for
three months, followed by a second
team for another three months.'
At the moment, the plant is only an
empty 120 x 30 metre hall at
Omaezaki, a coastal city near Nagoya
on Japan's southern island. Materials
come in from various sources, such as
cars and home appliances, as well as
packaging materials from distribution
centres and shopping malls. Once
completed, the Planic facility will pro-
cess up to 40 000 tonnes of plastic
scrap into new plastics in a year. Planic
is a joint venture between Toyota
Tsusho, Veolia Japan and Kojima
Sangyo.
LAWS AND IMPORT BANS
In a way, the Omaezaki facility comes
in response to an increasing plastic
pollution problem in Japan. Most
waste plastic in the country is still
incinerated, landfilled or sent over-
seas. Japan's national 3Rs campaign –
reduce, reuse and recycle – aims to
turn this around and promote more
domestic plastic recycling.
Obviously, and not uniquely to Japan,
another driver behind more and
advanced recycling at home is ever-
tighter import restrictions. In 2018,
Japan exported more than one million
tonnes of plastics to countries in
South-East Asia, mainly China. Since
then, China and other countries in the
Japan's goal is a more sustainable society and economy.
Jelle Saint-Germain: 'For advanced recycling solutions providers Japan is of growing importance.'
A u T h o r Martijn Reintjes
26-27-28-29-30-31_countryreport_japan.indd 30 02-02-21 08:40