Recycling International February issue | 2021
Subscribe
Page 23 from: Recycling International February issue | 2021
TeChnology experT Car wreck a piece of cake for Zato's Blue Devil shredder's standard speed is set at six rota- tions per minute (rpm) but can automatically reduce to 3 rpm when required. This massively increases the torque deliver...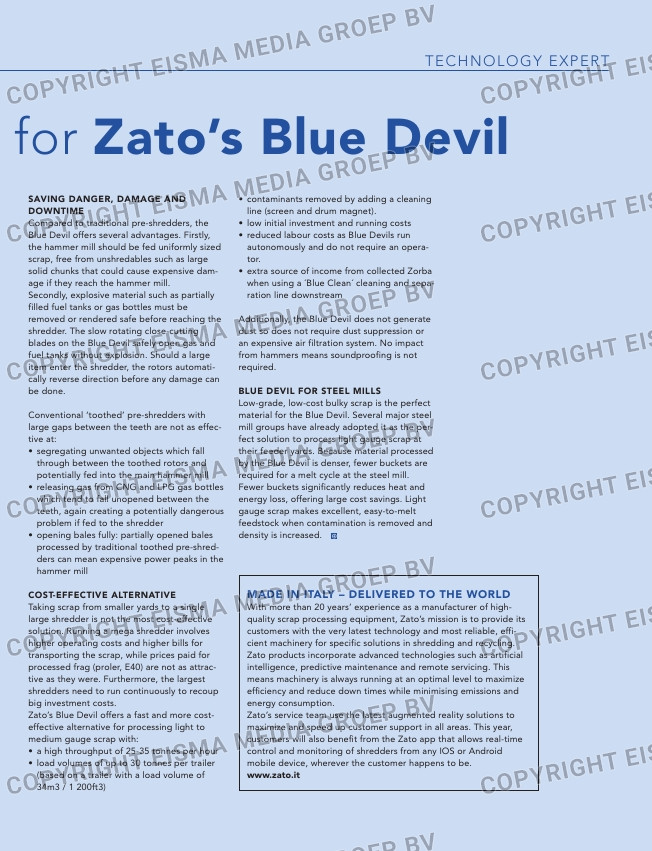 TeChnology experT
Car wreck a piece of cake for Zato's Blue Devil
shredder's standard speed is set at six rota-
tions per minute (rpm) but can automatically
reduce to 3 rpm when required. This massively
increases the torque delivery to enable bales,
whole cars and plate steel to be shredded with
ease.
The benefits of the slow speed/high torque
rotary shear were quickly recognised by recy-
clers on its introduction in 2006 and, as a
result, sales have increased considerably giving
Zato a position among 'the most experienced
and trusted' manufacturers of rotary shears.
A Blue Devil rotary shear:
• increases the density of the scrap by up to a
factor of four
• removes impurities from the scrap
• virtually eliminates the risk of explosions
from gas bottles, fuel tanks and similar
• prevent large elements damaging the ham-
mer mill
• pre-shreds bales and cars
WANTED: 'ZATO GRADE'
According to Zato, steel mills in several coun-
tries are now actively looking and paying high-
er rates for a new grade of scrap which is not
frag (proler, E40) nor HMS: they are looking for
'Zato grade' scrap and paying a premium for
it.
Unlike with a shear baler, scrap in a twin shaft
rotary shear is 'largely free from dirt and impu-
rities while the density of the scrap is also
higher,' the company claims. Because the
blades rotate slowly, very little dust is pro-
duced and there is no need for an expensive
aspiration system.
The Zato Blue Devil has grown a loyal interna-
tional following around the world because:
• expensive foundations or complicated civil
works are not required
• delivery and installation is quick: Zato pre-
builds the shredders so customers can start
operations within a few days
• of exceptionally low operating costs per
tonne
• of its high output (25-35 tonnes per hour)
• no external operators are needed
• of Zato's experience of more than 15 years
SAVING DANGER, DAMAGE AND
DOWNTIME
Compared to traditional pre-shredders, the
Blue Devil offers several advantages. Firstly,
the hammer mill should be fed uniformly sized
scrap, free from unshredables such as large
solid chunks that could cause expensive dam-
age if they reach the hammer mill.
Secondly, explosive material such as partially
filled fuel tanks or gas bottles must be
removed or rendered safe before reaching the
shredder. The slow rotating close-cutting
blades on the Blue Devil safely open gas and
fuel tanks without explosion. Should a large
item enter the shredder, the rotors automati-
cally reverse direction before any damage can
be done.
Conventional 'toothed' pre-shredders with
large gaps between the teeth are not as effec-
tive at:
• segregating unwanted objects which fall
through between the toothed rotors and
potentially fed into the main hammer mill
• releasing gas from CNG and LPG gas bottles
which tend to fall unopened between the
teeth, again creating a potentially dangerous
problem if fed to the shredder
• opening bales fully: partially opened bales
processed by traditional toothed pre-shred-
ders can mean expensive power peaks in the
hammer mill
COST-EFFECTIVE ALTERNATIVE
Taking scrap from smaller yards to a single
large shredder is not the most cost-effective
solution. Running a mega shredder involves
higher operating costs and higher bills for
transporting the scrap, while prices paid for
processed frag (proler, E40) are not as attrac-
tive as they were. Furthermore, the largest
shredders need to run continuously to recoup
big investment costs.
Zato's Blue Devil offers a fast and more cost-
effective alternative for processing light to
medium gauge scrap with:
• a high throughput of 25-35 tonnes per hour
• load volumes of up to 30 tonnes per trailer
(based on a trailer with a load volume of
34m3 / 1 200ft3)
• contaminants removed by adding a cleaning
line (screen and drum magnet).
• low initial investment and running costs
• reduced labour costs as Blue Devils run
autonomously and do not require an opera-
tor.
• extra source of income from collected Zorba
when using a ´Blue Clean´ cleaning and sepa-
ration line downstream
Additionally, the Blue Devil does not generate
dust so does not require dust suppression or
an expensive air filtration system. No impact
from hammers means soundproofing is not
required.
BLUE DEVIL FOR STEEL MILLS
Low-grade, low-cost bulky scrap is the perfect
material for the Blue Devil. Several major steel
mill groups have already adopted it as the per-
fect solution to process light gauge scrap at
their feeder yards. Because material processed
by the Blue Devil is denser, fewer buckets are
required for a melt cycle at the steel mill.
Fewer buckets significantly reduces heat and
energy loss, offering large cost savings. Light
gauge scrap makes excellent, easy-to-melt
feedstock when contamination is removed and
density is increased.
MADE IN ITALY – DELIVERED TO THE WORLD
With more than 20 years' experience as a manufacturer of high-
quality scrap processing equipment, Zato's mission is to provide its
customers with the very latest technology and most reliable, effi-
cient machinery for specific solutions in shredding and recycling.
Zato products incorporate advanced technologies such as artificial
intelligence, predictive maintenance and remote servicing. This
means machinery is always running at an optimal level to maximize
efficiency and reduce down times while minimising emissions and
energy consumption.
Zato's service team use the latest augmented reality solutions to
maximize and speed up customer support in all areas. This year,
customers will also benefit from the Zato app that allows real-time
control and monitoring of shredders from any IOS or Android
mobile device, wherever the customer happens to be.
www.zato.it
22-23-24-25_zato.indd 23 01-02-21 13:49