Recycling International February issue | 2021
Subscribe
Page 21 from: Recycling International February issue | 2021
E-SCRAP 21recyclinginternational.com | January/February | 2021 That's why his team provide detailed repair guides for virtually all electronic products currently on the market. The iFixit team also ranks how easy or 'downright...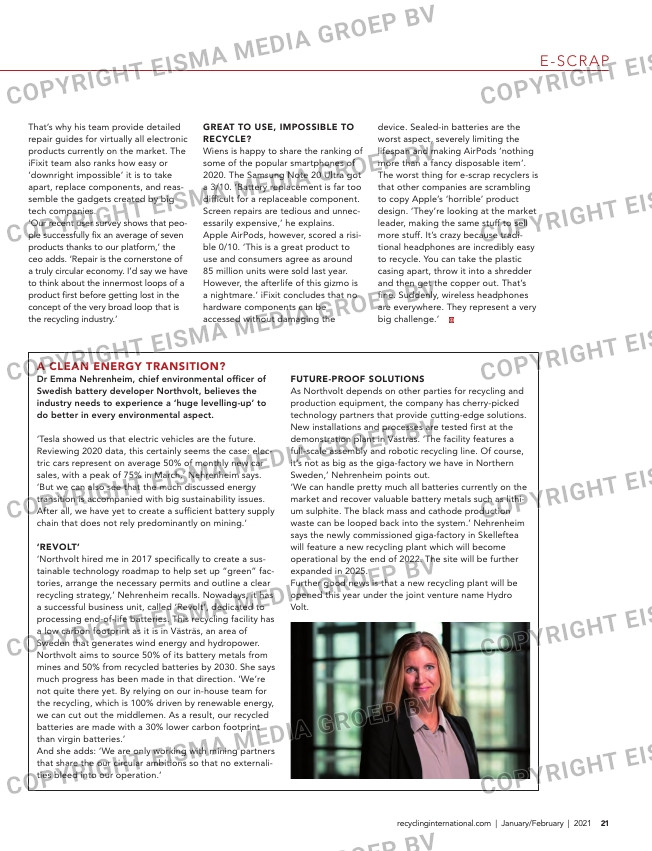 E-SCRAP
21recyclinginternational.com | January/February | 2021
That's why his team provide detailed
repair guides for virtually all electronic
products currently on the market. The
iFixit team also ranks how easy or
'downright impossible' it is to take
apart, replace components, and reas-
semble the gadgets created by big
tech companies.
'Our recent user survey shows that peo-
ple successfully fix an average of seven
products thanks to our platform,' the
ceo adds. 'Repair is the cornerstone of
a truly circular economy. I'd say we have
to think about the innermost loops of a
product first before getting lost in the
concept of the very broad loop that is
the recycling industry.'
great to use, iMpossiBle to
recycle?
Wiens is happy to share the ranking of
some of the popular smartphones of
2020. The Samsung Note 20 Ultra got
a 3/10. 'Battery replacement is far too
difficult for a replaceable component.
Screen repairs are tedious and unnec-
essarily expensive,' he explains.
Apple AirPods, however, scored a risi-
ble 0/10. 'This is a great product to
use and consumers agree as around
85 million units were sold last year.
However, the afterlife of this gizmo is
a nightmare.' iFixit concludes that no
hardware components can be
accessed without damaging the
device. Sealed-in batteries are the
worst aspect, severely limiting the
lifespan and making AirPods 'nothing
more than a fancy disposable item'.
The worst thing for e-scrap recyclers is
that other companies are scrambling
to copy Apple's 'horrible' product
design. 'They're looking at the market
leader, making the same stuff to sell
more stuff. It's crazy because tradi-
tional headphones are incredibly easy
to recycle. You can take the plastic
casing apart, throw it into a shredder
and then get the copper out. That's
fine. Suddenly, wireless headphones
are everywhere. They represent a very
big challenge.'
is: can we convince consumers not to
buy every single new item as soon as
it hits the shelves? Can we get them
to hold on to what they own a little bit
longer? 'New products are often
badly made from a recycling and dis-
mantling point of view,' he argues.
a clean energy transition?
Dr Emma Nehrenheim, chief environmental officer of
Swedish battery developer Northvolt, believes the
industry needs to experience a 'huge levelling-up' to
do better in every environmental aspect.
'Tesla showed us that electric vehicles are the future.
Reviewing 2020 data, this certainly seems the case: elec-
tric cars represent on average 50% of monthly new car
sales, with a peak of 75% in March,' Nehrenheim says.
'But we can also see that the much discussed energy
transition is accompanied with big sustainability issues.
After all, we have yet to create a sufficient battery supply
chain that does not rely predominantly on mining.'
'revolt'
'Northvolt hired me in 2017 specifically to create a sus-
tainable technology roadmap to help set up "green" fac-
tories, arrange the necessary permits and outline a clear
recycling strategy,' Nehrenheim recalls. Nowadays, it has
a successful business unit, called 'Revolt', dedicated to
processing end-of-life batteries. This recycling facility has
a low carbon footprint as it is in Västräs, an area of
Sweden that generates wind energy and hydropower.
Northvolt aims to source 50% of its battery metals from
mines and 50% from recycled batteries by 2030. She says
much progress has been made in that direction. 'We're
not quite there yet. By relying on our in-house team for
the recycling, which is 100% driven by renewable energy,
we can cut out the middlemen. As a result, our recycled
batteries are made with a 30% lower carbon footprint
than virgin batteries.'
And she adds: 'We are only working with mining partners
that share the our circular ambitions so that no externali-
ties bleed into our operation.'
Future-prooF solutions
As Northvolt depends on other parties for recycling and
production equipment, the company has cherry-picked
technology partners that provide cutting-edge solutions.
New installations and processes are tested first at the
demonstration plant in Västräs. 'The facility features a
full-scale assembly and robotic recycling line. Of course,
it's not as big as the giga-factory we have in Northern
Sweden,' Nehrenheim points out.
'We can handle pretty much all batteries currently on the
market and recover valuable battery metals such as lithi-
um sulphite. The black mass and cathode production
waste can be looped back into the system.' Nehrenheim
says the newly commissioned giga-factory in Skelleftea
will feature a new recycling plant which will become
operational by the end of 2022. The site will be further
expanded in 2025.
Further good news is that a new recycling plant will be
opened this year under the joint venture name Hydro
Volt.
16-17-18-19-20-21_e-wasteconference.indd 21 02-02-21 09:04