Recycling International February issue | 2021
Subscribe
Page 18 from: Recycling International February issue | 2021
18 customs a few days ago showing a container with shredded electronics from France. The material wasn't in the best shape,' Puckett says. 'Exporting countries don't take this issue seriously enough. Even devel- oped countries...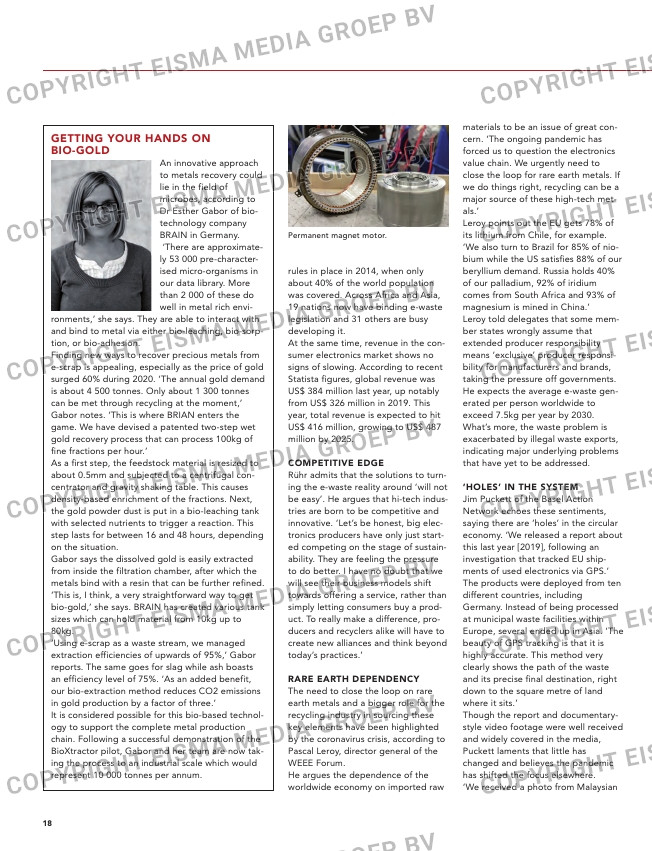 18
customs a few days ago showing a
container with shredded electronics
from France. The material wasn't in
the best shape,' Puckett says.
'Exporting countries don't take this
issue seriously enough. Even devel-
oped countries like the US have zero
legislation when it comes to shipping
electronic waste overseas.'
He believes many people think the cir-
cular economy is all about shipping
waste to foreign countries. 'They see
the Basel Convention as an obstacle
rather than a protective measure to
help realise a truly sustainable waste
management infrastructure. It's truly
mind-boggling.'
He concludes: 'Please remember that
the circular economy is more than just
recycling on steroids.'
sKy high Battery deMand
'It's clear that the demand for electric
car battery materials cannot be met
without recycling,' says Jeffrey
Spangenberger of Argonne National
rules in place in 2014, when only
about 40% of the world population
was covered. Across Africa and Asia,
19 nations now have binding e-waste
legislation and 31 others are busy
developing it.
At the same time, revenue in the con-
sumer electronics market shows no
signs of slowing. According to recent
Statista figures, global revenue was
US$ 384 million last year, up notably
from US$ 326 million in 2019. This
year, total revenue is expected to hit
US$ 416 million, growing to US$ 487
million by 2025.
coMpetitive edge
Rühr admits that the solutions to turn-
ing the e-waste reality around 'will not
be easy'. He argues that hi-tech indus-
tries are born to be competitive and
innovative. 'Let's be honest, big elec-
tronics producers have only just start-
ed competing on the stage of sustain-
ability. They are feeling the pressure
to do better. I have no doubt that we
will see their business models shift
towards offering a service, rather than
simply letting consumers buy a prod-
uct. To really make a difference, pro-
ducers and recyclers alike will have to
create new alliances and think beyond
today's practices.'
rare earth dependency
The need to close the loop on rare
earth metals and a bigger role for the
recycling industry in sourcing these
key elements have been highlighted
by the coronavirus crisis, according to
Pascal Leroy, director general of the
WEEE Forum.
He argues the dependence of the
worldwide economy on imported raw
materials to be an issue of great con-
cern. 'The ongoing pandemic has
forced us to question the electronics
value chain. We urgently need to
close the loop for rare earth metals. If
we do things right, recycling can be a
major source of these high-tech met-
als.'
Leroy points out the EU gets 78% of
its lithium from Chile, for example.
'We also turn to Brazil for 85% of nio-
bium while the US satisfies 88% of our
beryllium demand. Russia holds 40%
of our palladium, 92% of iridium
comes from South Africa and 93% of
magnesium is mined in China.'
Leroy told delegates that some mem-
ber states wrongly assume that
extended producer responsibility
means 'exclusive' producer responsi-
bility for manufacturers and brands,
taking the pressure off governments.
He expects the average e-waste gen-
erated per person worldwide to
exceed 7.5kg per year by 2030.
What's more, the waste problem is
exacerbated by illegal waste exports,
indicating major underlying problems
that have yet to be addressed.
'holes' in the systeM
Jim Puckett of the Basel Action
Network echoes these sentiments,
saying there are 'holes' in the circular
economy. 'We released a report about
this last year [2019], following an
investigation that tracked EU ship-
ments of used electronics via GPS.'
The products were deployed from ten
different countries, including
Germany. Instead of being processed
at municipal waste facilities within
Europe, several ended up in Asia. 'The
beauty of GPS tracking is that it is
highly accurate. This method very
clearly shows the path of the waste
and its precise final destination, right
down to the square metre of land
where it sits.'
Though the report and documentary-
style video footage were well received
and widely covered in the media,
Puckett laments that little has
changed and believes the pandemic
has shifted the focus elsewhere.
'We received a photo from Malaysian
getting your hands on
Bio-gold
An innovative approach
to metals recovery could
lie in the field of
microbes, according to
Dr Esther Gabor of bio-
technology company
BRAIN in Germany.
'There are approximate-
ly 53 000 pre-character-
ised micro-organisms in
our data library. More
than 2 000 of these do
well in metal rich envi-
ronments,' she says. They are able to interact with
and bind to metal via either bio-leaching, bio-sorp-
tion, or bio-adhesion.
Finding new ways to recover precious metals from
e-scrap is appealing, especially as the price of gold
surged 60% during 2020. 'The annual gold demand
is about 4 500 tonnes. Only about 1 300 tonnes
can be met through recycling at the moment,'
Gabor notes. 'This is where BRIAN enters the
game. We have devised a patented two-step wet
gold recovery process that can process 100kg of
fine fractions per hour.'
As a first step, the feedstock material is resized to
about 0.5mm and subjected to a centrifugal con-
centrator and gravity shaking table. This causes
density-based enrichment of the fractions. Next,
the gold powder dust is put in a bio-leaching tank
with selected nutrients to trigger a reaction. This
step lasts for between 16 and 48 hours, depending
on the situation.
Gabor says the dissolved gold is easily extracted
from inside the filtration chamber, after which the
metals bind with a resin that can be further refined.
'This is, I think, a very straightforward way to get
bio-gold,' she says. BRAIN has created various tank
sizes which can hold material from 10kg up to
80kg.
'Using e-scrap as a waste stream, we managed
extraction efficiencies of upwards of 95%,' Gabor
reports. The same goes for slag while ash boasts
an efficiency level of 75%. 'As an added benefit,
our bio-extraction method reduces CO2 emissions
in gold production by a factor of three.'
It is considered possible for this bio-based technol-
ogy to support the complete metal production
chain. Following a successful demonstration of the
BioXtractor pilot, Gabor and her team are now tak-
ing the process to an industrial scale which would
represent 10 000 tonnes per annum.
Permanent magnet motor.
16-17-18-19-20-21_e-wasteconference.indd 18 02-02-21 09:04