Recycling International February issue | 2021
Subscribe
Page 15 from: Recycling International February issue | 2021
Steinert shares know-how on digitalisation of the recycling industry Steinert's new sorting robot delivers the highest purities UniSort Unibot combines reliable sensor technology with modern robotics to further increase the eff...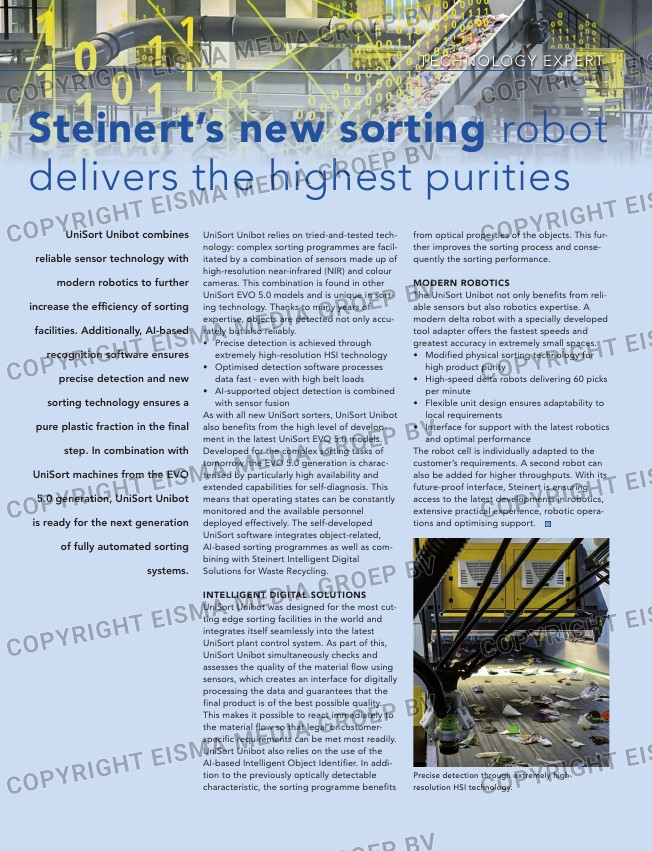 Steinert shares know-how on
digitalisation of the recycling industry
Steinert's new sorting robot
delivers the highest purities
UniSort Unibot combines
reliable sensor technology with
modern robotics to further
increase the efficiency of sorting
facilities. Additionally, AI-based
recognition software ensures
precise detection and new
sorting technology ensures a
pure plastic fraction in the final
step. In combination with
UniSort machines from the EVO
5.0 generation, UniSort Unibot
is ready for the next generation
of fully automated sorting
systems.
2. Intelligent Condition Monitoring
Sorting facilities are permanently and centrally
monitored, enabling incidents to be detected
early on to cut downtimes and to improve sys-
tem performance.
3. Intelligent Remote Monitoring
Cuts the time taken to respond to problems
thanks to mobile status monitoring and pro-
vides opportunities for service experts to inter-
vene. This ensures a flexible response and
improves the reliability of the entire system.
4. Intelligent Object Identifier
AI-supported program for sorting materials
that could not previously be separated and
also to resolve complicated sorting requir-
ments. This simultaneously guarantees a more
constant sorting performance and improved
outcomes.
5. Intelligent Remote Update
Allows improvements or even totally new func-
tions to be deployed remotely and ensures
sorting facilities are equipped for future
requirements without staff having to be pres-
ent on site.
6. Intelligent Quality Control
Robot-based quality check for automated
assessment and checking of material qualities
for processing using, for example, UniSort
Unibot. This enables accurate and flexible pric-
ing as well as a response to legal or customer-
specific requirements.
UniSort Unibot relies on tried-and-tested tech-
nology: complex sorting programmes are facil-
itated by a combination of sensors made up of
high-resolution near-infrared (NIR) and colour
cameras. This combination is found in other
UniSort EVO 5.0 models and is unique in sort-
ing technology. Thanks to many years of
expertise, objects are detected not only accu-
rately but also reliably.
• Precise detection is achieved through
extremely high-resolution HSI technology
• Optimised detection software processes
data fast – even with high belt loads
• AI-supported object detection is combined
with sensor fusion
As with all new UniSort sorters, UniSort Unibot
also benefits from the high level of develop-
ment in the latest UniSort EVO 5.0 models.
Developed for the complex sorting tasks of
tomorrow, the EVO 5.0 generation is charac-
terised by particularly high availability and
extended capabilities for self-diagnosis. This
means that operating states can be constantly
monitored and the available personnel
deployed effectively. The self-developed
UniSort software integrates object-related,
AI-based sorting programmes as well as com-
bining with Steinert Intelligent Digital
Solutions for Waste Recycling.
INTELLIGENT DIGITAL SOLUTIONS
UniSort Unibot was designed for the most cut-
ting edge sorting facilities in the world and
integrates itself seamlessly into the latest
UniSort plant control system. As part of this,
UniSort Unibot simultaneously checks and
assesses the quality of the material flow using
sensors, which creates an interface for digitally
processing the data and guarantees that the
final product is of the best possible quality.
This makes it possible to react immediately to
the material flow so that legal or customer-
specific requirements can be met most readily.
UniSort Unibot also relies on the use of the
AI-based Intelligent Object Identifier. In addi-
tion to the previously optically detectable
characteristic, the sorting programme benefits
from optical properties of the objects. This fur-
ther improves the sorting process and conse-
quently the sorting performance.
MODERN ROBOTICS
The UniSort Unibot not only benefits from reli-
able sensors but also robotics expertise. A
modern delta robot with a specially developed
tool adapter offers the fastest speeds and
greatest accuracy in extremely small spaces.
• Modified physical sorting technology for
high product purity
• High-speed delta robots delivering 60 picks
per minute
• Flexible unit design ensures adaptability to
local requirements
• Interface for support with the latest robotics
and optimal performance
The robot cell is individually adapted to the
customer's requirements. A second robot can
also be added for higher throughputs. With its
future-proof interface, Steinert is ensuring
access to the latest developments in robotics,
extensive practical experience, robotic opera-
tions and optimising support.
Precise detection through extremely high-
resolution HSI technology.
TECHNOLOGY EXPERT
14-15_steinert.indd 15 02-02-21 11:32