Recycling International February issue | 2021
Subscribe
Page 13 from: Recycling International February issue | 2021
13recyclinginternational.com | January/February | 2021 trends & updates can the moSt expenSive bag in the WoRld Really advance Recycling? every morning when i check my e-mail, i'm greeted by scores of press releases. each one...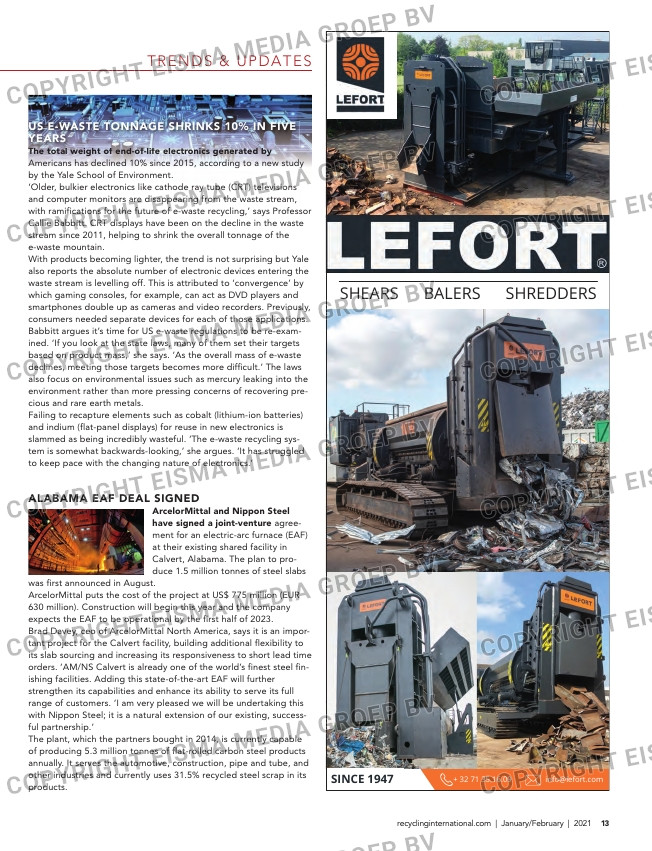 13recyclinginternational.com | January/February | 2021
trends & updates
can the moSt expenSive bag in the WoRld
Really advance Recycling?
every morning when i check my e-mail, i'm greeted by scores of press
releases. each one claims to have developed the next big recycling
innovation. 'game-changer' is the most popular phrase, along with
'state-of-the-art' and 'high-tech'. it can be tricky to burst these clever-
ly crafted marketing bubbles.
by Kirstin Linnenkoper
Not always. Sometimes the 'greenwashing' (sorry, I hate the term too) is
blatant. Take for example the headline of the article that was sent to me
not once or twice but three times – just in case I missed it: 'A Seven
Million Dollar bag To Save The Oceans'. Although I scoffed at the idea, I
admit I was intrigued.
I read the following: 'The Italian brand boarini Milanesi is launching a US$
7 million (EUR 6 million) bag, the most expensive ever in the world. It has
been created to raise awareness of the need to protect our seas, which
are becoming more threatened than usual by non-biodegradable plastics
due to the Covid-19 pandemic. A total of EUR 800 000 of the proceeds
will be donated to cleaning the seas.'
If you're like me, you're probably thinking that if they really want to make
a difference, they would put all the money towards recycling ocean plas-
tics – not just a fraction of the price. I'm also wondering who will buy such
a lavish accessory? And why? Will an Arabian sultan claim it for his person-
al collection or will a self-made tech giant like bill Gates purchase it to
donate it to the Smithsonian museum?
It's interesting that the bag in question is not made from recyclable plas-
tic, let alone ocean plastic. Rather, the blue 'Parva Mea' model – of which
only three have been produced – comes from 'semi-shiny alligator leather,
adorned with a diamond pavé accessory and 10 white gold butterflies
with sapphires, diamonds and Paraiba tourmalines, for a total of over 130
carats, taking over 1 000 hours of work to create'.
Naturally, the designers are eager to share their inspiration with the world.
'blue sapphires represent the depths of the oceans, Paraiba tourmaline
reminds us of the uncontaminated Caribbean seas and diamonds refer to
the transparency of water when it falls in the form of rain,' explains brand
co-founder Carolina boarini.
'We used to spend every summer at sea between Greece and Turkey and I
was happiest when we would go on boat trips between the islands,' says
business partner Matteo Rodolfo. 'Recently, due to the pandemic, I have
seen even more plastic in the sea than when I was a child with all the
gloves and face masks that are being carelessly thrown away. This remind-
ed me of my father, who used to dive into the water to collect plastic bags
and bottles floating in the sea and helped me wipe tar off my hands when
I was building sand castles on the beach.'
I've checked the Guinness book of World Records for details of the most
valuable bag to date. The Italian designers are indeed now in first place.
The record was previously held by the Mouawad 1 001 Nights Diamond
Purse, described as a one-off accessory with an original price of EUR 3.1
million in 2010. The new record will probably prove a hard one to beat.
At any rate, I wonder what the impact of the 'most expensive bag in the
world' will truly be in the fight against plastic waste. I predict we will forget
about the fancy eye-catcher in a matter of days. The plastic ending up in the
Great Pacific Garbage Patch, however, will sit there for quite some time…
the total weight of end-of-life electronics generated by
Americans has declined 10% since 2015, according to a new study
by the yale School of Environment.
'Older, bulkier electronics like cathode ray tube (CRT) televisions
and computer monitors are disappearing from the waste stream,
with ramifications for the future of e-waste recycling,' says Professor
Callie babbitt. CRT displays have been on the decline in the waste
stream since 2011, helping to shrink the overall tonnage of the
e-waste mountain.
With products becoming lighter, the trend is not surprising but yale
also reports the absolute number of electronic devices entering the
waste stream is levelling off. This is attributed to 'convergence' by
which gaming consoles, for example, can act as DVD players and
smartphones double up as cameras and video recorders. Previously,
consumers needed separate devices for each of those applications.
babbitt argues it's time for US e-waste regulations to be re-exam-
ined. 'If you look at the state laws, many of them set their targets
based on product mass,' she says. 'As the overall mass of e-waste
declines, meeting those targets becomes more difficult.' The laws
also focus on environmental issues such as mercury leaking into the
environment rather than more pressing concerns of recovering pre-
cious and rare earth metals.
Failing to recapture elements such as cobalt (lithium-ion batteries)
and indium (flat-panel displays) for reuse in new electronics is
slammed as being incredibly wasteful. 'The e-waste recycling sys-
tem is somewhat backwards-looking,' she argues. 'It has struggled
to keep pace with the changing nature of electronics.'
alabama eaf deal Signed
arcelormittal and nippon Steel
have signed a joint-venture agree-
ment for an electric-arc furnace (EAF)
at their existing shared facility in
Calvert, Alabama. The plan to pro-
duce 1.5 million tonnes of steel slabs
was first announced in August.
ArcelorMittal puts the cost of the project at US$ 775 million (EUR
630 million). Construction will begin this year and the company
expects the EAF to be operational by the first half of 2023.
brad Davey, ceo of ArcelorMittal North America, says it is an impor-
tant project for the Calvert facility, building additional flexibility to
its slab sourcing and increasing its responsiveness to short lead time
orders. 'AM/NS Calvert is already one of the world's finest steel fin-
ishing facilities. Adding this state-of-the-art EAF will further
strengthen its capabilities and enhance its ability to serve its full
range of customers. 'I am very pleased we will be undertaking this
with Nippon Steel; it is a natural extension of our existing, success-
ful partnership.'
The plant, which the partners bought in 2014, is currently capable
of producing 5.3 million tonnes of flat-rolled carbon steel products
annually. It serves the automotive, construction, pipe and tube, and
other industries and currently uses 31.5% recycled steel scrap in its
products.
SHEARS BALERS SHREDDERS
[email protected]SINCE 1947 + 32 71 35.16.09
column
uS e-WaSte tonnage ShRinKS 10% in five
yeaRS
10-11-12-13_trendsupdates1.indd 13 01-02-21 15:52