Recycling International February issue | 2021
Subscribe
Page 11 from: Recycling International February issue | 2021
trends & updates 11recyclinginternational.com | January/February | 2021 Fotobijschrift KadeRKop ?? MORE AMERICAN PET bOTTLES LOOP bACK the uS witnessed a 7% increase in the amount of recycled polyethylene tere- phthalate (PET) ...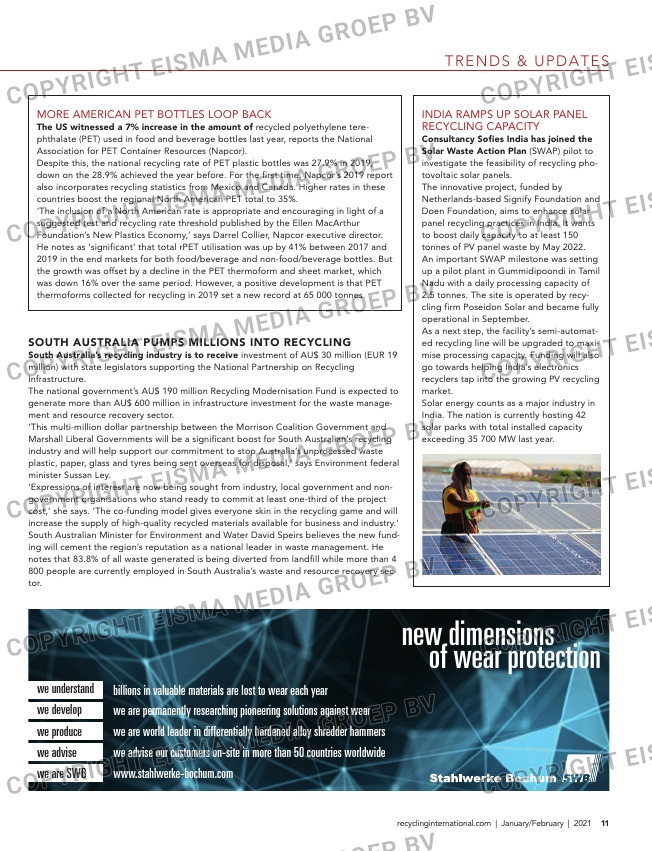 trends & updates
11recyclinginternational.com | January/February | 2021
Fotobijschrift
KadeRKop
??
MORE AMERICAN PET bOTTLES LOOP bACK
the uS witnessed a 7% increase in the amount of recycled polyethylene tere-
phthalate (PET) used in food and beverage bottles last year, reports the National
Association for PET Container Resources (Napcor).
Despite this, the national recycling rate of PET plastic bottles was 27.9% in 2019,
down on the 28.9% achieved the year before. For the first time, Napcor's 2019 report
also incorporates recycling statistics from Mexico and Canada. Higher rates in these
countries boost the regional North American PET total to 35%.
'The inclusion of a North American rate is appropriate and encouraging in light of a
suggested test and recycling rate threshold published by the Ellen MacArthur
Foundation's New Plastics Economy,' says Darrel Collier, Napcor executive director.
He notes as 'significant' that total rPET utilisation was up by 41% between 2017 and
2019 in the end markets for both food/beverage and non-food/beverage bottles. but
the growth was offset by a decline in the PET thermoform and sheet market, which
was down 16% over the same period. However, a positive development is that PET
thermoforms collected for recycling in 2019 set a new record at 65 000 tonnes.
INDIA RAMPS UP SOLAR PANEL
RECyCLING CAPACITy
consultancy Sofies india has joined the
Solar Waste action plan (SWAP) pilot to
investigate the feasibility of recycling pho-
tovoltaic solar panels.
The innovative project, funded by
Netherlands-based Signify Foundation and
Doen Foundation, aims to enhance solar
panel recycling practices in India. It wants
to boost daily capacity to at least 150
tonnes of PV panel waste by May 2022.
An important SWAP milestone was setting
up a pilot plant in Gummidipoondi in Tamil
Nadu with a daily processing capacity of
2.5 tonnes. The site is operated by recy-
cling firm Poseidon Solar and became fully
operational in September.
As a next step, the facility's semi-automat-
ed recycling line will be upgraded to maxi-
mise processing capacity. Funding will also
go towards helping India's electronics
recyclers tap into the growing PV recycling
market.
Solar energy counts as a major industry in
India. The nation is currently hosting 42
solar parks with total installed capacity
exceeding 35 700 MW last year.
South auStRalia pumpS millionS into Recycling
South australia's recycling industry is to receive investment of AU$ 30 million (EUR 19
million) with state legislators supporting the National Partnership on Recycling
Infrastructure.
The national government's AU$ 190 million Recycling Modernisation Fund is expected to
generate more than AU$ 600 million in infrastructure investment for the waste manage-
ment and resource recovery sector.
'This multi-million dollar partnership between the Morrison Coalition Government and
Marshall Liberal Governments will be a significant boost for South Australian's recycling
industry and will help support our commitment to stop Australia's unprocessed waste
plastic, paper, glass and tyres being sent overseas for disposal,' says Environment federal
minister Sussan Ley.
'Expressions of interest are now being sought from industry, local government and non-
government organisations who stand ready to commit at least one-third of the project
cost,' she says. 'The co-funding model gives everyone skin in the recycling game and will
increase the supply of high-quality recycled materials available for business and industry.'
South Australian Minister for Environment and Water David Speirs believes the new fund-
ing will cement the region's reputation as a national leader in waste management. He
notes that 83.8% of all waste generated is being diverted from landfill while more than 4
800 people are currently employed in South Australia's waste and resource recovery sec-
tor.
new dimensions
of wear protection
we understand
we produce
we advise
we are SWB
billions in valuable materials are lost to wear each year
we advise our customers on-site in more than 50 countries worldwide
we are world leader in differentially hardened alloy shredder hammers
we are permanently researching pioneering solutions against wear
www.stahlwerke-bochum.com
we develop
10-11-12-13_trendsupdates1.indd 11 01-02-21 15:52