Recycling International February issue | 2021
Subscribe
Page 10 from: Recycling International February issue | 2021
10 Innovative rare earth pilot heralds bright recycling future The use of rare earths in the e-mobility sector will surge in the coming decades, according to Ana Maria Martinez of Norway's R&D firm Sintef. In response, she h...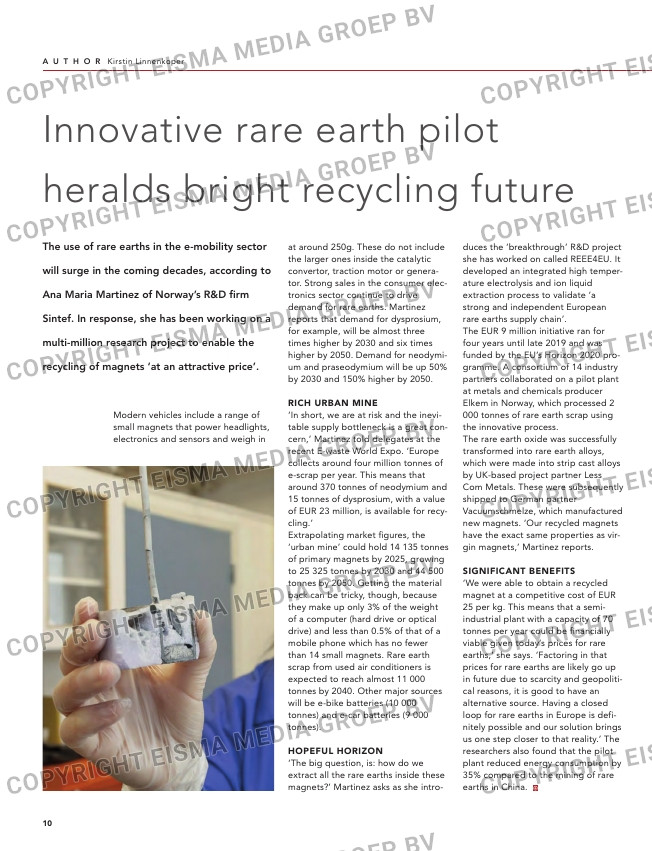 10
Innovative rare earth pilot
heralds bright recycling future
The use of rare earths in the e-mobility sector
will surge in the coming decades, according to
Ana Maria Martinez of Norway's R&D firm
Sintef. In response, she has been working on a
multi-million research project to enable the
recycling of magnets 'at an attractive price'.
Modern vehicles include a range of
small magnets that power headlights,
electronics and sensors and weigh in
at around 250g. These do not include
the larger ones inside the catalytic
convertor, traction motor or genera-
tor. Strong sales in the consumer elec-
tronics sector continue to drive
demand for rare earths. Martinez
reports that demand for dysprosium,
for example, will be almost three
times higher by 2030 and six times
higher by 2050. Demand for neodymi-
um and praseodymium will be up 50%
by 2030 and 150% higher by 2050.
Rich uRban mine
'In short, we are at risk and the inevi-
table supply bottleneck is a great con-
cern,' Martinez told delegates at the
recent E-waste World Expo. 'Europe
collects around four million tonnes of
e-scrap per year. This means that
around 370 tonnes of neodymium and
15 tonnes of dysprosium, with a value
of EUR 23 million, is available for recy-
cling.'
Extrapolating market figures, the
'urban mine' could hold 14 135 tonnes
of primary magnets by 2025, growing
to 25 325 tonnes by 2030 and 44 500
tonnes by 2050. Getting the material
back can be tricky, though, because
they make up only 3% of the weight
of a computer (hard drive or optical
drive) and less than 0.5% of that of a
mobile phone which has no fewer
than 14 small magnets. Rare earth
scrap from used air conditioners is
expected to reach almost 11 000
tonnes by 2040. Other major sources
will be e-bike batteries (10 000
tonnes) and e-car batteries (9 000
tonnes).
hopeful hoRizon
'The big question, is: how do we
extract all the rare earths inside these
magnets?' Martinez asks as she intro-
duces the 'breakthrough' R&D project
she has worked on called REEE4EU. It
developed an integrated high temper-
ature electrolysis and ion liquid
extraction process to validate 'a
strong and independent European
rare earths supply chain'.
The EUR 9 million initiative ran for
four years until late 2019 and was
funded by the EU's Horizon 2020 pro-
gramme. A consortium of 14 industry
partners collaborated on a pilot plant
at metals and chemicals producer
Elkem in Norway, which processed 2
000 tonnes of rare earth scrap using
the innovative process.
The rare earth oxide was successfully
transformed into rare earth alloys,
which were made into strip cast alloys
by UK-based project partner Less
Com Metals. These were subsequently
shipped to German partner
Vacuumschmelze, which manufactured
new magnets. 'Our recycled magnets
have the exact same properties as vir-
gin magnets,' Martinez reports.
Significant benefitS
'We were able to obtain a recycled
magnet at a competitive cost of EUR
25 per kg. This means that a semi-
industrial plant with a capacity of 70
tonnes per year could be financially
viable given today's prices for rare
earths,' she says. 'Factoring in that
prices for rare earths are likely go up
in future due to scarcity and geopoliti-
cal reasons, it is good to have an
alternative source. Having a closed
loop for rare earths in Europe is defi-
nitely possible and our solution brings
us one step closer to that reality.' The
researchers also found that the pilot
plant reduced energy consumption by
35% compared to the mining of rare
earths in China.
A u T h o R Kirstin Linnenkoper
10-11-12-13_trendsupdates1.indd 10 01-02-21 15:52