Country report New Zealand and much more!
Subscribe
Page 9 from: Country report New Zealand and much more!
TRENDS & UPDATES 9recyclinginternational.com | May/June | 2019 BAN uNcovers worst e-scrAp frAud iN us history One of the largest e-scrap recyclers in the US state of Washington has been convicted of sending large ship- ments...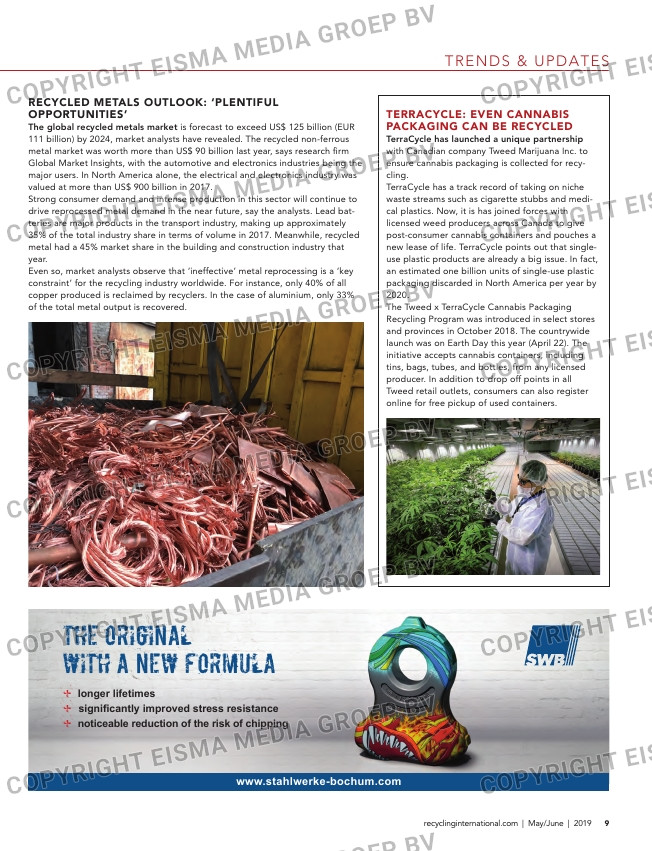 TRENDS & UPDATES
9recyclinginternational.com | May/June | 2019
BAN uNcovers worst e-scrAp frAud iN
us history
One of the largest
e-scrap recyclers in
the US state of
Washington has
been convicted of
sending large ship-
ments of used com-
puter and television
screens to China
instead of recycling
them locally. The
prosecution of Total
Reclaim followed
an investigation
into illegal exports
by the Basel Action
Network.
Total Reclaim
earned US$ 7.8 million (EUR 7 million) by sending broken elec-
tronics to Asia, The Seattle Times reports. Meanwhile, the recy-
cler told customers it was a 'friend of the Earth'. BAN found the
recycling firm had exported around 3 765 tonnes of devices
containing mercury – enough material to fill 430 shipping con-
tainers.
The e-scrap was dismantled via manual labour at a site in Hong
Kong. Workers were not aware of the health risks and were not
wearing masks or other safety gear. The screens were simply
smashed, BAN reports. The organisation has its own indepen-
dent recycling grading system and had previously recognised
Total Reclaim with its 'gold standard'. BAN founder Jim Puckett
says he was 'shocked' when GPS trackers installed by BAN in
selected devices indicated Total Reclaim material had travelled
all the way to Hong Kong.
When Puckett confronted Total Reclaim, the recycler tried to
cover up its wrongdoings. It created new shipping manifests to
suggest that only plastic was being sent to Hong Kong, claim-
ing the e-scrap had ended up there accidentally. Puckett didn't
believe this and travelled to China where he encountered many
such shipments from Total Reclaim, including new ones from a
recent Earth Day collection drive.
According to the US Attorney's Office, Total Reclaim started the
illegal shipments in 2008. The recycling company has customers
spanning Washington, Oregon and Alaska and important clients
included universities and city councils. This is the third time an
American recycler has been prosecuted for fraudulent practices
and the largest case in US history by volume.
Total Reclaim co-founders Craig Lorch and Jeff Zirkle were each
sentenced to two years and four months in prison by a federal
judge in Seattle. They also will pay US$ 945 000 in restitution
and serve three years of supervised release.
Lead prosecutor Seth Wilkinson said the seven-year scheme
didn't only benefit Lorch and Zirkle by US$ 7.8 million. They
had also saved the US$ 2.6 million they would have had to
spend to properly dispose of the electronics. www.stahlwerke-bochum.com

THE ORIGINAL
WITH A NEW FORMULA
+ longer lifetimes
+ significantly improved stress resistance
+ noticeable reduction of the risk of chipping

recycled metAls outlook: 'pleNtiful
opportuNities'
the global recycled metals market is forecast to exceed US$ 125 billion (EUR
111 billion) by 2024, market analysts have revealed. The recycled non-ferrous
metal market was worth more than US$ 90 billion last year, says research firm
Global Market Insights, with the automotive and electronics industries being the
major users. In North America alone, the electrical and electronics industry was
valued at more than US$ 900 billion in 2017.
Strong consumer demand and intense production in this sector will continue to
drive reprocessed metal demand in the near future, say the analysts. Lead bat-
teries are major products in the transport industry, making up approximately
35% of the total industry share in terms of volume in 2017. Meanwhile, recycled
metal had a 45% market share in the building and construction industry that
year.
Even so, market analysts observe that 'ineffective' metal reprocessing is a 'key
constraint' for the recycling industry worldwide. For instance, only 40% of all
copper produced is reclaimed by recyclers. In the case of aluminium, only 33%
of the total metal output is recovered.
terrAcycle: eveN cANNABis
pAckAgiNg cAN Be recycled
terraCycle has launched a unique partnership
with Canadian company Tweed Marijuana Inc. to
ensure cannabis packaging is collected for recy-
cling.
TerraCycle has a track record of taking on niche
waste streams such as cigarette stubbs and medi-
cal plastics. Now, it is has joined forces with
licensed weed producers across Canada to give
post-consumer cannabis containers and pouches a
new lease of life. TerraCycle points out that single-
use plastic products are already a big issue. In fact,
an estimated one billion units of single-use plastic
packaging discarded in North America per year by
2020.
The Tweed x TerraCycle Cannabis Packaging
Recycling Program was introduced in select stores
and provinces in October 2018. The countrywide
launch was on Earth Day this year (April 22). The
initiative accepts cannabis containers, including
tins, bags, tubes, and bottles, from any licensed
producer. In addition to drop off points in all
Tweed retail outlets, consumers can also register
online for free pickup of used containers.
08-09-10-11-12-13_trendsupdates1.indd 9 06-05-19 14:16