Country report New Zealand and much more!
Subscribe
Page 46 from: Country report New Zealand and much more!
46 LEADING TECHNOLOGIES FOR WEEE ANDRITZ's innovative Cross-Flow Shredder QZ breaks down different composite materials quickly and gently with rotating chains so that the individual fractions are exposed and can easily be sorted. Pa...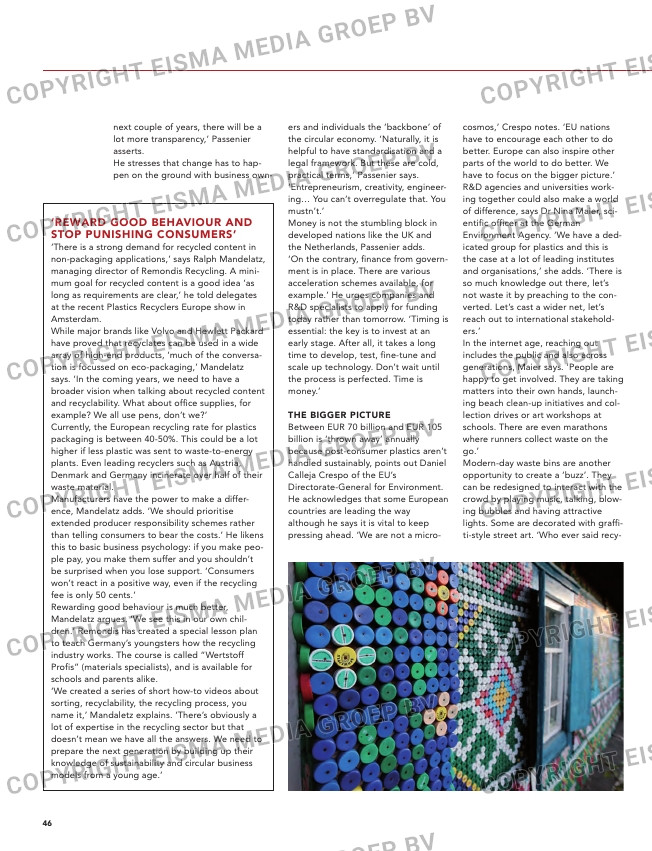 46
LEADING TECHNOLOGIES FOR WEEE
ANDRITZ's innovative Cross-Flow
Shredder QZ breaks down different
composite materials quickly and gently
with rotating chains so that the individual
fractions are exposed and can easily
be sorted. Parts containing hazardous
substances are left intact, while
potentially harmful gases are collected
in compliance with WEEELABEX and
CENELEC requirements. This single-stage
process with high economic efficiency is
conducted in a fully encapsulated system
warranting high throughput and rapid
access to extremely clean fractions while
reducing costs for energy consumption and
maintenance. For more information please
contact us: [email protected]
ANDRITZ AG ⁄ Stattegger Strasse 18 ⁄ 8045 Graz ⁄ Austria ⁄ andritz.com/recycling
RECOVER RAW
MATERIALS

MAINTAIN VALUES

RECYCLING

next couple of years, there will be a
lot more transparency,' Passenier
asserts.
He stresses that change has to hap-
pen on the ground with business own-
ers and individuals the 'backbone' of
the circular economy. 'Naturally, it is
helpful to have standardisation and a
legal framework. But these are cold,
practical terms,' Passenier says.
'Entrepreneurism, creativity, engineer-
ing… You can't overregulate that. You
mustn't.'
Money is not the stumbling block in
developed nations like the UK and
the Netherlands, Passenier adds.
'On the contrary, finance from govern-
ment is in place. There are various
acceleration schemes available, for
example.' He urges companies and
R&D specialists to apply for funding
today rather than tomorrow. 'Timing is
essential: the key is to invest at an
early stage. After all, it takes a long
time to develop, test, fine-tune and
scale up technology. Don't wait until
the process is perfected. Time is
money.'
The bigger picTure
Between EUR 70 billion and EUR 105
billion is 'thrown away' annually
because post-consumer plastics aren't
handled sustainably, points out Daniel
Calleja Crespo of the EU's
Directorate-General for Environment.
He acknowledges that some European
countries are leading the way
although he says it is vital to keep
pressing ahead. 'We are not a micro-
cosmos,' Crespo notes. 'EU nations
have to encourage each other to do
better. Europe can also inspire other
parts of the world to do better. We
have to focus on the bigger picture.'
R&D agencies and universities work-
ing together could also make a world
of difference, says Dr Nina Maier, sci-
entific officer at the German
Environment Agency. 'We have a ded-
icated group for plastics and this is
the case at a lot of leading institutes
and organisations,' she adds. 'There is
so much knowledge out there, let's
not waste it by preaching to the con-
verted. Let's cast a wider net, let's
reach out to international stakehold-
ers.'
In the internet age, reaching out
includes the public and also across
generations, Maier says. 'People are
happy to get involved. They are taking
matters into their own hands, launch-
ing beach clean-up initiatives and col-
lection drives or art workshops at
schools. There are even marathons
where runners collect waste on the
go.'
Modern-day waste bins are another
opportunity to create a 'buzz'. They
can be redesigned to interact with the
crowd by playing music, talking, blow-
ing bubbles and having attractive
lights. Some are decorated with graffi-
ti-style street art. 'Who ever said recy-
cling bins had to be boring?' Maier
asks with a smile.
'liTTle TWeaks'
It is important 'not to get lost in R&D
theories' but to share practical find-
ings, insists writer and BBC broadcast-
er Professor Mark Miodownik. He
'reWard good behaviour and
sTop punishing consumers'
'There is a strong demand for recycled content in
non-packaging applications,' says Ralph Mandelatz,
managing director of Remondis Recycling. A mini-
mum goal for recycled content is a good idea 'as
long as requirements are clear,' he told delegates
at the recent Plastics Recyclers Europe show in
Amsterdam.
While major brands like Volvo and Hewlett Packard
have proved that recyclates can be used in a wide
array of high-end products, 'much of the conversa-
tion is focussed on eco-packaging,' Mandelatz
says. 'In the coming years, we need to have a
broader vision when talking about recycled content
and recyclability. What about office supplies, for
example? We all use pens, don't we?'
Currently, the European recycling rate for plastics
packaging is between 40-50%. This could be a lot
higher if less plastic was sent to waste-to-energy
plants. Even leading recyclers such as Austria,
Denmark and Germany incinerate over half of their
waste material.
Manufacturers have the power to make a differ-
ence, Mandelatz adds. 'We should prioritise
extended producer responsibility schemes rather
than telling consumers to bear the costs.' He likens
this to basic business psychology: if you make peo-
ple pay, you make them suffer and you shouldn't
be surprised when you lose support. 'Consumers
won't react in a positive way, even if the recycling
fee is only 50 cents.'
Rewarding good behaviour is much better,
Mandelatz argues. 'We see this in our own chil-
dren.' Remondis has created a special lesson plan
to teach Germany's youngsters how the recycling
industry works. The course is called "Wertstoff
Profis" (materials specialists), and is available for
schools and parents alike.
'We created a series of short how-to videos about
sorting, recyclability, the recycling process, you
name it,' Mandaletz explains. 'There's obviously a
lot of expertise in the recycling sector but that
doesn't mean we have all the answers. We need to
prepare the next generation by building up their
knowledge of sustainability and circular business
models from a young age.'
People are getting more involved in local waste collection projects.
42-43-44-45-46-47-48_plasticseventlondon.indd 46 06-05-19 15:19