Country report New Zealand and much more!
Subscribe
Page 44 from: Country report New Zealand and much more!
a u t h o r Kirstin Linnenkoper 44 Recycling tech and targets in full bloom 'the uK will introduce a world leading tax on the production and import of plastic packaging with less than 30% recycled content by 2022,' according to ...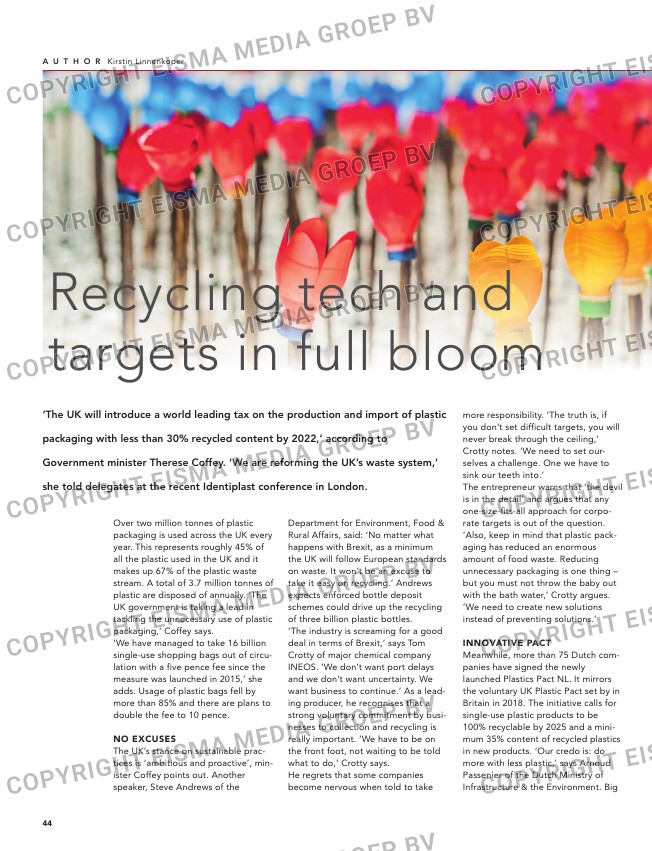 a u t h o r Kirstin Linnenkoper
44
Recycling tech and
targets in full bloom
'the uK will introduce a world leading tax on the production and import of plastic
packaging with less than 30% recycled content by 2022,' according to
Government minister therese Coffey. 'We are reforming the uK's waste system,'
she told delegates at the recent Identiplast conference in London.
Over two million tonnes of plastic
packaging is used across the UK every
year. This represents roughly 45% of
all the plastic used in the UK and it
makes up 67% of the plastic waste
stream. A total of 3.7 million tonnes of
plastic are disposed of annually. 'The
UK government is taking a lead in
tackling the unnecessary use of plastic
packaging,' Coffey says.
'We have managed to take 16 billion
single-use shopping bags out of circu-
lation with a five pence fee since the
measure was launched in 2015,' she
adds. Usage of plastic bags fell by
more than 85% and there are plans to
double the fee to 10 pence.
no eXcuses
The UK's stance on sustainable prac-
tices is 'ambitious and proactive', min-
ister Coffey points out. Another
speaker, Steve Andrews of the
Department for Environment, Food &
Rural Affairs, said: 'No matter what
happens with Brexit, as a minimum
the UK will follow European standards
on waste. It won't be an excuse to
take it easy on recycling.' Andrews
expects enforced bottle deposit
schemes could drive up the recycling
of three billion plastic bottles.
'The industry is screaming for a good
deal in terms of Brexit,' says Tom
Crotty of major chemical company
INEOS. 'We don't want port delays
and we don't want uncertainty. We
want business to continue.' As a lead-
ing producer, he recognises that a
strong voluntary commitment by busi-
nesses to collection and recycling is
really important. 'We have to be on
the front foot, not waiting to be told
what to do,' Crotty says.
He regrets that some companies
become nervous when told to take
more responsibility. 'The truth is, if
you don't set difficult targets, you will
never break through the ceiling,'
Crotty notes. 'We need to set our-
selves a challenge. One we have to
sink our teeth into.'
The entrepreneur warns that 'the devil
is in the detail' and argues that any
one-size-fits-all approach for corpo-
rate targets is out of the question.
'Also, keep in mind that plastic pack-
aging has reduced an enormous
amount of food waste. Reducing
unnecessary packaging is one thing –
but you must not throw the baby out
with the bath water,' Crotty argues.
'We need to create new solutions
instead of preventing solutions.'
innovaTive pacT
Meanwhile, more than 75 Dutch com-
panies have signed the newly
launched Plastics Pact NL. It mirrors
the voluntary UK Plastic Pact set by in
Britain in 2018. The initiative calls for
single-use plastic products to be
100% recyclable by 2025 and a mini-
mum 35% content of recycled plastics
in new products. 'Our credo is: do
more with less plastic,' says Arnoud
Passenier of the Dutch Ministry of
Infrastructure & the Environment. Big
names like Heineken, Nestlé, Mojo
Concerts, Unilever and the
Amsterdam Open Air Festival have
voiced support for the cause.
Supermarket chains like Aldi and Lidl
have also backed the recycling
pledge.
'The pact is about real innovation.
Companies don't get to ride the wave
of sustainability for free,' Passenier
told delegates. 'They have to deliver
on their promises by submitting hard
data on what they are doing every
year.' This will make it possible to
measure year-on-year change. 'In the
posiTive momenTum
The global plastics recycling market will be worth around US$
57 billion (EUR 51 billion) by 2024, according to India's research
firm 360iResearch. This represents a notable jump from 2017
levels, when the market was valued at roughly US$ 35 billion.
Researchers believe that the global eco-packaging market will
be worth as much as (2) US$ 296 billion by 2024, up from
almost US$ 215 billion in 2017. 'Green' packaging includes fully
recyclable, having recycled content and bio-based.
These are hopeful statistics considering the world has produced
8.3 billion tonnes of plastic since the material was invented. But
it is far from a state of balance: plastics production is expected
to triple by 2050.
42-43-44-45-46-47-48_plasticseventlondon.indd 44 06-05-19 15:19