Country report New Zealand and much more!
Subscribe
Page 38 from: Country report New Zealand and much more!
TECHNOLOGY EXPERTS One man's mission for a better resource recovery industry Ejvind Pedersen, Denmark's award-winning entrepreneur, and sensor sorting technology and advanced magnetic separation specialist Steinert work to...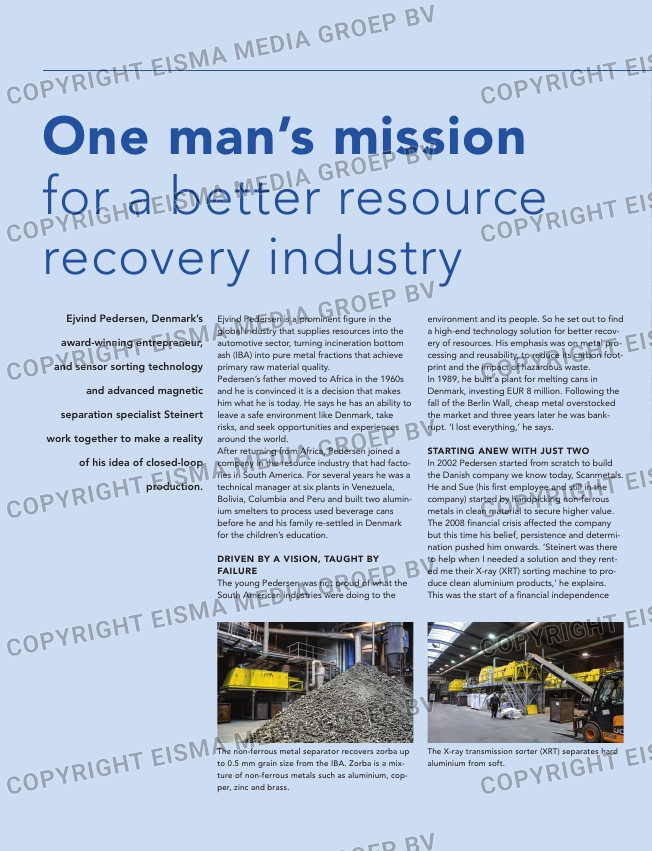 TECHNOLOGY EXPERTS
One man's mission
for a better resource
recovery industry
Ejvind Pedersen, Denmark's
award-winning entrepreneur,
and sensor sorting technology
and advanced magnetic
separation specialist Steinert
work together to make a reality
of his idea of closed-loop
production.
Ejvind Pedersen is a prominent figure in the
global industry that supplies resources into the
automotive sector, turning incineration bottom
ash (IBA) into pure metal fractions that achieve
primary raw material quality.
Pedersen's father moved to Africa in the 1960s
and he is convinced it is a decision that makes
him what he is today. He says he has an ability to
leave a safe environment like Denmark, take
risks, and seek opportunities and experiences
around the world.
After returning from Africa, Pedersen joined a
company in the resource industry that had facto-
ries in South America. For several years he was a
technical manager at six plants in Venezuela,
Bolivia, Columbia and Peru and built two alumin-
ium smelters to process used beverage cans
before he and his family re-settled in Denmark
for the children's education.
Driven by a visiOn, taught by
failure
The young Pedersen was not proud of what the
South American industries were doing to the
environment and its people. So he set out to find
a high-end technology solution for better recov-
ery of resources. His emphasis was on metal pro-
cessing and reusability, to reduce its carbon foot-
print and the impact of hazardous waste.
In 1989, he built a plant for melting cans in
Denmark, investing EUR 8 million. Following the
fall of the Berlin Wall, cheap metal overstocked
the market and three years later he was bank-
rupt. 'I lost everything,' he says.
starting anew with just twO
In 2002 Pedersen started from scratch to build
the Danish company we know today, Scanmetals.
He and Sue (his first employee and still in the
company) started by handpicking non-ferrous
metals in clean material to secure higher value.
The 2008 financial crisis affected the company
but this time his belief, persistence and determi-
nation pushed him onwards. 'Steinert was there
to help when I needed a solution and they rent-
ed me their X-ray (XRT) sorting machine to pro-
duce clean aluminium products,' he explains.
This was the start of a financial independence
giving him the opportunity to expand his ideas
throughout Europe. Today, because of
Pedersen's success, there are many different
sorting plants upgrading IBA into primary
resources.
it's all abOut thOse fine grains
Six years ago, Pedersen says, no-one believed in
the potential of small particles in IBA. 'We pro-
duce four truckloads of aluminium every day,' he
points out. 'The resource hungry industry is wait-
ing for it!' It is a priority for these industries not
to source from primary mining because using
high quality secondary raw materials enhances
their sustainability report.
The biggest incinerator in Copenhagen produc-
es about 240 000 tonnes of IBA per year.
Approximately 20% of the waste that goes into
an incinerator ends up as bottom ash. Within
this, 2% is metal – pieces that range from 1-100
mm. Eddy current separation can lift the value in
the IBA from 2% to 50-60%. This 50-60% of
treated bottom ash is available on the market for
around EUR 1 000 per tonne. 'This means we
pay EUR 2 000 Euro for a tonne of metal. The
small pieces are important to me,' says
Pedersen.
The X-ray transmission sorter (XRT) separates hard
aluminium from soft.
The non-ferrous metal separator recovers zorba up
to 0.5 mm grain size from the IBA. Zorba is a mix-
ture of non-ferrous metals such as aluminium, cop-
per, zinc and brass.
38-39-40-41_steinert-customisedcontent.indd 38 06-05-19 15:19