Country report New Zealand and much more!
Subscribe
Page 30 from: Country report New Zealand and much more!
30 outgrown our previous 550 m2 facili- ty,' he says. 'Material was arriving fast- er than we could process it.' The new 2 500 m2 plant is at Jebel Ali Free Zone South, five kilometres from the original facility and can be found a...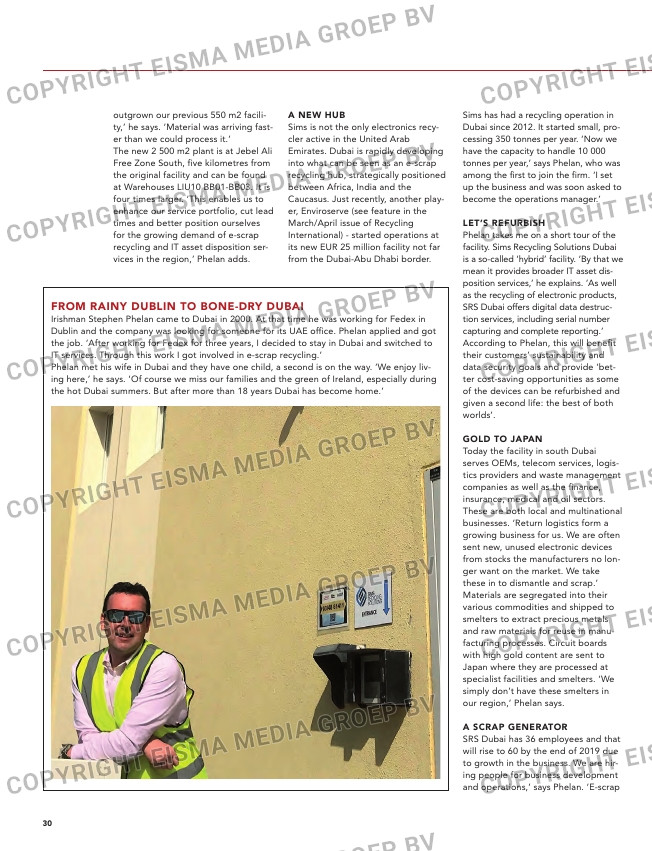 30
outgrown our previous 550 m2 facili-
ty,' he says. 'Material was arriving fast-
er than we could process it.'
The new 2 500 m2 plant is at Jebel Ali
Free Zone South, five kilometres from
the original facility and can be found
at Warehouses LIU10 BB01-BB03. It is
four times larger. 'This enables us to
enhance our service portfolio, cut lead
times and better position ourselves
for the growing demand of e-scrap
recycling and IT asset disposition ser-
vices in the region,' Phelan adds.
A new hub
Sims is not the only electronics recy-
cler active in the United Arab
Emirates. Dubai is rapidly developing
into what can be seen as an e-scrap
recycling hub, strategically positioned
between Africa, India and the
Caucasus. Just recently, another play-
er, Enviroserve (see feature in the
March/April issue of Recycling
International) – started operations at
its new EUR 25 million facility not far
from the Dubai-Abu Dhabi border.
Firmly rooted
in the uAe
Sims Recycling Solutions Dubai
started life in 2009 as Akhdar,
which was a sub-contractor for
Sims in the Middle East region. In
2012 the company was taken over
by Sims. One year later the com-
pany obtained ISO 9001, 14001,
& 18001 certification.
In 2014 Stephen Phelan was pro-
moted to be Sims' managing
director for the Middle East &
North African region. He restruc-
tured the sales team and intro-
duced a second working shift to
meet the growing demand for
e-scrap services.
In 2015, SRS Dubai was the first
e-scrap recycling facility in the
Middle East and Africa to obtain R2
certification. In August 2018 the
company moved to its new site.
From rAiny dublin to bone-dry dubAi
Irishman Stephen Phelan came to Dubai in 2000. At that time he was working for Fedex in
Dublin and the company was looking for someone for its UAE office. Phelan applied and got
the job. 'After working for Fedex for three years, I decided to stay in Dubai and switched to
IT services. Through this work I got involved in e-scrap recycling.'
Phelan met his wife in Dubai and they have one child, a second is on the way. 'We enjoy liv-
ing here,' he says. 'Of course we miss our families and the green of Ireland, especially during
the hot Dubai summers. But after more than 18 years Dubai has become home.'
Sims has had a recycling operation in
Dubai since 2012. It started small, pro-
cessing 350 tonnes per year. 'Now we
have the capacity to handle 10 000
tonnes per year,' says Phelan, who was
among the first to join the firm. 'I set
up the business and was soon asked to
become the operations manager.'
let's reFurbish
Phelan takes me on a short tour of the
facility. Sims Recycling Solutions Dubai
is a so-called 'hybrid' facility. 'By that we
mean it provides broader IT asset dis-
position services,' he explains. 'As well
as the recycling of electronic products,
SRS Dubai offers digital data destruc-
tion services, including serial number
capturing and complete reporting.'
According to Phelan, this will benefit
their customers' sustainability and
data security goals and provide 'bet-
ter cost-saving opportunities as some
of the devices can be refurbished and
given a second life: the best of both
worlds'.
Gold to JApAn
Today the facility in south Dubai
serves OEMs, telecom services, logis-
tics providers and waste management
companies as well as the finance,
insurance, medical and oil sectors.
These are both local and multinational
businesses. 'Return logistics form a
growing business for us. We are often
sent new, unused electronic devices
from stocks the manufacturers no lon-
ger want on the market. We take
these in to dismantle and scrap.'
Materials are segregated into their
various commodities and shipped to
smelters to extract precious metals
and raw materials for reuse in manu-
facturing processes. Circuit boards
with high gold content are sent to
Japan where they are processed at
specialist facilities and smelters. 'We
simply don't have these smelters in
our region,' Phelan says.
A scrAp GenerAtor
SRS Dubai has 36 employees and that
will rise to 60 by the end of 2019 due
to growth in the business. We are hir-
ing people for business development
and operations,' says Phelan. 'E-scrap
is a fairly new business here in Dubai
and we need to invest now.'
The facility is not only a hub for pass-
ing electronics scrap but also increas-
ingly a collector and processor of
e-scrap generated locally. 'This is a fast
growing metropolis and known as the
"must-have" location for the latest TV
sets and smartphones,' says Phelan.
The Emirate, with a population of more
than three million, is called "the shop-
ping capital of the Middle East". Dubai
alone has more than 70 shopping cen-
tres, including the world's largest, the
Dubai Mall. Not to mention the fast-
growing tourism market. Phelan:
'Obviously, all this pushes consumption
and ultimately drives recycling.'
KeepinG An eye on mAteriAls
Sims has invested serious money in the
new Dubai facility, especially in security
measures. These include security guards
on site 24/7, full closed-circuit TV cover-
age, alarms and biometric access con-
trol systems. There are airport-style
metal detectors in place for anyone
entering or leaving operational areas.
An automated fire suppression system
is in place throughout the plant.
28-29-30-31_e-scraphubdubai(sims).indd 30 06-05-19 16:07