Country report New Zealand and much more!
Subscribe
Page 27 from: Country report New Zealand and much more!
AUTOMOTIVE 27recyclinginternational.com | May/June | 2019 update: elv directive The EU's dedicated end-of-life vehicle legislation, the EVL Directive, was introduced 12 years ago. 'A lot has happened since then,' according to A...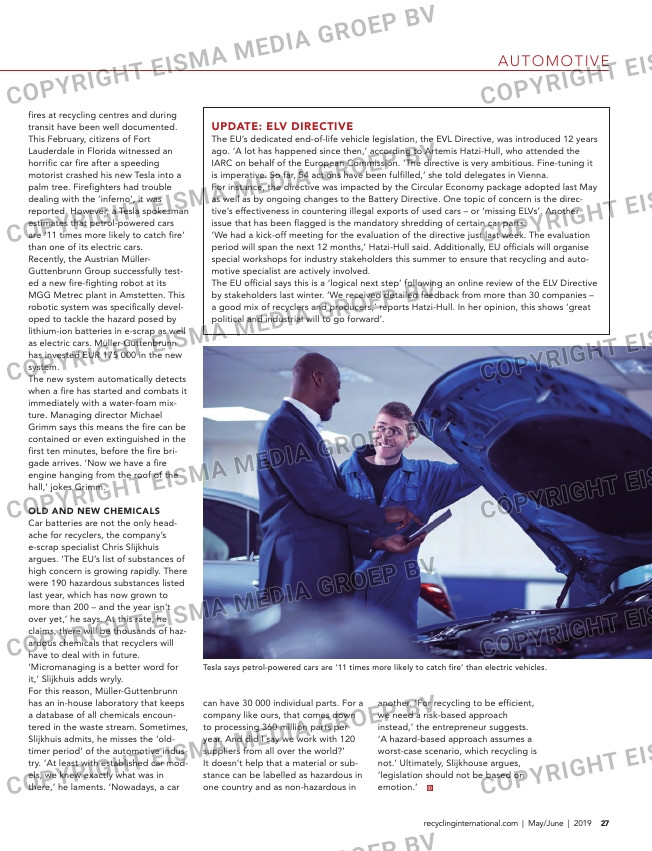 AUTOMOTIVE
27recyclinginternational.com | May/June | 2019
update: elv directive
The EU's dedicated end-of-life vehicle legislation, the EVL Directive, was introduced 12 years
ago. 'A lot has happened since then,' according to Artemis Hatzi-Hull, who attended the
IARC on behalf of the European Commission. 'The directive is very ambitious. Fine-tuning it
is imperative. So far, 54 actions have been fulfilled,' she told delegates in Vienna.
For instance, the directive was impacted by the Circular Economy package adopted last May
as well as by ongoing changes to the Battery Directive. One topic of concern is the direc-
tive's effectiveness in countering illegal exports of used cars – or 'missing ELVs'. Another
issue that has been flagged is the mandatory shredding of certain car parts.
'We had a kick-off meeting for the evaluation of the directive just last week. The evaluation
period will span the next 12 months,' Hatzi-Hull said. Additionally, EU officials will organise
special workshops for industry stakeholders this summer to ensure that recycling and auto-
motive specialist are actively involved.
The EU official says this is a 'logical next step' following an online review of the ELV Directive
by stakeholders last winter. 'We received detailed feedback from more than 30 companies –
a good mix of recyclers and producers,' reports Hatzi-Hull. In her opinion, this shows 'great
political and industrial will to go forward'.
preneur argues. 'Robbery has reached
an all-time high due to unavailability
of used car parts. Car theft is also a
big problem with more than 50 000
vehicles stolen every year.'
Heavy punisHments
Regulations require vehicles to be
processed within 15 days. 'You can
imagine there are high costs to com-
ply with such strict laws,' Marques
notes. Scrap yards are overseen by
the police with what is seen a 'no-
mercy' type of authority. 'A breach
results in serious fines, closure of busi-
ness or even jail,' Marques says. Not
long ago, his company was forced to
close for 40 days and suffered a big
loss.
'Our situation is very frustrating. We
are throwing away thousands and
thousands of valuable car parts every
year. That's why I have come to
Europe. That's why I want to learn. I
have the dream to take the best prac-
tices from Europe back to my country,'
he concludes hopefully.
e-moBility forecast
An estimated 490 000 electric cars
(EVs) will be sold in Europe this year,
according to Bloomberg analysts. In
the US, sales are projected to be
slightly lower, at around 470 000 units.
China tops all markets, with an esti-
mated 1.1 million or more EVs being
sold by the end of this year.
By 2030, these totals could grow to
more than 7.5 million e-cars sold in
Europe, six million in America and
11.5 million in China. By then, almost
30 million EVs could be sold globally
that year.
Analysts believe that this trend will
continue in the following decade.
European sales could reach 11 million
units by 2040 while US sales could
exceed 11.5 million, potentially over-
taking Europe. China is still likely to
be the biggest market for EVs, with
over 16.5 million new units on the
road. Analysts expect the world mar-
ket could touch 60 million by 2040.
figHting fire
The surge in e-mobility comes with its
fair share of safety hazards. Battery
fires at recycling centres and during
transit have been well documented.
This February, citizens of Fort
Lauderdale in Florida witnessed an
horrific car fire after a speeding
motorist crashed his new Tesla into a
palm tree. Firefighters had trouble
dealing with the 'inferno', it was
reported. However, a Tesla spokesman
estimates that petrol-powered cars
are '11 times more likely to catch fire'
than one of its electric cars.
Recently, the Austrian Müller-
Guttenbrunn Group successfully test-
ed a new fire-fighting robot at its
MGG Metrec plant in Amstetten. This
robotic system was specifically devel-
oped to tackle the hazard posed by
lithium-ion batteries in e-scrap as well
as electric cars. Müller-Guttenbrunn
has invested EUR 175 000 in the new
system.
The new system automatically detects
when a fire has started and combats it
immediately with a water-foam mix-
ture. Managing director Michael
Grimm says this means the fire can be
contained or even extinguished in the
first ten minutes, before the fire bri-
gade arrives. 'Now we have a fire
engine hanging from the roof of the
hall,' jokes Grimm.
old and new cHemicals
Car batteries are not the only head-
ache for recyclers, the company's
e-scrap specialist Chris Slijkhuis
argues. 'The EU's list of substances of
high concern is growing rapidly. There
were 190 hazardous substances listed
last year, which has now grown to
more than 200 – and the year isn't
over yet,' he says. At this rate, he
claims, there will be thousands of haz-
ardous chemicals that recyclers will
have to deal with in future.
'Micromanaging is a better word for
it,' Slijkhuis adds wryly.
For this reason, Müller-Guttenbrunn
has an in-house laboratory that keeps
a database of all chemicals encoun-
tered in the waste stream. Sometimes,
Slijkhuis admits, he misses the 'old-
timer period' of the automotive indus-
try. 'At least with established car mod-
els, we knew exactly what was in
there,' he laments. 'Nowadays, a car
can have 30 000 individual parts. For a
company like ours, that comes down
to processing 360 million parts per
year. And did I say we work with 120
suppliers from all over the world?'
It doesn't help that a material or sub-
stance can be labelled as hazardous in
one country and as non-hazardous in
another. 'For recycling to be efficient,
we need a risk-based approach
instead,' the entrepreneur suggests.
'A hazard-based approach assumes a
worst-case scenario, which recycling is
not.' Ultimately, Slijkhouse argues,
'legislation should not be based on
emotion.'
Tesla says petrol-powered cars are '11 times more likely to catch fire' than electric vehicles.
22-23-24-26-27_iarc-carrecyclingupdate.indd 27 06-05-19 15:29