Country report New Zealand and much more!
Subscribe
Page 26 from: Country report New Zealand and much more!
26 move past two million ELVs generated annually.' Synetiq keeps an inventory for every car, meaning every single part. 'We are practically awash with car parts,' Cross says. He proposes looking at day-to-day business by 'focu...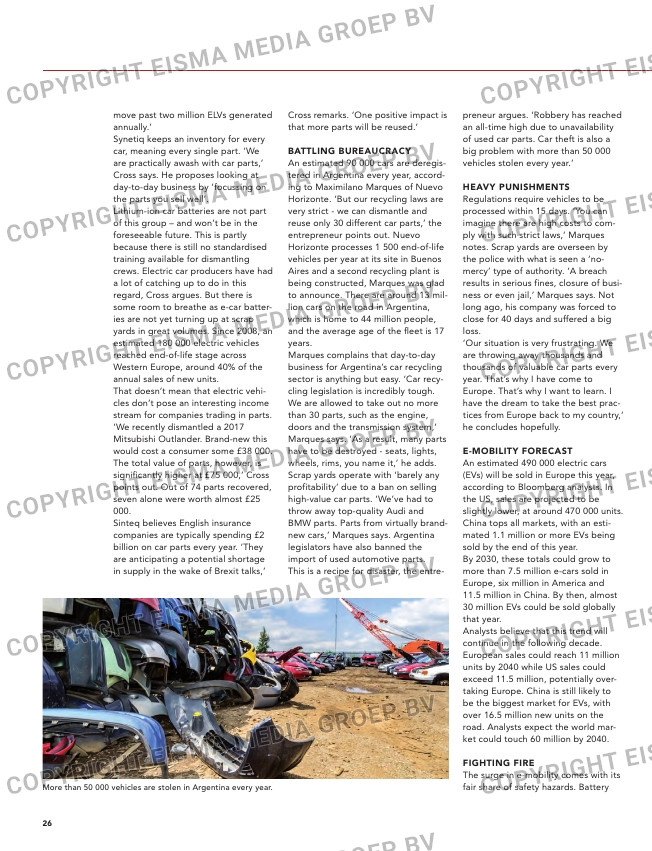 26
move past two million ELVs generated
annually.'
Synetiq keeps an inventory for every
car, meaning every single part. 'We
are practically awash with car parts,'
Cross says. He proposes looking at
day-to-day business by 'focussing on
the parts you sell well'.
Lithium-ion car batteries are not part
of this group – and won't be in the
foreseeable future. This is partly
because there is still no standardised
training available for dismantling
crews. Electric car producers have had
a lot of catching up to do in this
regard, Cross argues. But there is
some room to breathe as e-car batter-
ies are not yet turning up at scrap
yards in great volumes. Since 2008, an
estimated 180 000 electric vehicles
reached end-of-life stage across
Western Europe, around 40% of the
annual sales of new units.
That doesn't mean that electric vehi-
cles don't pose an interesting income
stream for companies trading in parts.
'We recently dismantled a 2017
Mitsubishi Outlander. Brand-new this
would cost a consumer some £38 000.
The total value of parts, however, is
significantly higher at £75 000,' Cross
points out. Out of 74 parts recovered,
seven alone were worth almost £25
000.
Sinteq believes English insurance
companies are typically spending £2
billion on car parts every year. 'They
are anticipating a potential shortage
in supply in the wake of Brexit talks,'
Cross remarks. 'One positive impact is
that more parts will be reused.'
Battling Bureaucracy
An estimated 90 000 cars are deregis-
tered in Argentina every year, accord-
ing to Maximilano Marques of Nuevo
Horizonte. 'But our recycling laws are
very strict – we can dismantle and
reuse only 30 different car parts,' the
entrepreneur points out. Nuevo
Horizonte processes 1 500 end-of-life
vehicles per year at its site in Buenos
Aires and a second recycling plant is
being constructed, Marques was glad
to announce. There are around 13 mil-
lion cars on the road in Argentina,
which is home to 44 million people,
and the average age of the fleet is 17
years.
Marques complains that day-to-day
business for Argentina's car recycling
sector is anything but easy. 'Car recy-
cling legislation is incredibly tough.
We are allowed to take out no more
than 30 parts, such as the engine,
doors and the transmission system,'
Marques says. 'As a result, many parts
have to be destroyed – seats, lights,
wheels, rims, you name it,' he adds.
Scrap yards operate with 'barely any
profitability' due to a ban on selling
high-value car parts. 'We've had to
throw away top-quality Audi and
BMW parts. Parts from virtually brand-
new cars,' Marques says. Argentina
legislators have also banned the
import of used automotive parts.
This is a recipe for disaster, the entre-
preneur argues. 'Robbery has reached
an all-time high due to unavailability
of used car parts. Car theft is also a
big problem with more than 50 000
vehicles stolen every year.'
Heavy punisHments
Regulations require vehicles to be
processed within 15 days. 'You can
imagine there are high costs to com-
ply with such strict laws,' Marques
notes. Scrap yards are overseen by
the police with what is seen a 'no-
mercy' type of authority. 'A breach
results in serious fines, closure of busi-
ness or even jail,' Marques says. Not
long ago, his company was forced to
close for 40 days and suffered a big
loss.
'Our situation is very frustrating. We
are throwing away thousands and
thousands of valuable car parts every
year. That's why I have come to
Europe. That's why I want to learn. I
have the dream to take the best prac-
tices from Europe back to my country,'
he concludes hopefully.
e-moBility forecast
An estimated 490 000 electric cars
(EVs) will be sold in Europe this year,
according to Bloomberg analysts. In
the US, sales are projected to be
slightly lower, at around 470 000 units.
China tops all markets, with an esti-
mated 1.1 million or more EVs being
sold by the end of this year.
By 2030, these totals could grow to
more than 7.5 million e-cars sold in
Europe, six million in America and
11.5 million in China. By then, almost
30 million EVs could be sold globally
that year.
Analysts believe that this trend will
continue in the following decade.
European sales could reach 11 million
units by 2040 while US sales could
exceed 11.5 million, potentially over-
taking Europe. China is still likely to
be the biggest market for EVs, with
over 16.5 million new units on the
road. Analysts expect the world mar-
ket could touch 60 million by 2040.
figHting fire
The surge in e-mobility comes with its
fair share of safety hazards. Battery
fires at recycling centres and during
transit have been well documented.
This February, citizens of Fort
Lauderdale in Florida witnessed an
horrific car fire after a speeding
motorist crashed his new Tesla into a
palm tree. Firefighters had trouble
dealing with the 'inferno', it was
reported. However, a Tesla spokesman
estimates that petrol-powered cars
are '11 times more likely to catch fire'
than one of its electric cars.
Recently, the Austrian Müller-
Guttenbrunn Group successfully test-
ed a new fire-fighting robot at its
MGG Metrec plant in Amstetten. This
robotic system was specifically devel-
oped to tackle the hazard posed by
lithium-ion batteries in e-scrap as well
as electric cars. Müller-Guttenbrunn
has invested EUR 175 000 in the new
system.
The new system automatically detects
when a fire has started and combats it
immediately with a water-foam mix-
ture. Managing director Michael
Grimm says this means the fire can be
contained or even extinguished in the
first ten minutes, before the fire bri-
gade arrives. 'Now we have a fire
engine hanging from the roof of the
hall,' jokes Grimm.
old and new cHemicals
Car batteries are not the only head-
ache for recyclers, the company's
e-scrap specialist Chris Slijkhuis
argues. 'The EU's list of substances of
high concern is growing rapidly. There
were 190 hazardous substances listed
last year, which has now grown to
more than 200 – and the year isn't
over yet,' he says. At this rate, he
claims, there will be thousands of haz-
ardous chemicals that recyclers will
have to deal with in future.
'Micromanaging is a better word for
it,' Slijkhuis adds wryly.
For this reason, Müller-Guttenbrunn
has an in-house laboratory that keeps
a database of all chemicals encoun-
tered in the waste stream. Sometimes,
Slijkhuis admits, he misses the 'old-
timer period' of the automotive indus-
try. 'At least with established car mod-
els, we knew exactly what was in
there,' he laments. 'Nowadays, a car More than 50 000 vehicles are stolen in Argentina every year.
22-23-24-26-27_iarc-carrecyclingupdate.indd 26 06-05-19 15:29