Country report New Zealand and much more!
Subscribe
Page 10 from: Country report New Zealand and much more!
10 huNter iNstiNct: sortiNg system 'trAps' wAste mAteriAls researchers at two leading uS universities have created a unique recycling robot inspired by nature. They say it has a gripper that acts like a 'Venus flytrap', allo...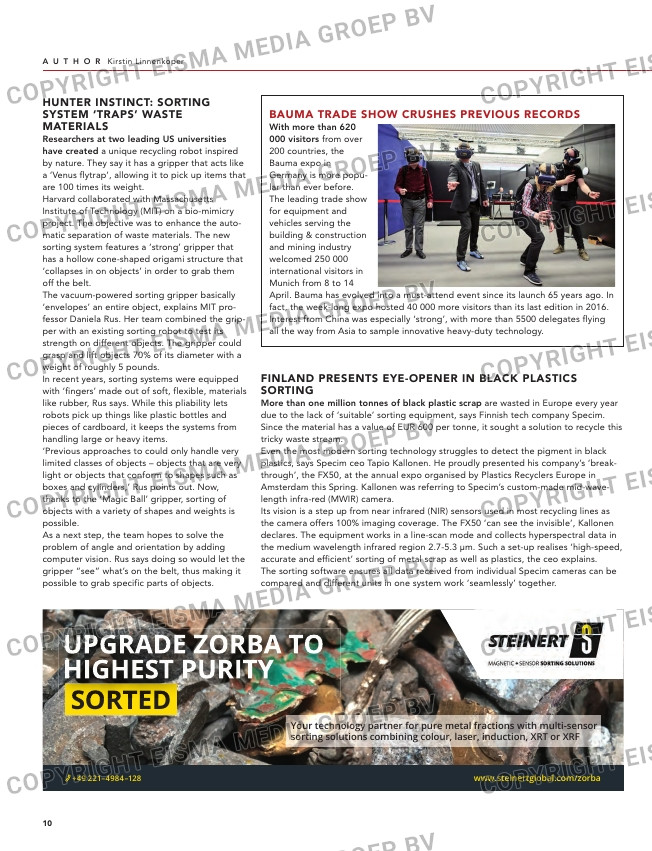 10
huNter iNstiNct: sortiNg
system 'trAps' wAste
mAteriAls
researchers at two leading uS universities
have created a unique recycling robot inspired
by nature. They say it has a gripper that acts like
a 'Venus flytrap', allowing it to pick up items that
are 100 times its weight.
Harvard collaborated with Massachusetts
Institute of Technology (MIT) on a bio-mimicry
project. The objective was to enhance the auto-
matic separation of waste materials. The new
sorting system features a 'strong' gripper that
has a hollow cone-shaped origami structure that
'collapses in on objects' in order to grab them
off the belt.
The vacuum-powered sorting gripper basically
'envelopes' an entire object, explains MIT pro-
fessor Daniela Rus. Her team combined the grip-
per with an existing sorting robot to test its
strength on different objects. The gripper could
grasp and lift objects 70% of its diameter with a
weight of roughly 5 pounds.
In recent years, sorting systems were equipped
with 'fingers' made out of soft, flexible, materials
like rubber, Rus says. While this pliability lets
robots pick up things like plastic bottles and
pieces of cardboard, it keeps the systems from
handling large or heavy items.
'Previous approaches to could only handle very
limited classes of objects – objects that are very
light or objects that conform to shapes such as
boxes and cylinders,' Rus points out. Now,
thanks to the 'Magic Ball' gripper, sorting of
objects with a variety of shapes and weights is
possible.
As a next step, the team hopes to solve the
problem of angle and orientation by adding
computer vision. Rus says doing so would let the
gripper "see" what's on the belt, thus making it
possible to grab specific parts of objects.
evotus creAtes gold recycliNg huB iN AmericA
uS firm Evotus is con-
structing a new pre-
cious metals recycling
facility in North
Carolina. The start-up
company says the
development will help
recover more gold from
discarded electronics.
The plant in Raleigh will
target 'investment-
grade' gold from
e-scrap using chemical
dissolution. Evotus
raised around US$ 1.2
million (EUR 1.1 million) to build a 15 000-square-foot facil-
ity. Initially, the recycling centre will handle computer pro-
cessors and other components containing over 1.50kg of
gold per tonne.
Evotus will start with a capacity of about 225kg per day,
running on one shift. The innovative process copies the
mining industry which uses aqua regia, an extremely corro-
sive mixture of nitric and hydrochloric acid, to dissolve the
gold. The material is then exposed to sodium metabisulfite
BAumA trAde show crushes previous records
With more than 620
000 visitors from over
200 countries, the
Bauma expo in
Germany is more popu-
lar than ever before.
The leading trade show
for equipment and
vehicles serving the
building & construction
and mining industry
welcomed 250 000
international visitors in
Munich from 8 to 14
April. Bauma has evolved into a must-attend event since its launch 65 years ago. In
fact, the week-long expo hosted 40 000 more visitors than its last edition in 2016.
Interest from China was especially 'strong', with more than 5500 delegates flying
all the way from Asia to sample innovative heavy-duty technology.
a u t h O r Kirstin Linnenkoper
+49 221–4984–128 www.steinertglobal.com/zorba
SORTED

UPGRADE ZORBA TO
HIGHEST PURITY

Your technology partner for pure metal fractions with multi-sensor
sorting solutions combining colour, laser, induction, XRT or XRF
gAlloo's recycliNg techNology is Big iN
JApAN
Group Galloo recycling's subsidiary ad rem is building the 'largest
and most advanced plastic recycling facility' in Japan. The new facility
will be able to process 40 000 tons of plastic scrap per year. This is
hopes to help combat Japan's increasing plastic pollution problem.
The site will be operated by Planic, a joint venture between Toyota
Tsusho, Veolia Japan and Kojima Sangyo.
Planic will handle automotive plastics as well as plastics from home
appliances and packaging. The plant will be located in Omaezaki City,
Shizuoka Prefecture. It will be fully operational by mid-2021. At the
moment, most of Japan's post-consumer plastics is incinerated, land-
filled or sent overseas. The government has recently launched a dedi-
cated recycling campaign to boost domestic recycling performance.
fiNlANd preseNts eye-opeNer iN BlAck plAstics
sortiNg
More than one million tonnes of black plastic scrap are wasted in Europe every year
due to the lack of 'suitable' sorting equipment, says Finnish tech company Specim.
Since the material has a value of EUR 600 per tonne, it sought a solution to recycle this
tricky waste stream.
Even the most modern sorting technology struggles to detect the pigment in black
plastics, says Specim ceo Tapio Kallonen. He proudly presented his company's 'break-
through', the FX50, at the annual expo organised by Plastics Recyclers Europe in
Amsterdam this Spring. Kallonen was referring to Specim's custom-made mid-wave-
length infra-red (MWIR) camera.
Its vision is a step up from near infrared (NIR) sensors used in most recycling lines as
the camera offers 100% imaging coverage. The FX50 'can see the invisible', Kallonen
declares. The equipment works in a line-scan mode and collects hyperspectral data in
the medium wavelength infrared region 2.7-5.3 μm. Such a set-up realises 'high-speed,
accurate and efficient' sorting of metal scrap as well as plastics, the ceo explains.
The sorting software ensures all data received from individual Specim cameras can be
compared and different units in one system work 'seamlessly' together.
08-09-10-11-12-13_trendsupdates1.indd 10 06-05-19 14:16