April 2005
Subscribe
N E W S importers according to 10 minimum requirements, and those who fail to meet these requirements will lose their import rights.' The association worked out the requirements in concert with the China Chamber of Commerce of Metals, ...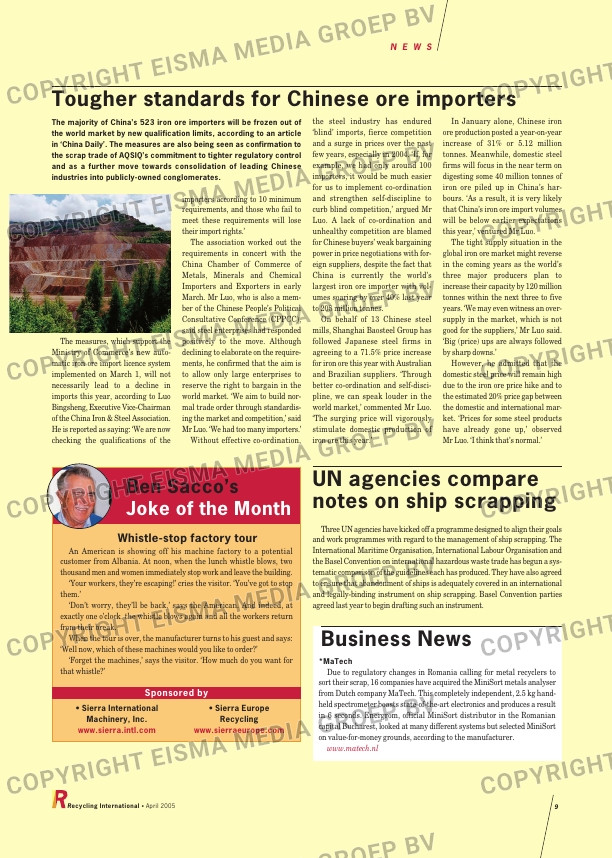 N E W S

importers according to 10 minimum
requirements, and those who fail to
meet these requirements will lose
their import rights.'
The association worked out the
requirements in concert with the
China Chamber of Commerce of
Metals, Minerals and Chemical
Importers and Exporters in early
March. Mr Luo, who is also a mem-
ber of the Chinese People's Political
Consultative Conference (CPPCC),
said steel enterprises had responded
positively to the move. Although
declining to elaborate on the require-
ments, he confirmed that the aim is
to allow only large enterprises to
reserve the right to bargain in the
world market. 'We aim to build nor-
mal trade order through standardis-
ing the market and competition,' said
Mr Luo. 'We had too many importers.'
Without effective co-ordination,
the steel industry has endured
'blind' imports, fierce competition
and a surge in prices over the past
few years, especially in 2004. 'If, for
example, we had only around 100
importers, it would be much easier
for us to implement co-ordination
and strengthen self-discipline to
curb blind competition,' argued Mr
Luo. A lack of co-ordination and
unhealthy competition are blamed
for Chinese buyers' weak bargaining
power in price negotiations with for-
eign suppliers, despite the fact that
China is currently the world's
largest iron ore importer with vol-
umes soaring by over 40% last year
to 208 million tonnes.
On behalf of 13 Chinese steel
mills, Shanghai Baosteel Group has
followed Japanese steel firms in
agreeing to a 71.5% price increase
for iron ore this year with Australian
and Brazilian suppliers. 'Through
better co-ordination and self-disci-
pline, we can speak louder in the
world market,' commented Mr Luo.
'The surging price will vigorously
stimulate domestic production of
iron ore this year.'
In January alone, Chinese iron
ore production posted a year-on-year
increase of 31% or 5.12 million
tonnes. Meanwhile, domestic steel
firms will focus in the near term on
digesting some 40 million tonnes of
iron ore piled up in China's har-
bours. 'As a result, it is very likely
that China's iron ore import volumes
will be below earlier expectations
this year,' ventured Mr Luo.
The tight supply situation in the
global iron ore market might reverse
in the coming years as the world's
three major producers plan to
increase their capacity by 120 million
tonnes within the next three to five
years. 'We may even witness an over-
supply in the market, which is not
good for the suppliers,' Mr Luo said.
'Big (price) ups are always followed
by sharp downs.'
However, he admitted that the
domestic steel price will remain high
due to the iron ore price hike and to
the estimated 20% price gap between
the domestic and international mar-
ket. 'Prices for some steel products
have already gone up,' observed
Mr Luo. 'I think that's normal.'
The measures, which support the
Ministry of Commerce's new auto-
matic iron ore import licence system
implemented on March 1, will not
necessarily lead to a decline in
imports this year, according to Luo
Bingsheng, Executive Vice-Chairman
of the China Iron & Steel Association.
He is reported as saying: 'We are now
checking the qualifications of the
Recycling International • April 2005 9

Tougher standards for Chinese ore importers
The majority of China's 523 iron ore importers will be frozen out of
the world market by new qualification limits, according to an article
in 'China Daily'. The measures are also being seen as confirmation to
the scrap trade of AQSIQ's commitment to tighter regulatory control
and as a further move towards consolidation of leading Chinese
industries into publicly-owned conglomerates.

Whistle-stop factory tour
An American is showing off his machine factory to a potential
customer from Albania. At noon, when the lunch whistle blows, two
thousand men and women immediately stop work and leave the building.
'Your workers, they're escaping!' cries the visitor. 'You've got to stop
them.'
'Don't worry, they'll be back,' says the American. And indeed, at
exactly one o'clock, the whistle blows again and all the workers return
from their break.
When the tour is over, the manufacturer turns to his guest and says:
'Well now, which of these machines would you like to order?'
'Forget the machines,' says the visitor. 'How much do you want for
that whistle?'
Ben Sacco's
Joke of the Month

Sponsored by

• Sierra International
Machinery, Inc.

www.sierra.intl.com

• Sierra Europe
Recycling

www.sierraeurope.com

*MaTech
Due to regulatory changes in Romania calling for metal recyclers to
sort their scrap, 16 companies have acquired the MiniSort metals analyser
from Dutch company MaTech. This completely independent, 2.5 kg hand-
held spectrometer boasts state-of-the-art electronics and produces a result
in 6 seconds. Energrom, official MiniSort distributor in the Romanian
capital Bucharest, looked at many different systems but selected MiniSort
on value-for-money grounds, according to the manufacturer.
www.matech.nl

Business News

UN agencies compare
notes on ship scrapping

Three UN agencies have kicked off a programme designed to align their goals
and work programmes with regard to the management of ship scrapping. The
International Maritime Organisation, International Labour Organisation and
the Basel Convention on international hazardous waste trade has begun a sys-
tematic comparison of the guidelines each has produced. They have also agreed
to ensure that abandonment of ships is adequately covered in an international
and legally-binding instrument on ship scrapping. Basel Convention parties
agreed last year to begin drafting such an instrument.