April 2005
Subscribe
bad weather in the USA. Demand in the region has been good and is ex- pected to remain so for the foresee- able future. Middle and higher grades are un- der slight pressure but prices are not expected to decline significantly in the comin...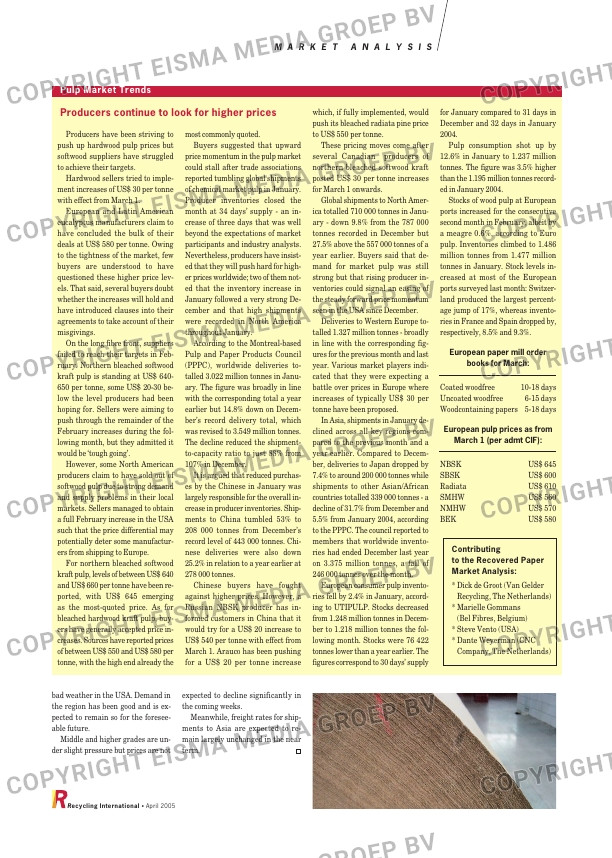 bad weather in the USA. Demand in
the region has been good and is ex-
pected to remain so for the foresee-
able future.
Middle and higher grades are un-
der slight pressure but prices are not
expected to decline significantly in
the coming weeks.
Meanwhile, freight rates for ship-
ments to Asia are expected to re-
main largely unchanged in the near
term.
M A R K E T A N A L Y S I S

Producers have been striving to
push up hardwood pulp prices but
softwood suppliers have struggled
to achieve their targets.
Hardwood sellers tried to imple-
ment increases of US$ 30 per tonne
with effect from March 1.
European and Latin American
eucalyptus manufacturers claim to
have concluded the bulk of their
deals at US$ 580 per tonne. Owing
to the tightness of the market, few
buyers are understood to have
questioned these higher price lev-
els. That said, several buyers doubt
whether the increases will hold and
have introduced clauses into their
agreements to take account of their
misgivings.
On the long fibre front, suppliers
failed to reach their targets in Feb-
ruary. Northern bleached softwood
kraft pulp is standing at US$ 640-
650 per tonne, some US$ 20-30 be-
low the level producers had been
hoping for. Sellers were aiming to
push through the remainder of the
February increases during the fol-
lowing month, but they admitted it
would be 'tough going'.
However, some North American
producers claim to have sold out of
softwood pulp due to strong demand
and supply problems in their local
markets. Sellers managed to obtain
a full February increase in the USA
such that the price differential may
potentially deter some manufactur-
ers from shipping to Europe.
For northern bleached softwood
kraft pulp, levels of between US$ 640
and US$ 660 per tonne have been re-
ported, with US$ 645 emerging
as the most-quoted price. As for
bleached hardwood kraft pulp, buy-
ers have generally accepted price in-
creases. Sources have reported prices
of between US$ 550 and US$ 580 per
tonne, with the high end already the
most commonly quoted.
Buyers suggested that upward
price momentum in the pulp market
could stall after trade associations
reported tumbling global shipments
of chemical market pulp in January.
Producer inventories closed the
month at 34 days' supply – an in-
crease of three days that was well
beyond the expectations of market
participants and industry analysts.
Nevertheless, producers have insist-
ed that they will push hard for high-
er prices worldwide; two of them not-
ed that the inventory increase in
January followed a very strong De-
cember and that high shipments
were recorded in North America
throughout January.
According to the Montreal-based
Pulp and Paper Products Council
(PPPC), worldwide deliveries to-
talled 3.022 million tonnes in Janu-
ary. The figure was broadly in line
with the corresponding total a year
earlier but 14.8% down on Decem-
ber's record delivery total, which
was revised to 3.549 million tonnes.
The decline reduced the shipment-
to-capacity ratio to just 88% from
107% in December.
It is argued that reduced purchas-
es by the Chinese in January was
largely responsible for the overall in-
crease in producer inventories. Ship-
ments to China tumbled 53% to
208 000 tonnes from December's
record level of 443 000 tonnes. Chi-
nese deliveries were also down
25.2% in relation to a year earlier at
278 000 tonnes.
Chinese buyers have fought
against higher prices. However, a
Russian NBSK producer has in-
formed customers in China that it
would try for a US$ 20 increase to
US$ 540 per tonne with effect from
March 1. Arauco has been pushing
for a US$ 20 per tonne increase
which, if fully implemented, would
push its bleached radiata pine price
to US$ 550 per tonne.
These pricing moves come after
several Canadian producers of
northern bleached softwood kraft
posted US$ 30 per tonne increases
for March 1 onwards.
Global shipments to North Amer-
ica totalled 710 000 tonnes in Janu-
ary – down 9.8% from the 787 000
tonnes recorded in December but
27.5% above the 557 000 tonnes of a
year earlier. Buyers said that de-
mand for market pulp was still
strong but that rising producer in-
ventories could signal an easing of
the steady forward price momentum
seen in the USA since December.
Deliveries to Western Europe to-
talled 1.327 million tonnes – broadly
in line with the corresponding fig-
ures for the previous month and last
year. Various market players indi-
cated that they were expecting a
battle over prices in Europe where
increases of typically US$ 30 per
tonne have been proposed.
In Asia, shipments in January de-
clined across all key regions com-
pared to the previous month and a
year earlier. Compared to Decem-
ber, deliveries to Japan dropped by
7.4% to around 200 000 tonnes while
shipments to other Asian/African
countries totalled 339 000 tonnes – a
decline of 31.7% from December and
5.5% from January 2004, according
to the PPPC. The council reported to
members that worldwide invento-
ries had ended December last year
on 3.375 million tonnes, a fall of
246 000 tonnes over the month.
European consumer pulp invento-
ries fell by 2.4% in January, accord-
ing to UTIPULP. Stocks decreased
from 1.248 million tonnes in Decem-
ber to 1.218 million tonnes the fol-
lowing month. Stocks were 76 422
tonnes lower than a year earlier. The
figures correspond to 30 days' supply
for January compared to 31 days in
December and 32 days in January
2004.
Pulp consumption shot up by
12.6% in January to 1.237 million
tonnes. The figure was 3.5% higher
than the 1.195 million tonnes record-
ed in January 2004.
Stocks of wood pulp at European
ports increased for the consecutive
second month in February, albeit by
a meagre 0.6%, according to Euro
pulp. Inventories climbed to 1.486
million tonnes from 1.477 million
tonnes in January. Stock levels in-
creased at most of the European
ports surveyed last month: Switzer-
land produced the largest percent-
age jump of 17%, whereas invento-
ries in France and Spain dropped by,
respectively, 8.5% and 9.3%.
European paper mill order
books for March:

Coated woodfree 10-18 days
Uncoated woodfree 6-15 days
Woodcontaining papers 5-18 days
European pulp prices as from
March 1 (per admt CIF):

NBSK US$ 645
SBSK US$ 600
Radiata US$ 610
SMHW US$ 560
NMHW US$ 570
BEK US$ 580
Producers continue to look for higher prices

Contributing
to the Recovered Paper
Market Analysis:

* Dick de Groot (Van Gelder
Recycling, The Netherlands)
* Marielle Gommans
(Bel Fibres, Belgium)
* Steve Vento (USA)
* Dante Weyerman (CNC
Company, The Netherlands)
Recycling International • April 2005
Pulp Market Trends