April 2005
Subscribe
M A R K E T A N A L Y S I S Recycling International • April 2005 68 Europe Stocks at low levels Generation of lower grades has re- mained on the low side over recent weeks. European mills raised their prices in March by as much as €...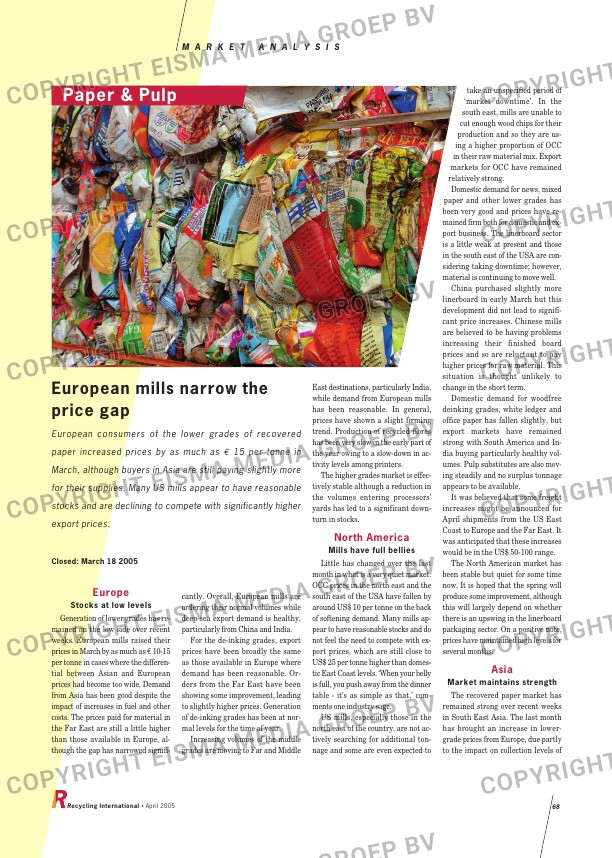 M A R K E T A N A L Y S I S

Recycling International • April 2005 68

Europe
Stocks at low levels

Generation of lower grades has re-
mained on the low side over recent
weeks. European mills raised their
prices in March by as much as € 10-15
per tonne in cases where the differen-
tial between Asian and European
prices had become too wide. Demand
from Asia has been good despite the
impact of increases in fuel and other
costs. The prices paid for material in
the Far East are still a little higher
than those available in Europe, al-
though the gap has narrowed signifi-
cantly. Overall, European mills are
ordering their normal volumes while
deep-sea export demand is healthy,
particularly from China and India.
For the de-inking grades, export
prices have been broadly the same
as those available in Europe where
demand has been reasonable. Or-
ders from the Far East have been
showing some improvement, leading
to slightly higher prices. Generation
of de-inking grades has been at nor-
mal levels for the time of year.
Increasing volumes of the middle
grades are moving to Far and Middle
East destinations, particularly India,
while demand from European mills
has been reasonable. In general,
prices have shown a slight firming
trend. Production of recycled fibres
has been very slow in the early part of
the year owing to a slow-down in ac-
tivity levels among printers.
The higher grades market is effec-
tively stable although a reduction in
the volumes entering processors'
yards has led to a significant down-
turn in stocks.
North America
Mills have full bellies

Little has changed over the last
month in what is a very quiet market.
OCC prices in the north east and the
south east of the USA have fallen by
around US$ 10 per tonne on the back
of softening demand. Many mills ap-
pear to have reasonable stocks and do
not feel the need to compete with ex-
port prices, which are still close to
US$ 25 per tonne higher than domes-
tic East Coast levels. 'When your belly
is full, you push away from the dinner
table – it's as simple as that,' com-
ments one industry sage.
US mills, especially those in the
north east of the country, are not ac-
tively searching for additional ton-
nage and some are even expected to
take an unspecified period of
'market downtime'. In the
south east, mills are unable to
cut enough wood chips for their
production and so they are us-
ing a higher proportion of OCC
in their raw material mix. Export
markets for OCC have remained
relatively strong.
Domestic demand for news, mixed
paper and other lower grades has
been very good and prices have re-
mained firm both for domestic and ex-
port business. The linerboard sector
is a little weak at present and those
in the south east of the USA are con-
sidering taking downtime; however,
material is continuing to move well.
China purchased slightly more
linerboard in early March but this
development did not lead to signifi-
cant price increases. Chinese mills
are believed to be having problems
increasing their finished board
prices and so are reluctant to pay
higher prices for raw material. This
situation is thought unlikely to
change in the short term.
Domestic demand for woodfree
deinking grades, white ledger and
office paper has fallen slightly, but
export markets have remained
strong with South America and In-
dia buying particularly healthy vol-
umes. Pulp substitutes are also mov-
ing steadily and no surplus tonnage
appears to be available.
It was believed that some freight
increases might be announced for
April shipments from the US East
Coast to Europe and the Far East. It
was anticipated that these increases
would be in the US$ 50-100 range.
The North American market has
been stable but quiet for some time
now. It is hoped that the spring will
produce some improvement, although
this will largely depend on whether
there is an upswing in the linerboard
packaging sector. On a positive note,
prices have maintained high levels for
several months.
Asia
Market maintains strength

The recovered paper market has
remained strong over recent weeks
in South East Asia. The last month
has brought an increase in lower-
grade prices from Europe, due partly
to the impact on collection levels of
European consumers of the lower grades of recovered

paper increased prices by as much as € 15 per tonne in

March, although buyers in Asia are still paying slightly more

for their supplies. Many US mills appear to have reasonable

stocks and are declining to compete with significantly higher

export prices.

European mills narrow the
price gap

Paper & Pulp

Closed: March 18 2005