April 2005
Subscribe
M A R K E T A N A L Y S I S Non-Ferrous Closed: March 21 2005 Europe's metal markets are finally on the move once again and, as a result, prices have firmed considerably. This is somewhat surprising since many of the major European...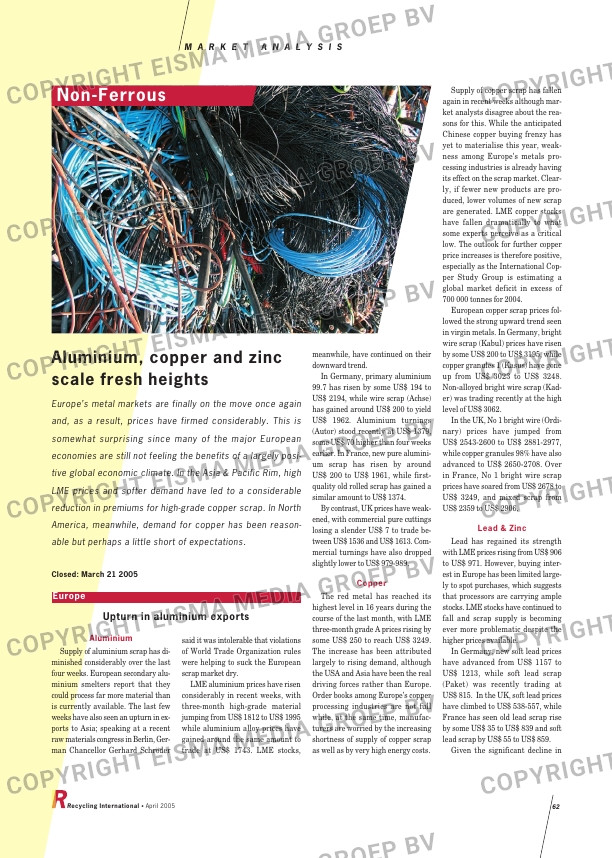 M A R K E T A N A L Y S I S

Non-Ferrous

Closed: March 21 2005

Europe's metal markets are finally on the move once again

and, as a result, prices have firmed considerably. This is

somewhat surprising since many of the major European

economies are still not feeling the benefits of a largely posi-

tive global economic climate. In the Asia & Pacific Rim, high

LME prices and softer demand have led to a considerable

reduction in premiums for high-grade copper scrap. In North

America, meanwhile, demand for copper has been reason-

able but perhaps a little short of expectations.

Aluminium, copper and zinc
scale fresh heights

Europe

Upturn in aluminium exports

Aluminium

Supply of aluminium scrap has di-
minished considerably over the last
four weeks. European secondary alu-
minium smelters report that they
could process far more material than
is currently available. The last few
weeks have also seen an upturn in ex-
ports to Asia; speaking at a recent
raw materials congress in Berlin, Ger-
man Chancellor Gerhard Schröder
said it was intolerable that violations
of World Trade Organization rules
were helping to suck the European
scrap market dry.
LME aluminium prices have risen
considerably in recent weeks, with
three-month high-grade material
jumping from US$ 1812 to US$ 1995
while aluminium alloy prices have
gained around the same amount to
trade at US$ 1743. LME stocks,
meanwhile, have continued on their
downward trend.
In Germany, primary aluminium
99.7 has risen by some US$ 194 to
US$ 2194, while wire scrap (Achse)
has gained around US$ 200 to yield
US$ 1962. Aluminium turnings
(Autor) stood recently at US$ 1379,
some US$ 70 higher than four weeks
earlier. In France, new pure alumini-
um scrap has risen by around
US$ 200 to US$ 1961, while first-
quality old rolled scrap has gained a
similar amount to US$ 1374.
By contrast, UK prices have weak-
ened, with commercial pure cuttings
losing a slender US$ 7 to trade be-
tween US$ 1536 and US$ 1613. Com-
mercial turnings have also dropped
slightly lower to US$ 979-989.
Copper

The red metal has reached its
highest level in 16 years during the
course of the last month, with LME
three-month grade A prices rising by
some US$ 250 to reach US$ 3249.
The increase has been attributed
largely to rising demand, although
the USA and Asia have been the real
driving forces rather than Europe.
Order books among Europe's copper
processing industries are not full
while, at the same time, manufac-
turers are worried by the increasing
shortness of supply of copper scrap
as well as by very high energy costs.
Supply of copper scrap has fallen
again in recent weeks although mar-
ket analysts disagree about the rea-
sons for this. While the anticipated
Chinese copper buying frenzy has
yet to materialise this year, weak-
ness among Europe's metals pro-
cessing industries is already having
its effect on the scrap market. Clear-
ly, if fewer new products are pro-
duced, lower volumes of new scrap
are generated. LME copper stocks
have fallen dramatically to what
some experts perceive as a critical
low. The outlook for further copper
price increases is therefore positive,
especially as the International Cop-
per Study Group is estimating a
global market deficit in excess of
700 000 tonnes for 2004.
European copper scrap prices fol-
lowed the strong upward trend seen
in virgin metals. In Germany, bright
wire scrap (Kabul) prices have risen
by some US$ 200 to US$ 3195, while
copper granules 1 (Kasus) have gone
up from US$ 3023 to US$ 3248.
Non-alloyed bright wire scrap (Kad-
er) was trading recently at the high
level of US$ 3062.
In the UK, No 1 bright wire (Ordi-
nary) prices have jumped from
US$ 2543-2600 to US$ 2881-2977,
while copper granules 98% have also
advanced to US$ 2650-2708. Over
in France, No 1 bright wire scrap
prices have soared from US$ 2678 to
US$ 3249, and mixed scrap from
US$ 2359 to US$ 2906.
Lead & Zinc

Lead has regained its strength
with LME prices rising from US$ 906
to US$ 971. However, buying inter-
est in Europe has been limited large-
ly to spot purchases, which suggests
that processors are carrying ample
stocks. LME stocks have continued to
fall and scrap supply is becoming
ever more problematic despite the
higher prices available.
In Germany, new soft lead prices
have advanced from US$ 1157 to
US$ 1213, while soft lead scrap
(Paket) was recently trading at
US$ 815. In the UK, soft lead prices
have climbed to US$ 538-557, while
France has seen old lead scrap rise
by some US$ 35 to US$ 839 and soft
lead scrap by US$ 55 to US$ 859.
Given the significant decline in
Recycling International • April 2005 62