April 2005
Subscribe
Closed: March 13 2005 By Alfred Nijkerk et al M A R K E T A N A L Y S I S Nickel & Stainless Nickel recently reached its high- est price level since last October, touching US$ 16 400 per tonne in early March - not far short of the...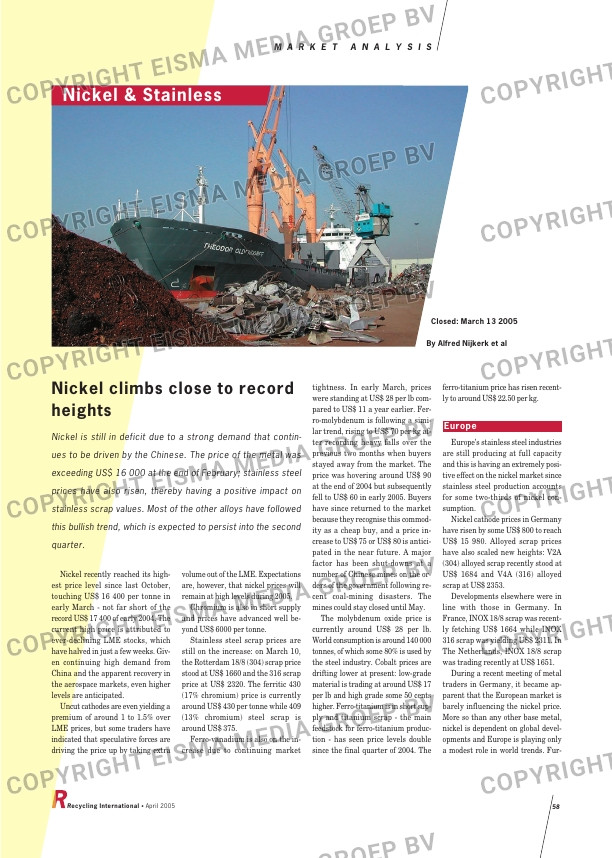 Closed: March 13 2005

By Alfred Nijkerk et al

M A R K E T A N A L Y S I S

Nickel & Stainless

Nickel recently reached its high-
est price level since last October,
touching US$ 16 400 per tonne in
early March – not far short of the
record US$ 17 400 of early 2004. The
current high price is attributed to
ever-declining LME stocks, which
have halved in just a few weeks. Giv-
en continuing high demand from
China and the apparent recovery in
the aerospace markets, even higher
levels are anticipated.
Uncut cathodes are even yielding a
premium of around 1 to 1.5% over
LME prices, but some traders have
indicated that speculative forces are
driving the price up by taking extra
volume out of the LME. Expectations
are, however, that nickel prices will
remain at high levels during 2005.
Chromium is also in short supply
and prices have advanced well be-
yond US$ 6000 per tonne.
Stainless steel scrap prices are
still on the increase: on March 10,
the Rotterdam 18/8 (304) scrap price
stood at US$ 1660 and the 316 scrap
price at US$ 2320. The ferritic 430
(17% chromium) price is currently
around US$ 430 per tonne while 409
(13% chromium) steel scrap is
around US$ 375.
Ferro-vanadium is also on the in-
crease due to continuing market
tightness. In early March, prices
were standing at US$ 28 per lb com-
pared to US$ 11 a year earlier. Fer-
ro-molybdenum is following a simi-
lar trend, rising to US$ 70 per kg af-
ter recording heavy falls over the
previous two months when buyers
stayed away from the market. The
price was hovering around US$ 90
at the end of 2004 but subsequently
fell to US$ 60 in early 2005. Buyers
have since returned to the market
because they recognise this commod-
ity as a cheap buy, and a price in-
crease to US$ 75 or US$ 80 is antici-
pated in the near future. A major
factor has been shut-downs at a
number of Chinese mines on the or-
ders of the government following re-
cent coal-mining disasters. The
mines could stay closed until May.
The molybdenum oxide price is
currently around US$ 28 per lb.
World consumption is around 140 000
tonnes, of which some 80% is used by
the steel industry. Cobalt prices are
drifting lower at present: low-grade
material is trading at around US$ 17
per lb and high grade some 50 cents
higher. Ferro-titanium is in short sup-
ply and titanium scrap – the main
feedstock for ferro-titanium produc-
tion – has seen price levels double
since the final quarter of 2004. The
ferro-titanium price has risen recent-
ly to around US$ 22.50 per kg.
Europe

Europe's stainless steel industries
are still producing at full capacity
and this is having an extremely posi-
tive effect on the nickel market since
stainless steel production accounts
for some two-thirds of nickel con-
sumption.
Nickel cathode prices in Germany
have risen by some US$ 800 to reach
US$ 15 980. Alloyed scrap prices
have also scaled new heights: V2A
(304) alloyed scrap recently stood at
US$ 1684 and V4A (316) alloyed
scrap at US$ 2353.
Developments elsewhere were in
line with those in Germany. In
France, INOX 18/8 scrap was recent-
ly fetching US$ 1664 while INOX
316 scrap was yielding US$ 2311. In
The Netherlands, INOX 18/8 scrap
was trading recently at US$ 1651.
During a recent meeting of metal
traders in Germany, it became ap-
parent that the European market is
barely influencing the nickel price.
More so than any other base metal,
nickel is dependent on global devel-
opments and Europe is playing only
a modest role in world trends. Fur-
Recycling International • April 2005 58

Nickel is still in deficit due to a strong demand that contin-

ues to be driven by the Chinese. The price of the metal was

exceeding US$ 16 000 at the end of February; stainless steel

prices have also risen, thereby having a positive impact on

stainless scrap values. Most of the other alloys have followed

this bullish trend, which is expected to persist into the second

quarter.

Nickel climbs close to record
heights