April 2005
Subscribe
combination of crushing and screening has to be optimised so as to avoid as much -50 micron materi- al as possible. Very fine material can create prob- lems in glass furnaces' exhaust gases. The reject fraction from the CSP separator As...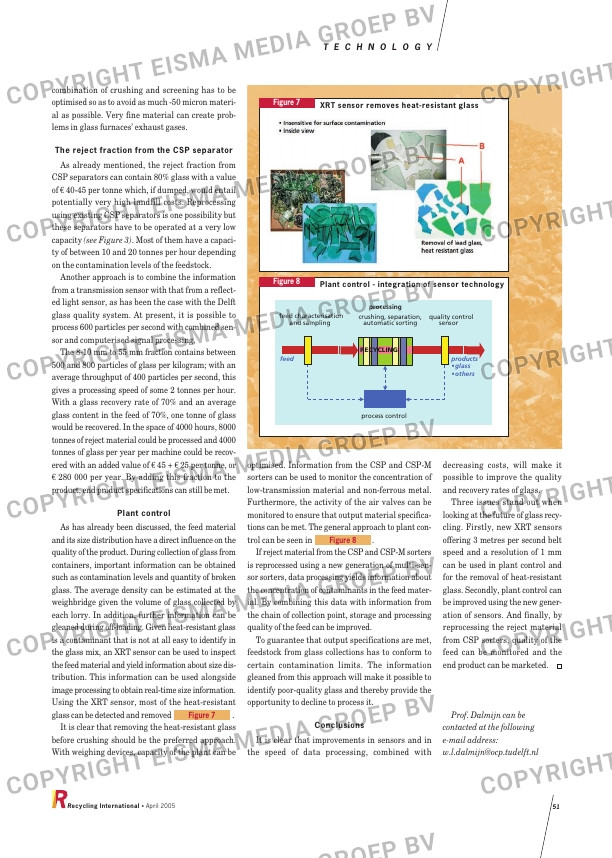 combination of crushing and screening has to be
optimised so as to avoid as much -50 micron materi-
al as possible. Very fine material can create prob-
lems in glass furnaces' exhaust gases.
The reject fraction from the CSP separator

As already mentioned, the reject fraction from
CSP separators can contain 80% glass with a value
of € 40-45 per tonne which, if dumped, would entail
potentially very high landfill costs. Reprocessing
using existing CSP separators is one possibility but
these separators have to be operated at a very low
capacity (see Figure 3). Most of them have a capaci-
ty of between 10 and 20 tonnes per hour depending
on the contamination levels of the feedstock.
Another approach is to combine the information
from a transmission sensor with that from a reflect-
ed light sensor, as has been the case with the Delft
glass quality system. At present, it is possible to
process 600 particles per second with combined sen-
sor and computerised signal processing.
The 8-10 mm to 55 mm fraction contains between
500 and 800 particles of glass per kilogram; with an
average throughput of 400 particles per second, this
gives a processing speed of some 2 tonnes per hour.
With a glass recovery rate of 70% and an average
glass content in the feed of 70%, one tonne of glass
would be recovered. In the space of 4000 hours, 8000
tonnes of reject material could be processed and 4000
tonnes of glass per year per machine could be recov-
ered with an added value of € 45 + € 25 per tonne, or
€ 280 000 per year. By adding this fraction to the
product, end product specifications can still be met.
Plant control

As has already been discussed, the feed material
and its size distribution have a direct influence on the
quality of the product. During collection of glass from
containers, important information can be obtained
such as contamination levels and quantity of broken
glass. The average density can be estimated at the
weighbridge given the volume of glass collected by
each lorry. In addition, further information can be
gleaned during off-loading. Given heat-resistant glass
is a contaminant that is not at all easy to identify in
the glass mix, an XRT sensor can be used to inspect
the feed material and yield information about size dis-
tribution. This information can be used alongside
image processing to obtain real-time size information.
Using the XRT sensor, most of the heat-resistant
glass can be detected and removed .
It is clear that removing the heat-resistant glass
before crushing should be the preferred approach.
With weighing devices, capacity of the plant can be
Figure 7

optimised. Information from the CSP and CSP-M
sorters can be used to monitor the concentration of
low-transmission material and non-ferrous metal.
Furthermore, the activity of the air valves can be
monitored to ensure that output material specifica-
tions can be met. The general approach to plant con-
trol can be seen in .
If reject material from the CSP and CSP-M sorters
is reprocessed using a new generation of multi-sen-
sor sorters, data processing yields information about
the concentration of contaminants in the feed mater-
ial. By combining this data with information from
the chain of collection point, storage and processing
quality of the feed can be improved.
To guarantee that output specifications are met,
feedstock from glass collections has to conform to
certain contamination limits. The information
gleaned from this approach will make it possible to
identify poor-quality glass and thereby provide the
opportunity to decline to process it.
Conclusions

It is clear that improvements in sensors and in
the speed of data processing, combined with
Figure 8

T E C H N O L O G Y

Recycling International • April 2005 51

Figure 7 XRT sensor removes heat-resistant glass

processing

crushing, separation,
automatic sorting
feed characterisation
and sampling
quality control
sensor
process control
feed products
•glass
•others

RECYCLING
Figure 8 Plant control – integration of sensor technology

decreasing costs, will make it
possible to improve the quality
and recovery rates of glass.
Three issues stand out when
looking at the future of glass recy-
cling. Firstly, new XRT sensors
offering 3 metres per second belt
speed and a resolution of 1 mm
can be used in plant control and
for the removal of heat-resistant
glass. Secondly, plant control can
be improved using the new gener-
ation of sensors. And finally, by
reprocessing the reject material
from CSP sorters, quality of the
feed can be monitored and the
end product can be marketed.
Prof. Dalmijn can be
contacted at the following
e-mail address:
[email protected]