April 2005
Subscribe
Claimed to be the largest of its kind in the world, a plant capable of turning both recycled cooking oil and animal fats into vehicle fuel was ex- pected to enter full production this month at Newarthill, near Mother- well, in central Scotl...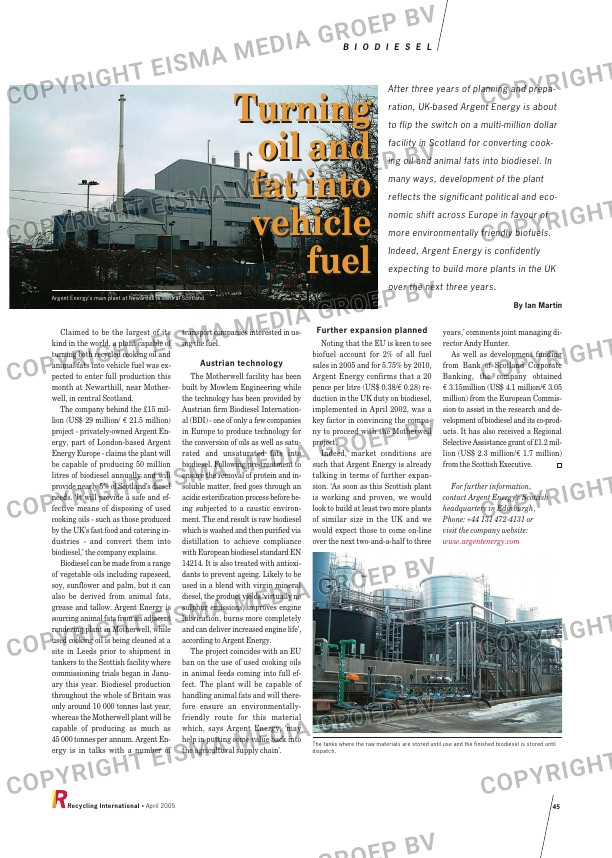 Claimed to be the largest of its
kind in the world, a plant capable of
turning both recycled cooking oil and
animal fats into vehicle fuel was ex-
pected to enter full production this
month at Newarthill, near Mother-
well, in central Scotland.
The company behind the £15 mil-
lion (US$ 29 million/ € 21.5 million)
project – privately-owned Argent En-
ergy, part of London-based Argent
Energy Europe – claims the plant will
be capable of producing 50 million
litres of biodiesel annually and will
provide nearly 5% of Scotland's diesel
needs. 'It will provide a safe and ef-
fective means of disposing of used
cooking oils – such as those produced
by the UK's fast food and catering in-
dustries – and convert them into
biodiesel,' the company explains.
Biodiesel can be made from a range
of vegetable oils including rapeseed,
soy, sunflower and palm, but it can
also be derived from animal fats,
grease and tallow. Argent Energy is
sourcing animal fats from an adjacent
rendering plant in Motherwell, while
used cooking oil is being cleaned at a
site in Leeds prior to shipment in
tankers to the Scottish facility where
commissioning trials began in Janu-
ary this year. Biodiesel production
throughout the whole of Britain was
only around 10 000 tonnes last year,
whereas the Motherwell plant will be
capable of producing as much as
45 000 tonnes per annum. Argent En-
ergy is in talks with a number of
transport companies interested in us-
ing the fuel.
Austrian technology

The Motherwell facility has been
built by Mowlem Engineering while
the technology has been provided by
Austrian firm Biodiesel Internation-
al (BDI) – one of only a few companies
in Europe to produce technology for
the conversion of oils as well as satu-
rated and unsaturated fats into
biodiesel. Following pre-treatment to
ensure the removal of protein and in-
soluble matter, feed goes through an
acidic esterification process before be-
ing subjected to a caustic environ-
ment. The end result is raw biodiesel
which is washed and then purified via
distillation to achieve compliance
with European biodiesel standard EN
14214. It is also treated with antioxi-
dants to prevent ageing. Likely to be
used in a blend with virgin mineral
diesel, the product yields 'virtually no
sulphur emissions, improves engine
lubrication, burns more completely
and can deliver increased engine life',
according to Argent Energy.
The project coincides with an EU
ban on the use of used cooking oils
in animal feeds coming into full ef-
fect. The plant will be capable of
handling animal fats and will there-
fore ensure an environmentally-
friendly route for this material
which, says Argent Energy, 'may
help in putting some value back into
the agricultural supply chain'.
Further expansion planned

Noting that the EU is keen to see
biofuel account for 2% of all fuel
sales in 2005 and for 5.75% by 2010,
Argent Energy confirms that a 20
pence per litre (US$ 0.38/€ 0.28) re-
duction in the UK duty on biodiesel,
implemented in April 2002, was a
key factor in convincing the compa-
ny to proceed with the Motherwell
project.
Indeed, market conditions are
such that Argent Energy is already
talking in terms of further expan-
sion. 'As soon as this Scottish plant
is working and proven, we would
look to build at least two more plants
of similar size in the UK and we
would expect those to come on-line
over the next two-and-a-half to three
years,' comments joint managing di-
rector Andy Hunter.
As well as development funding
from Bank of Scotland Corporate
Banking, the company obtained
€ 3.15million (US$ 4.1 million/€ 3.05
million) from the European Commis-
sion to assist in the research and de-
velopment of biodiesel and its co-prod-
ucts. It has also received a Regional
Selective Assistance grant of £1.2 mil-
lion (US$ 2.3 million/€ 1.7 million)
from the Scottish Executive.
For further information,
contact Argent Energy's Scottish
headquarters in Edinburgh,
Phone: +44 131 472-4131 or
visit the company website:
www.argentenergy.com

Recycling International • April 2005 45

After three years of planning and prepa-

ration, UK-based Argent Energy is about

to flip the switch on a multi-million dollar

facility in Scotland for converting cook-

ing oil and animal fats into biodiesel. In

many ways, development of the plant

reflects the significant political and eco-

nomic shift across Europe in favour of

more environmentally friendly biofuels.

Indeed, Argent Energy is confidently

expecting to build more plants in the UK

over the next three years.

Turning
oil and
fat into
vehicle

fuel

B I O D I E S E L

Argent Energy's main plant at Newarthill in central Scotland.
By Ian Martin

The tanks where the raw materials are stored until use and the finished biodiesel is stored until
dispatch.