April 2005
Subscribe
UK-based J.McIntyre Machinery Ltd divided itself into two separate organisations in September 2003. J.McIntyre Machinery Ltd has since focused on its TARDIS aluminium dross cooling and pressing system, while new company JMC Recycling System...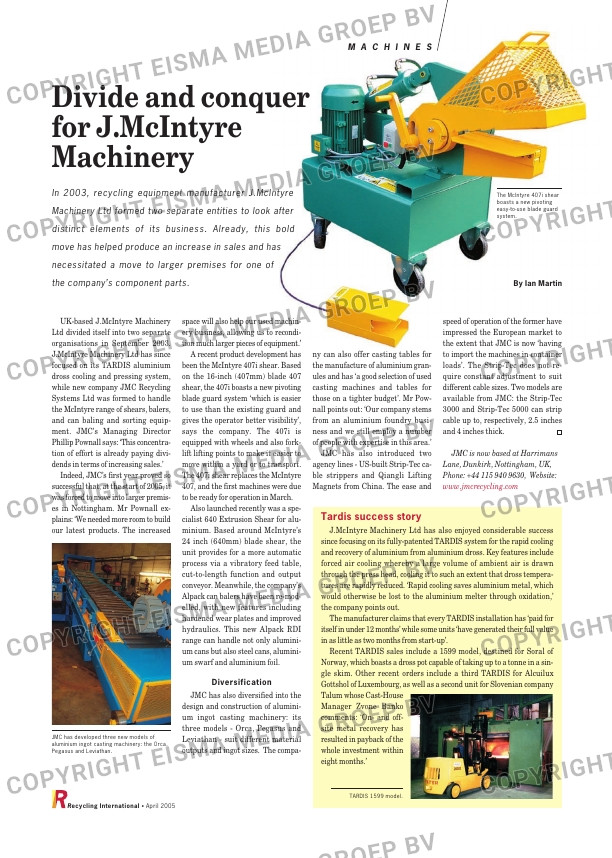 UK-based J.McIntyre Machinery
Ltd divided itself into two separate
organisations in September 2003.
J.McIntyre Machinery Ltd has since
focused on its TARDIS aluminium
dross cooling and pressing system,
while new company JMC Recycling
Systems Ltd was formed to handle
the McIntyre range of shears, balers,
and can baling and sorting equip-
ment. JMC's Managing Director
Phillip Pownall says: 'This concentra-
tion of effort is already paying divi-
dends in terms of increasing sales.'
Indeed, JMC's first year proved so
successful that, at the start of 2005, it
was forced to move into larger premis-
es in Nottingham. Mr Pownall ex-
plains: 'We needed more room to build
our latest products. The increased
space will also help our used machin-
ery business, allowing us to recondi-
tion much larger pieces of equipment.'
A recent product development has
been the McIntyre 407i shear. Based
on the 16-inch (407mm) blade 407
shear, the 407i boasts a new pivoting
blade guard system 'which is easier
to use than the existing guard and
gives the operator better visibility',
says the company. The 407i is
equipped with wheels and also fork-
lift lifting points to make it easier to
move within a yard or to transport.
The 407i shear replaces the McIntyre
407, and the first machines were due
to be ready for operation in March.
Also launched recently was a spe-
cialist 640 Extrusion Shear for alu-
minium. Based around McIntyre's
24 inch (640mm) blade shear, the
unit provides for a more automatic
process via a vibratory feed table,
cut-to-length function and output
conveyor. Meanwhile, the company's
Alpack can balers have been re-mod-
elled, with new features including
hardened wear plates and improved
hydraulics. This new Alpack RDI
range can handle not only alumini-
um cans but also steel cans, alumini-
um swarf and aluminium foil.
Diversification

JMC has also diversified into the
design and construction of alumini-
um ingot casting machinery: its
three models – Orca, Pegasus and
Leviathan – suit different material
outputs and ingot sizes. The compa-
ny can also offer casting tables for
the manufacture of aluminium gran-
ules and has 'a good selection of used
casting machines and tables for
those on a tighter budget'. Mr Pow-
nall points out: 'Our company stems
from an aluminium foundry busi-
ness and we still employ a number
of people with expertise in this area.'
JMC has also introduced two
agency lines – US-built Strip-Tec ca-
ble strippers and Qiangli Lifting
Magnets from China. The ease and
speed of operation of the former have
impressed the European market to
the extent that JMC is now 'having
to import the machines in container
loads'. The Strip-Tec does not re-
quire constant adjustment to suit
different cable sizes. Two models are
available from JMC: the Strip-Tec
3000 and Strip-Tec 5000 can strip
cable up to, respectively, 2.5 inches
and 4 inches thick.
JMC is now based at Harrimans
Lane, Dunkirk, Nottingham, UK,
Phone: +44 115 940 9630, Website:
www.jmcrecycling.com

Recycling International • April 2005
M A C H I N E S

Tardis success story
J.McIntyre Machinery Ltd has also enjoyed considerable success
since focusing on its fully-patented TARDIS system for the rapid cooling
and recovery of aluminium from aluminium dross. Key features include
forced air cooling whereby a large volume of ambient air is drawn
through the press head, cooling it to such an extent that dross tempera-
tures are rapidly reduced. 'Rapid cooling saves aluminium metal, which
would otherwise be lost to the aluminium melter through oxidation,'
the company points out.
The manufacturer claims that every TARDIS installation has 'paid for
itself in under 12 months' while some units 'have generated their full value
in as little as two months from start-up'.
Recent TARDIS sales include a 1599 model, destined for Soral of
Norway, which boasts a dross pot capable of taking up to a tonne in a sin-
gle skim. Other recent orders include a third TARDIS for Alcuilux
Gottshol of Luxembourg, as well as a second unit for Slovenian company
Talum whose Cast-House
Manager Zvone Banko
comments: 'On- and off-
site metal recovery has
resulted in payback of the
whole investment within
eight months.'
Divide and conquer
for J.McIntyre
Machinery
In 2003, recycling equipment manufacturer J.McIntyre

Machinery Ltd formed two separate entities to look after

distinct elements of its business. Already, this bold

move has helped produce an increase in sales and has

necessitated a move to larger premises for one of

the company's component parts. By Ian Martin

TARDIS 1599 model.
The McIntyre 407i shear
boasts a new pivoting
easy-to-use blade guard
system.
JMC has developed three new models of
aluminium ingot casting machinery: the Orca,
Pegasus and Leviathan.